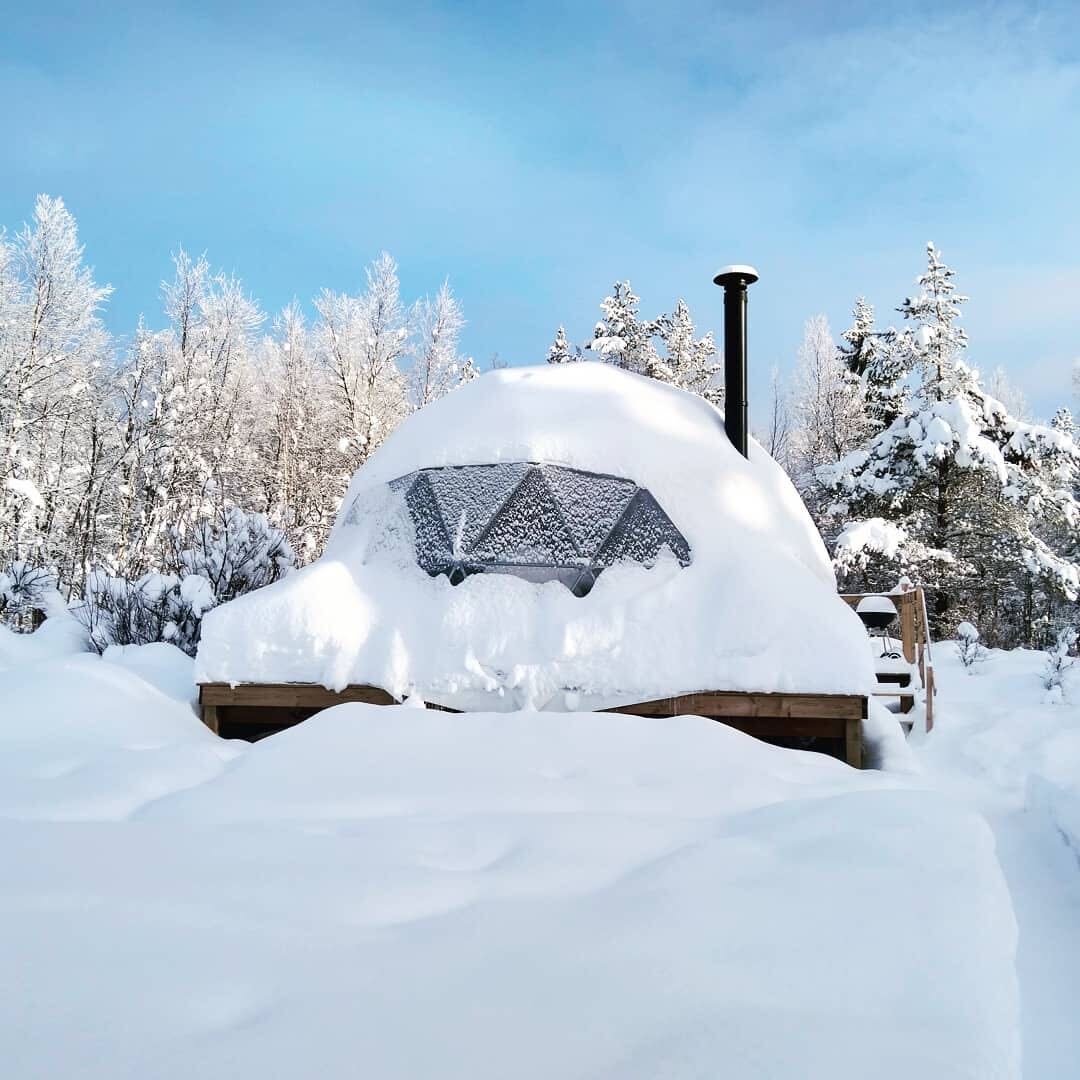 When you plan to launch a glamping resort, one of the first questions that pop up in your mind is how to make the dome an all-year solution. Therefore, we have prepared a list of elements you should consider when purchasing FDomes Glamping, either for your personal use or business purposes. We have divided the essential accessories we offer into two groups – for cold and hot climates. In this blog post, let's focus on the first group. Enjoy!
Feel the atmosphere
Imagine a winter wonderland – an incredible natural landscape covered in snow and you watching it through a huge bay window in a heated dome drinking a hot beverage. Sounds magical, right?
Traditional camping is mainly associated with the warmer season, but glamping can be enjoyed all year long even above the Arctic Circle!
Do you wonder what is needed to change the regular geodesic dome into a winter dome? In this article, you can find the essential accessories that retain heat inside the FDomes Glamping and add a little touch to the interior design. Additionally, all of them are useful during the summer season.
What are the mentioned essentials?

Insulation liner

Wood-burning stove and chimney

Solar-fan

Air-conditioning

Flooring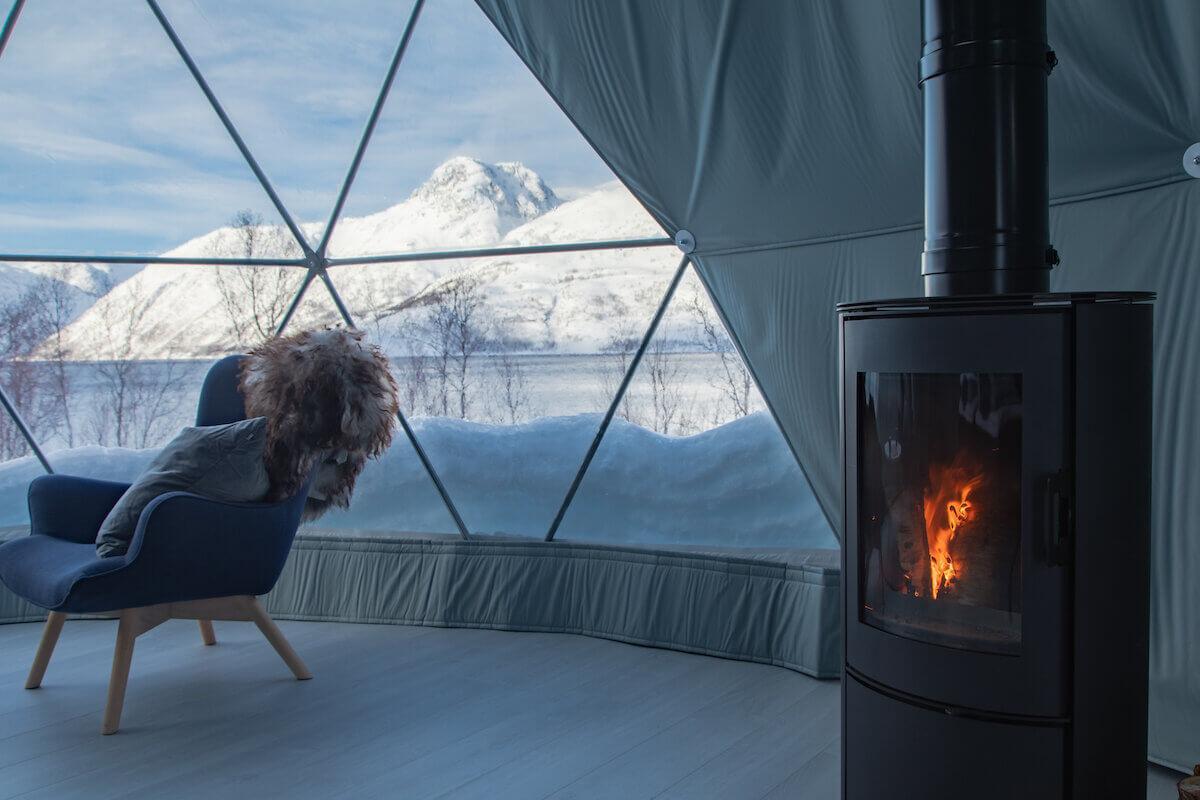 Insulation liner
The insulation system keeps warmth inside the geodesic dome on cold days. It also acts as a vapour barrier, preventing moisture from building up inside the dome.
Selecting the proper insulation type is crucial to keep thermal comfort inside the dome. We offer two types of insulation: Standard Alum-Air Insulation and Insulation+.
The Standard Insulation Liner is made of fibre-free, non-allergic and non-irritant material with a tailored canvass headliner for enhanced appearance. A breathable, multi-foil insulation layer with descriptional lining provides efficient thermal insulation in every condition whilst being very thin and adaptable at the same time.
The Standard Alum-Air Insulation is recommended down to -15°C. However, if your FDomes Glamping stands in temperatures below -15 ° C, we recommend adding Insulation+. The additional insulation layer goes underneath the standard one and helps maintain the desired interior temperature on cold days. This option is equivalent to 13cm of styrofoam!
The primary purpose of the insulation is to retain heat, but it will also make the interior feel cosier. You can choose insulation in one of the three available colours: khaki, ecru and light grey.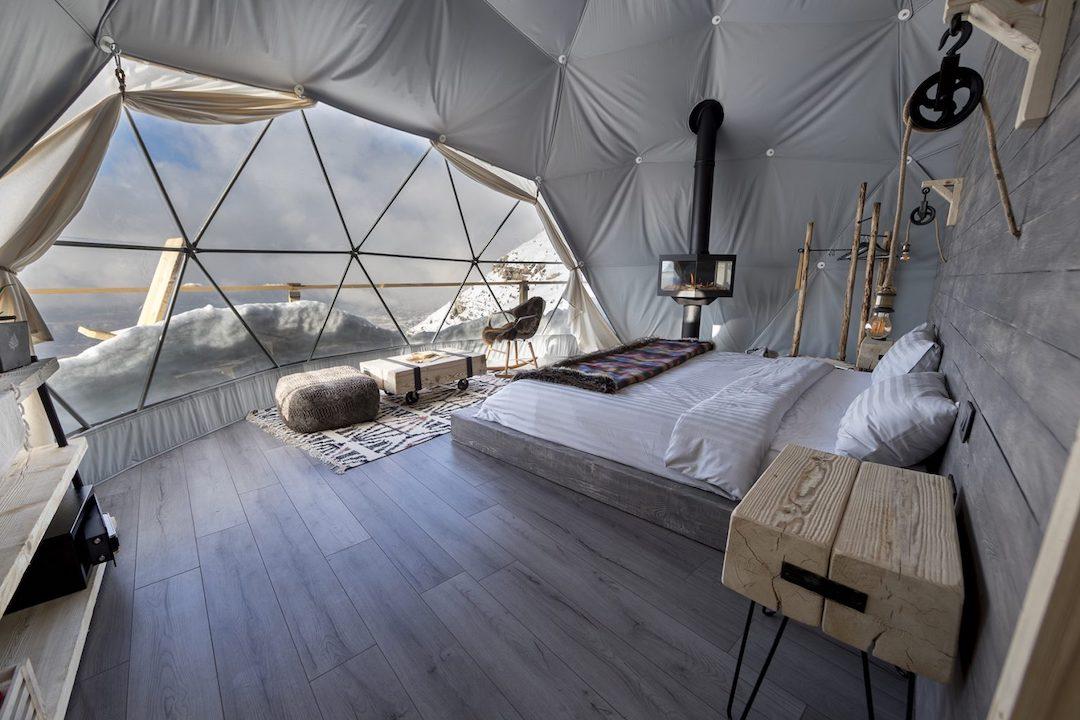 Cosy heat (stove and chimney)
Stove
The wood-burning stove with a specially adjusted chimney makes the dome interior pleasant and warm, creating a unique glamping atmosphere that you can enjoy all year round. It is arranged with a ceramic combustion chamber and a steel base plate so that no hot elements stand too close to the dome wall and are isolated from the flooring.
Chimney
If you wish to use your own designer stove, you can select the chimney only. The chimney comes in an elegant anthracite colour that complements every insulation shade. The insulated chimney arrives with a laser-cut steel collar mounted in one of the three porthole windows. It prevents unwanted heat transfers towards the membrane and waterproofs the opening.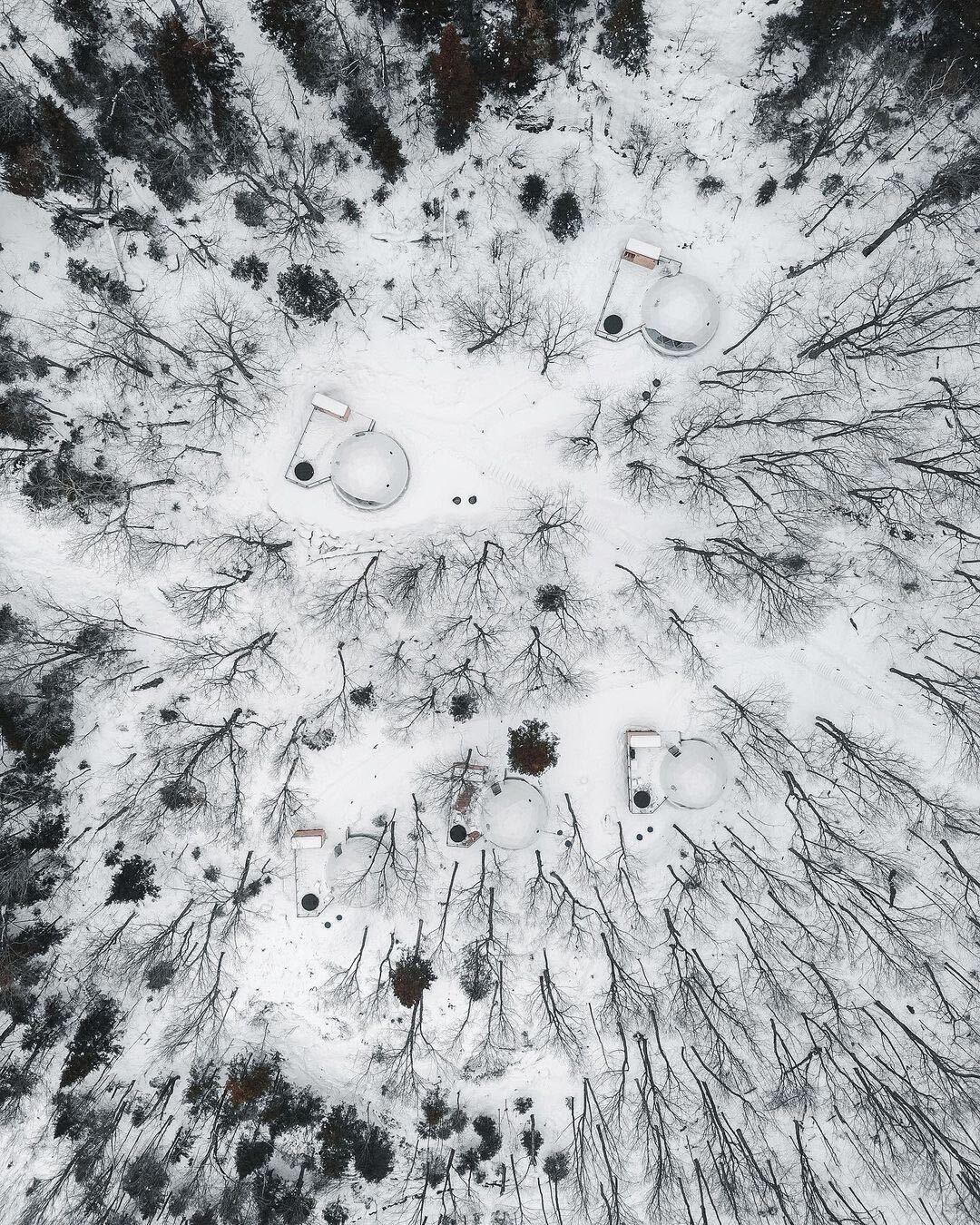 Solar-Fan
The solar-powered fan supports natural ventilation and proper air circulation. Assisted air circulation will play a significant role in preventing moisture condensation and heat build-up inside the FDomes Glamping. The fan spins on sunny days using solar energy, and it's an excellent option if being eco-friendly is important to you. If you need it on non-sunny days, it can be plugged into the electricity supply.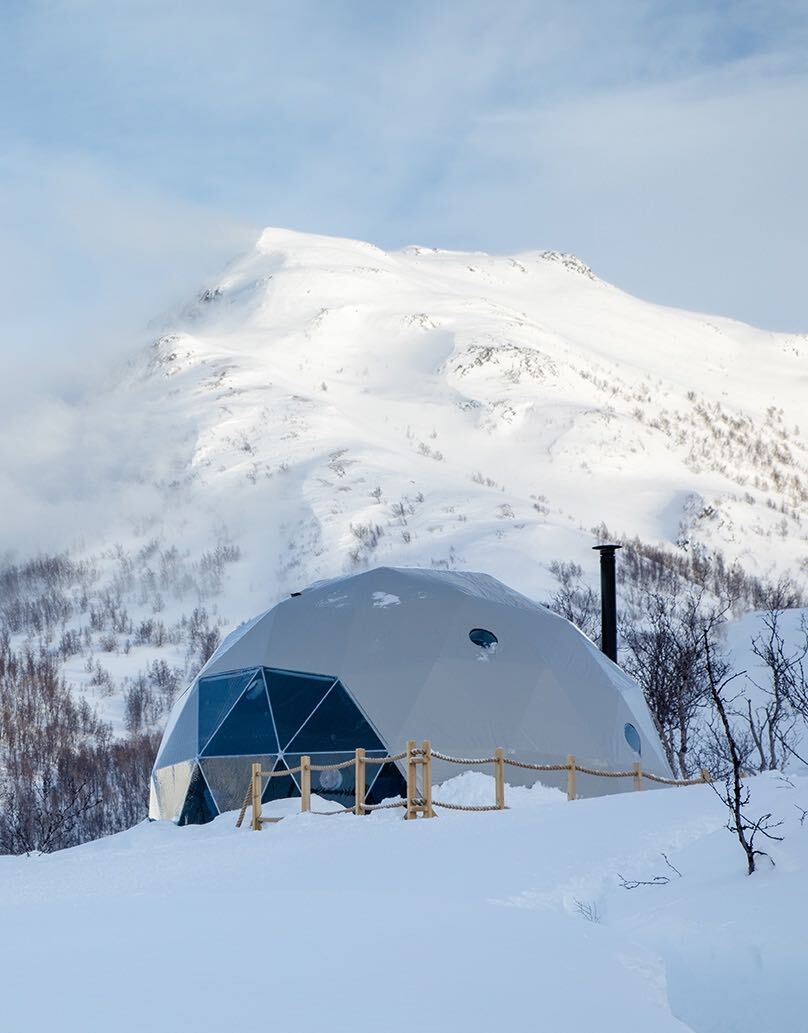 Air-conditioning
Why air-conditioning for winter, you may ask. With an air conditioning device with a heating option, you will be able to maintain the indicated geodome interior temperature regardless of the season. If you want to put up a tent in a place with harsh winters but sunny summers, you can easily use it all year round. It will heat the entire geodesic dome in colder months and cool it down in the warmer ones.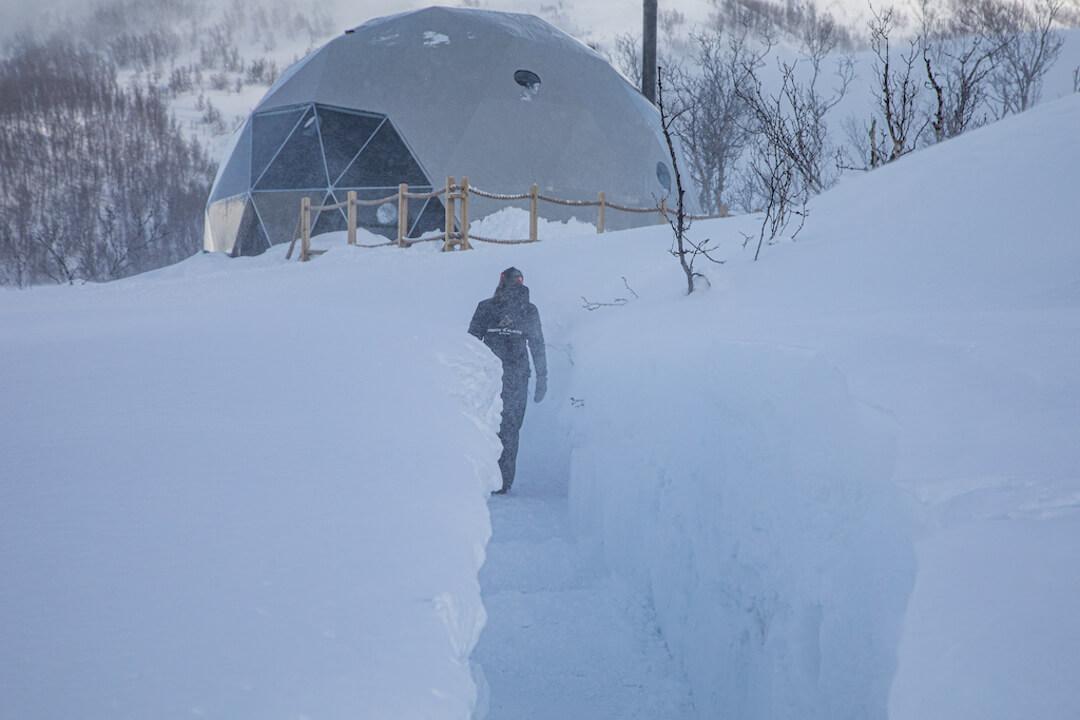 Flooring
The PCV Ground Membrane is a tailor-made groundsheet that attaches to the perimeter of the glamping dome and prevents humidity and unwanted insects from getting inside. The PVC Ground covering is suitable for all bases such as grass, wooden decks, concrete slabs, etc. Moreover, on top of the PCV Ground Membrane, you can put a floor covering of your choice (coir matt, carpet, wooden boards, etc.)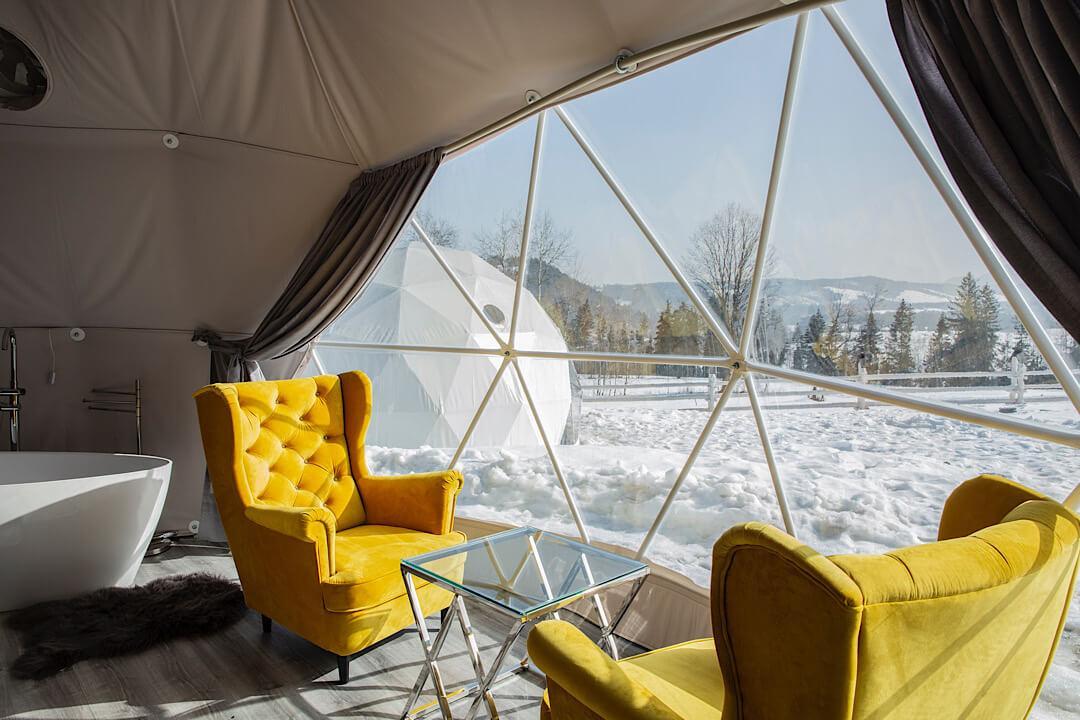 ---
What next?
Dig deeper into the winter atmosphere by reading the interview with our FDomes interior architect, Aleksandra Patora. Also, feel free to contact our team for more details about setting up the winter dome.
Thinking about opening a glamping site? Read about increasing income during the winter season and look at the interviews with resorts owners that have already bought our FDomes Glamping:

Mountain Glamp – their guest requested to open the resort also in winter

Hans and Urlich – heavy winters and strong winds are no match for FDomes Glamping

The Glacier – how to spend time in winter?