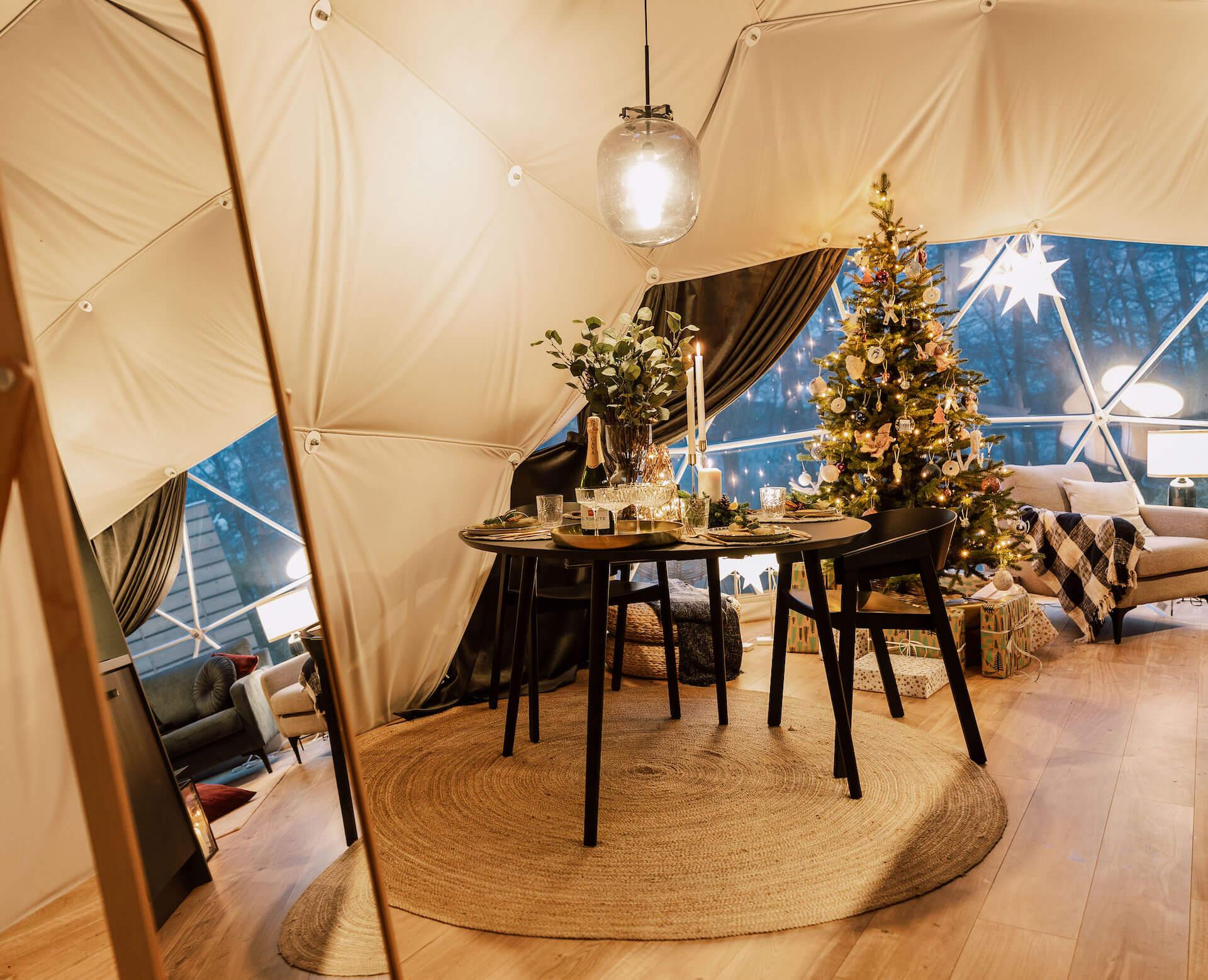 In today's post, we will show you how to quickly and inexpensively decorate a spherical structure, a house or an apartment, to delight your Guests with a festive arrangement.
We have organized a magic Christmas photoshoot at the FDomes Showroom lately. The shooting day inspired us to dive into the topic of arranging the interior for the Holiday Season. What colors to choose? What are the current trends? How to make a seemingly ordinary place a Christmas wonderland? We have decided to ask our Interior Architect, Aleksandra Patora some questions and share the answers with you. Enjoy!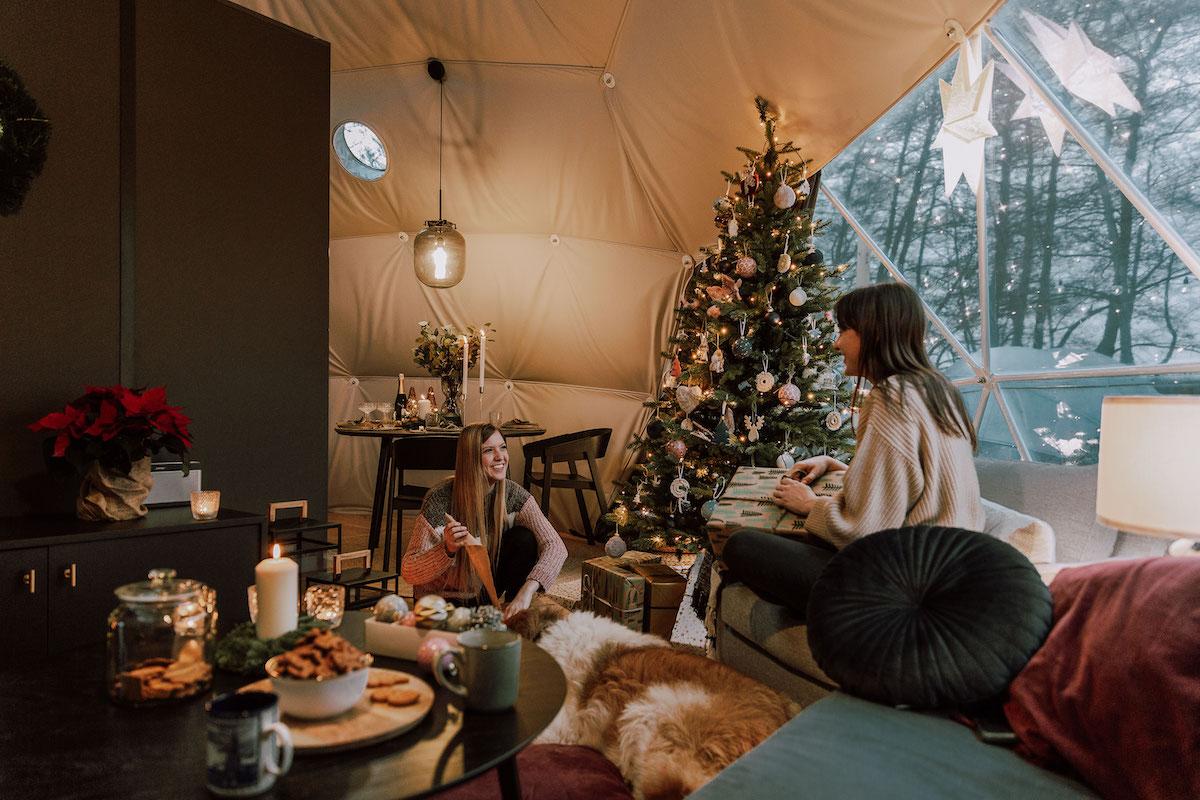 FDomes: Where do you find inspiration for the winter arrangements?
Aleksandra Patora: The inspirations that I derive from while decorating interiors always come to me on their own. When I see the interior, the idea on how to arrange the space and what colors to choose just pops up in my head. However, if you do not have any idea for the arrangement, it is worth looking for some inspirations on social media platforms such as Instagram or Pinterest. There are a lot of content you may find useful to plan your own Christmas arrangement.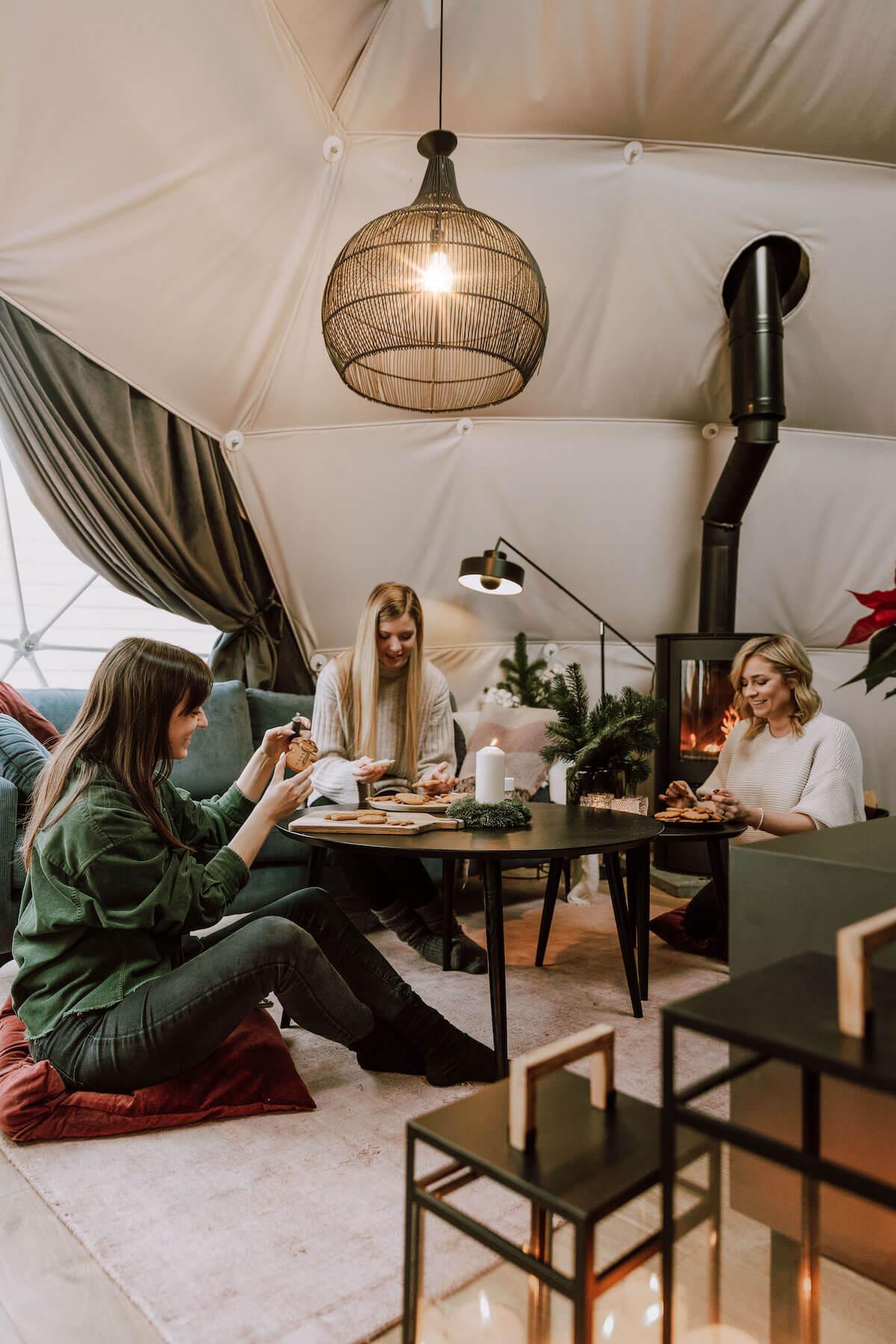 FD: The trends for Christmas decorations change very quickly. Which of this year's trends are worth paying attention to?
AP: The basic thing that in my opinion does not change over time is the use of natural elements such as "living": wreaths, Christmas trees or twigs. These decorations can always be used. The same applies to the warm tones of various types of lighting, such as Christmas lights. Festive ornaments or table setting can be as variable as possible. It seems to me that this year's trends are, above all, natural. Handmade Christmas tree decorations in neutral, earthy, or pastel colors, are very welcome. The main rule is the less, the better. Therefore, I would definitely say no to going into glamour style, even though I sometimes use decorations covered with glitter.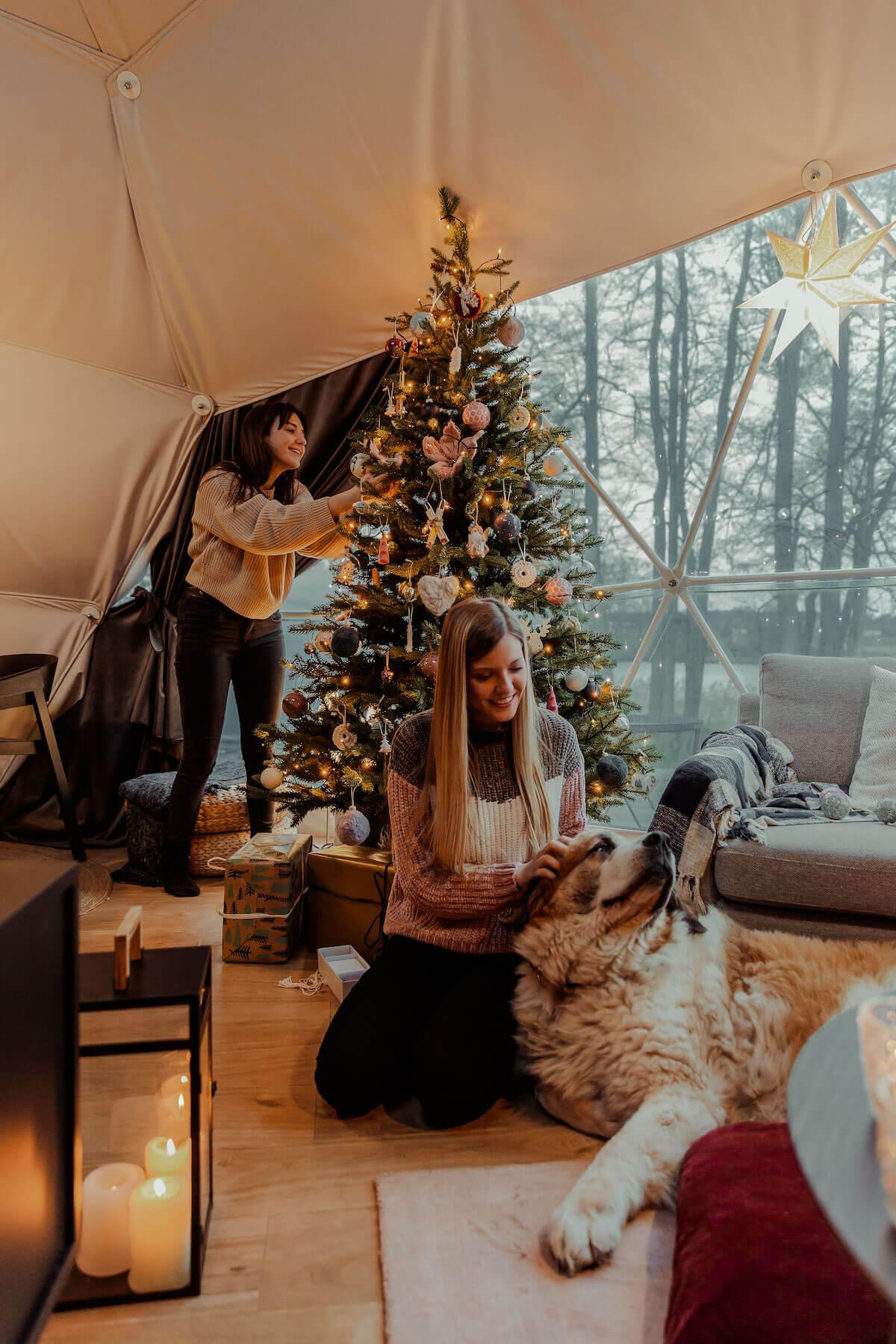 FD: Could you please tell our readers how to combine colors and textures of the various seasonal ornaments and decorations?
AP: Classic red is timeless. It will always be a Christmas color, but it does not mean it is the only one we can go for. Of course, you may decide on adding some red decorations, such as pillows or a poinsettia. Going back to the topic, I personally love off-white poinsettias. Combined with black and pastel accessories that add elegance, they create a ravishing interior and an amazing ambiance.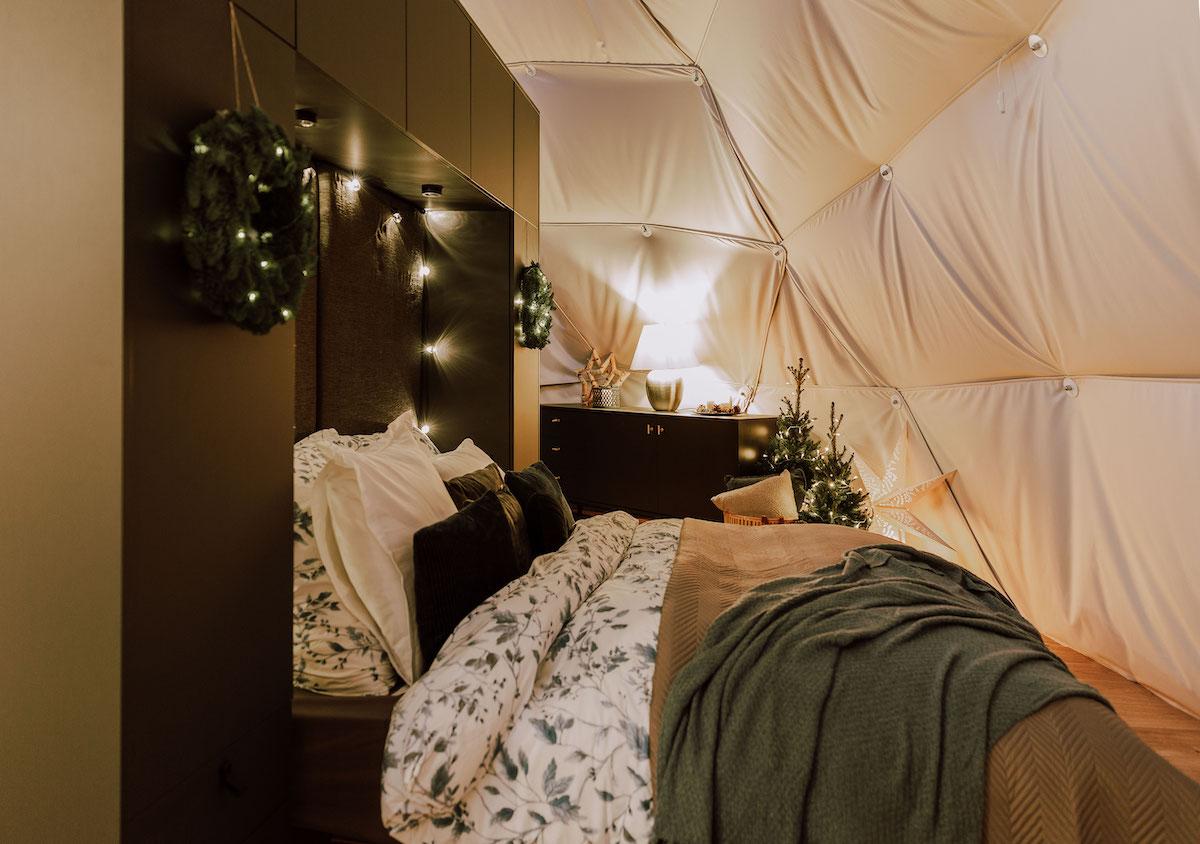 FD: Resort owners usually want seasonal decorating to be quick and inexpensive. What advice would you give them?
AP: First of all, focus on the proper lighting. More lighting points will make the interior warmer and cozier. You can use small battery-operated LED lamps on a wire to decorate a simple garland or a glass vase. Also, think about the beautiful star-shaped paper ornaments with a light bulb inside. These can be hung on a window or a wall. Always go for warm white or warm yellow lighting color. In my opinion, this is the basis to create pleasant, festive vibe. If you wish to have some plants inside, choose poinsettias. It is a popular plant this time of the year. Items such as vases and trays can be decorated with natural spruce, fir branches, cones, and candles. The pleasant scent of candles or fragrance oils with the scent of cloves, cinnamon, orange, or vanilla spreading around the interior will complete the Christmas ambiance.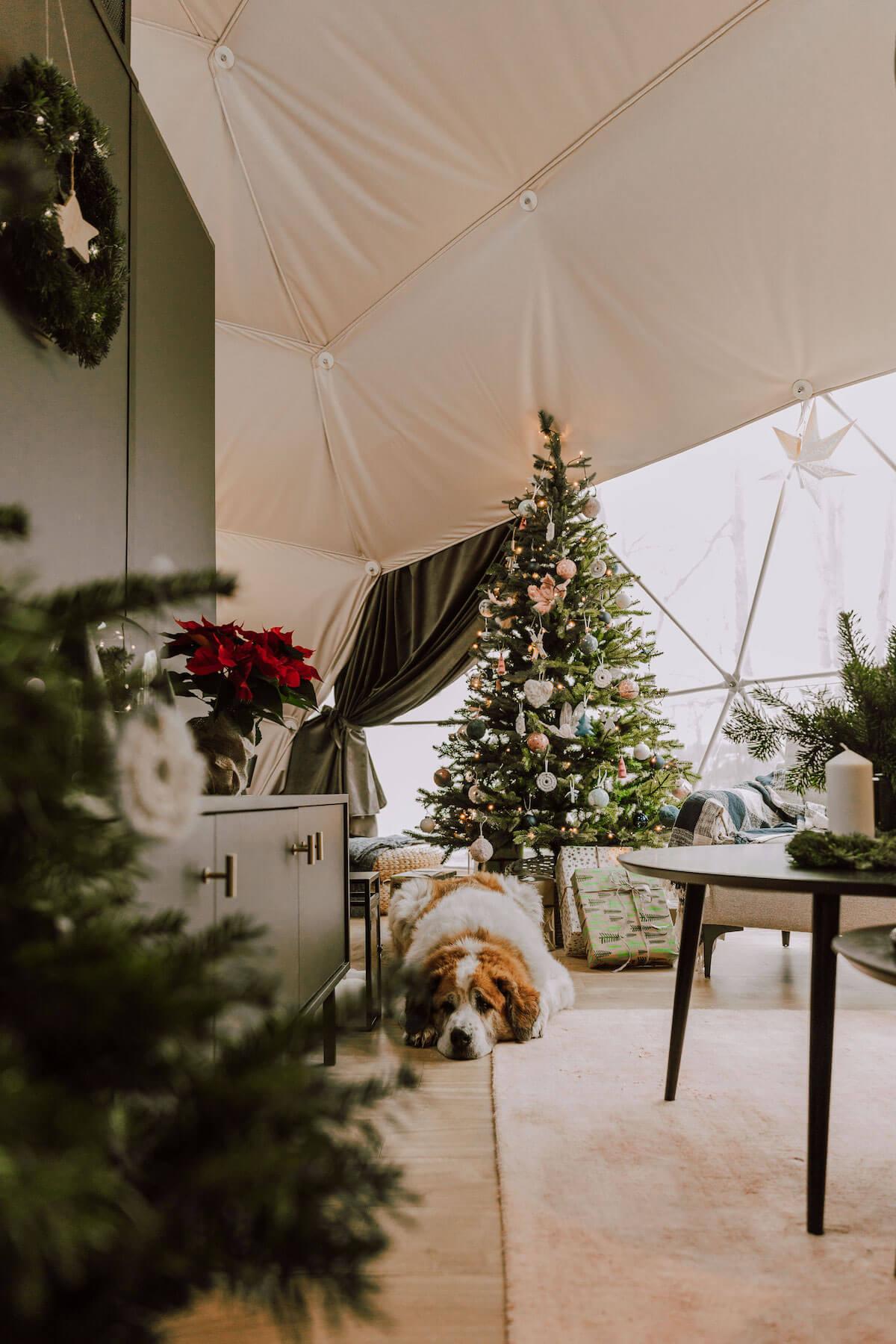 We really enjoy seeing your festive arrangement ideas. Share some photos of your FDomes Glamping decorated for the Holiday Season on your social media accounts and don't forget to tag us. We would love to share your photos on our profile!