Return on Investment (ROI) Calculations
We have prepared two case studies for you, describing a return on investment for two business types. We have not calculated land preparation such as providing piping and wiring to the domes and/or supplying the media to the land.
What should also be taken under consideration is dome maintenance. We have calculated estimated monthly maintenance costs based on feedback from some of our Clients from all around the world. We are, however, aware that all owners have different ideas on their resorts. Some of you may want to run the resort yourself and some will be employing staff to do it. Therefore, we always recommend making a small chart and entering the estimated monthly cost of the selected services such as cleaning, security, sewage, water, electricity, internet, marketing, and general maintenance. As we operate around the world, we have gathered average costs to give you a better idea and understanding of ROI.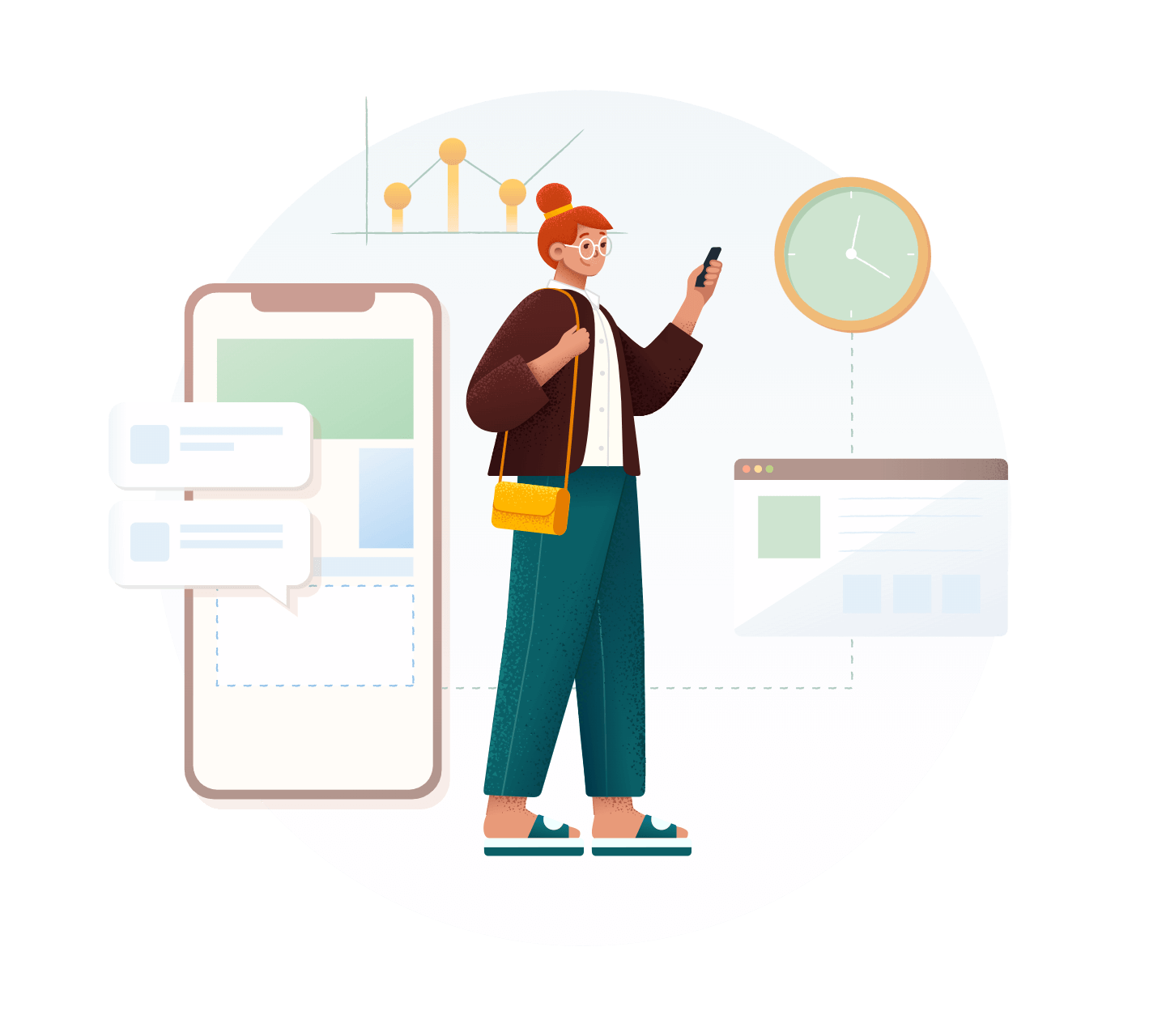 CASE STUDY 1
I already have a glamping site / hotel and I'm looking for differentiation of my business to make it even more attractive for my guests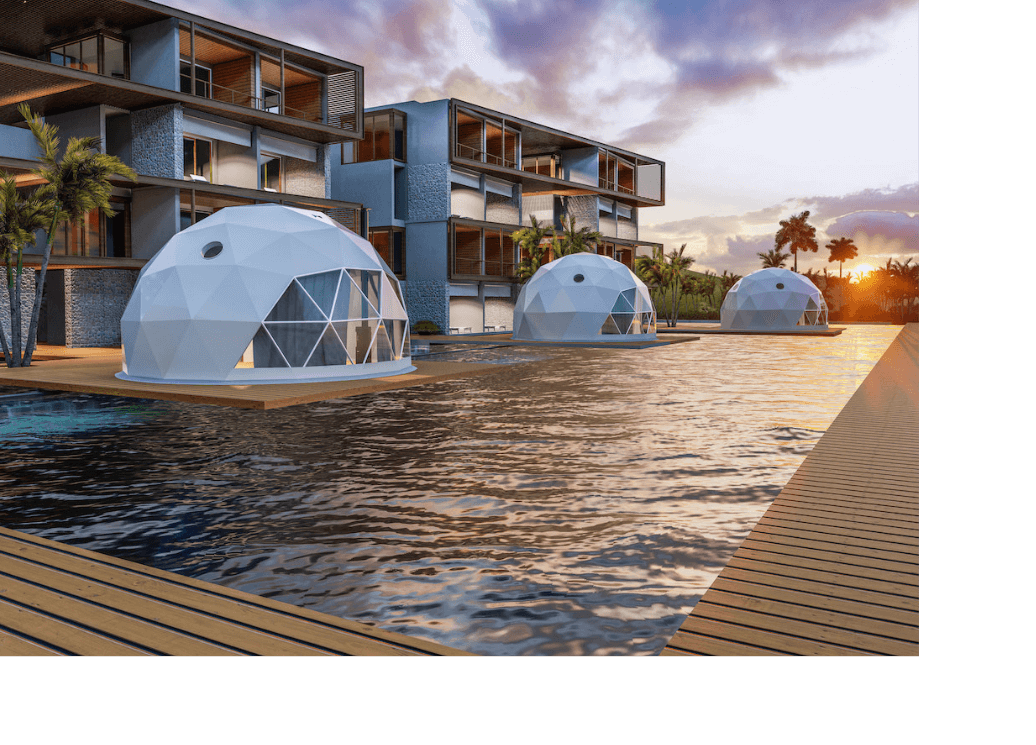 If you are already running a glamping resort you probably have the access to a kitchen or maybe even a restaurant available for your guests. In such case, the crucial aspect in your glamping dome will be a bathroom (which is always a must to raise the quality of the accommodation). You still want your dome to have a twist that is why you should decide on a loft bed module to grant your guests an unforgettable stargazing experience.
As you already have land and infrastructure ready you are searching for a convenient space for couples or 2+2 families. You have your Clients who know you and your site. That is why you will not start with just one dome. You are an experienced owner; you know that to attract and keep the guests you need at least 8 units. They will be easier to promote to your target group. You also already have the capacity, people who work for you, and most importantly the know-how. So, the domes will be an asset that you write into the story you are already telling your guests.
ROI Calculation – CASE STUDY 1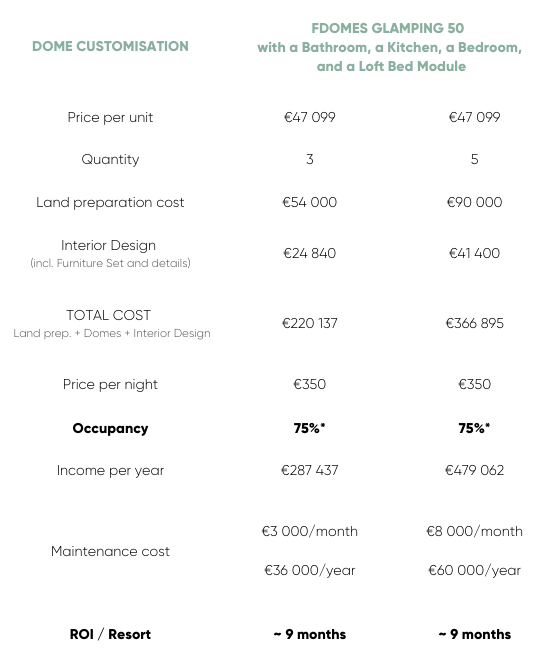 Guidelines
The monthly maintenance cost will probably be lower as you already have them covered with your existing accommodations.
Remember that you can always charge more per night. We have Clients who charge even € 700 per night. It all depends on the location, the surrounding, the attractions that you provide your guests with, such as a hot tub, paddleboards, bikes, bone fire, breakfasts to bed, and many more. The ideas are unlimited, remember that the more unique they are and the more suitable for the resort's spirit, the more you can charge per night.
CASE STUDY 2
I have some land and want to start a glamping business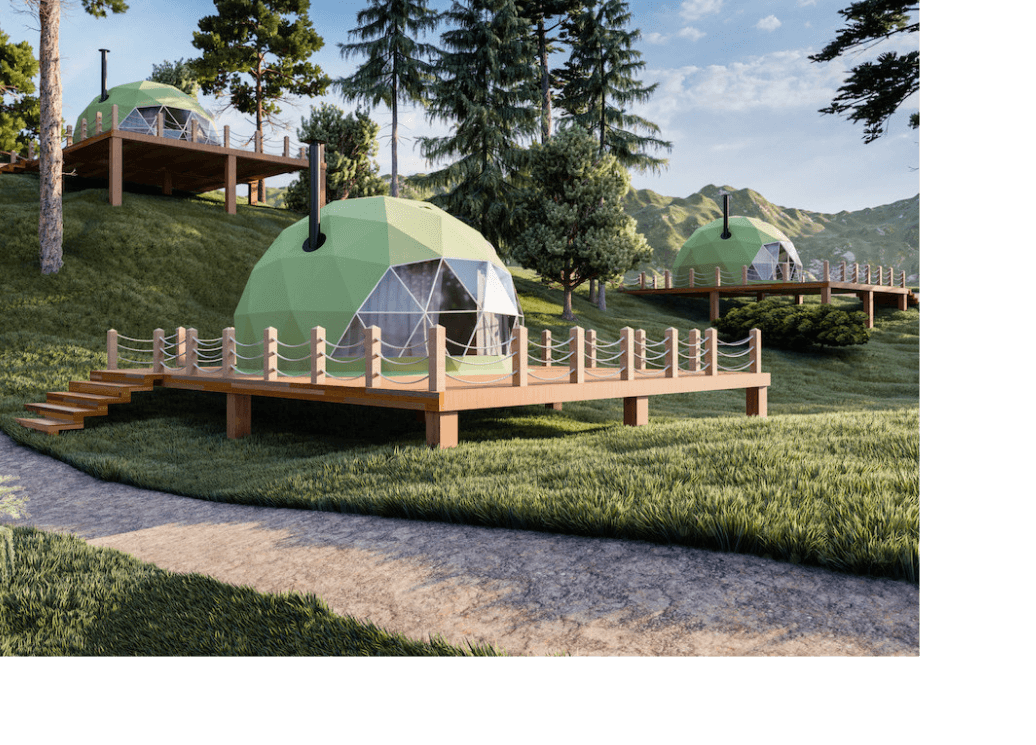 As you don't yet have the whole infrastructure and you are just starting your journey with the glamping resort it's good to make your guests feel like home and to use the all-in solution. What does it mean? Let us take care of all the interior. Your domes will be delivered ready to set up. Just prepare the decking and the sewage/ water/ electricity connections (according to our drawings and specifications) and you will be ready to accommodate your first guests two weeks from the domes' delivery.
You would like to start with 3 to 5 FDomes in order to start promoting your new resort and targeting couples but also families or larger groups from the very beginning.
ROI Calculation – CASE STUDY 2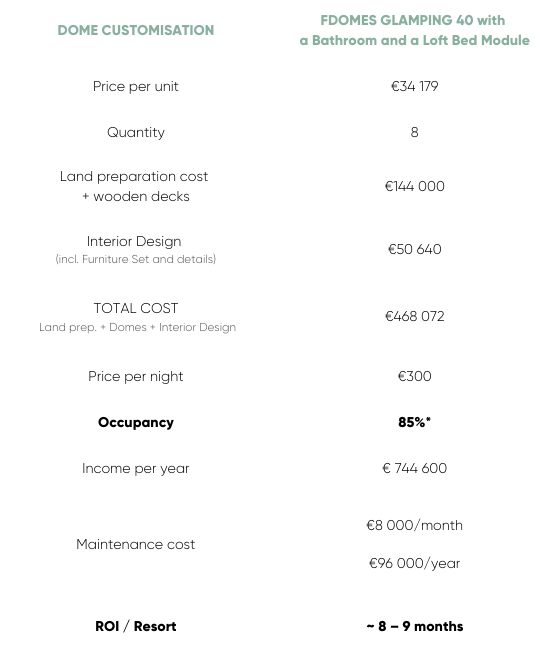 Guidelines
Make your new resort a unique place by delivering local food that can be used when your guests prepare their small meals in a comfy kitchen. You can also organize attractions such as small sightseeing trips, visits to local craft shops, and many more. Remember that making the place more personal will create an outstanding atmosphere.
By delivering more attractions you can also raise the price per night. Maybe it's worth thinking about some seasonal attractions, different for each season? Or decorating the dome differently for each season? Sky is the limit. Be not only a glamping owner but a host. Make your guests feel like home.
We hope the above calculations give you a better and wider view on how FDomes can enrich your existing business or help you to open one. Remember that the glamping trend is still on the increase and your ideas, vision and passion can help you to achieve even better results than the ones in the charts. We keep our fingers crossed for you and we will be happy to help you with implementing FDomes in your vision and follow your success at the later stages.