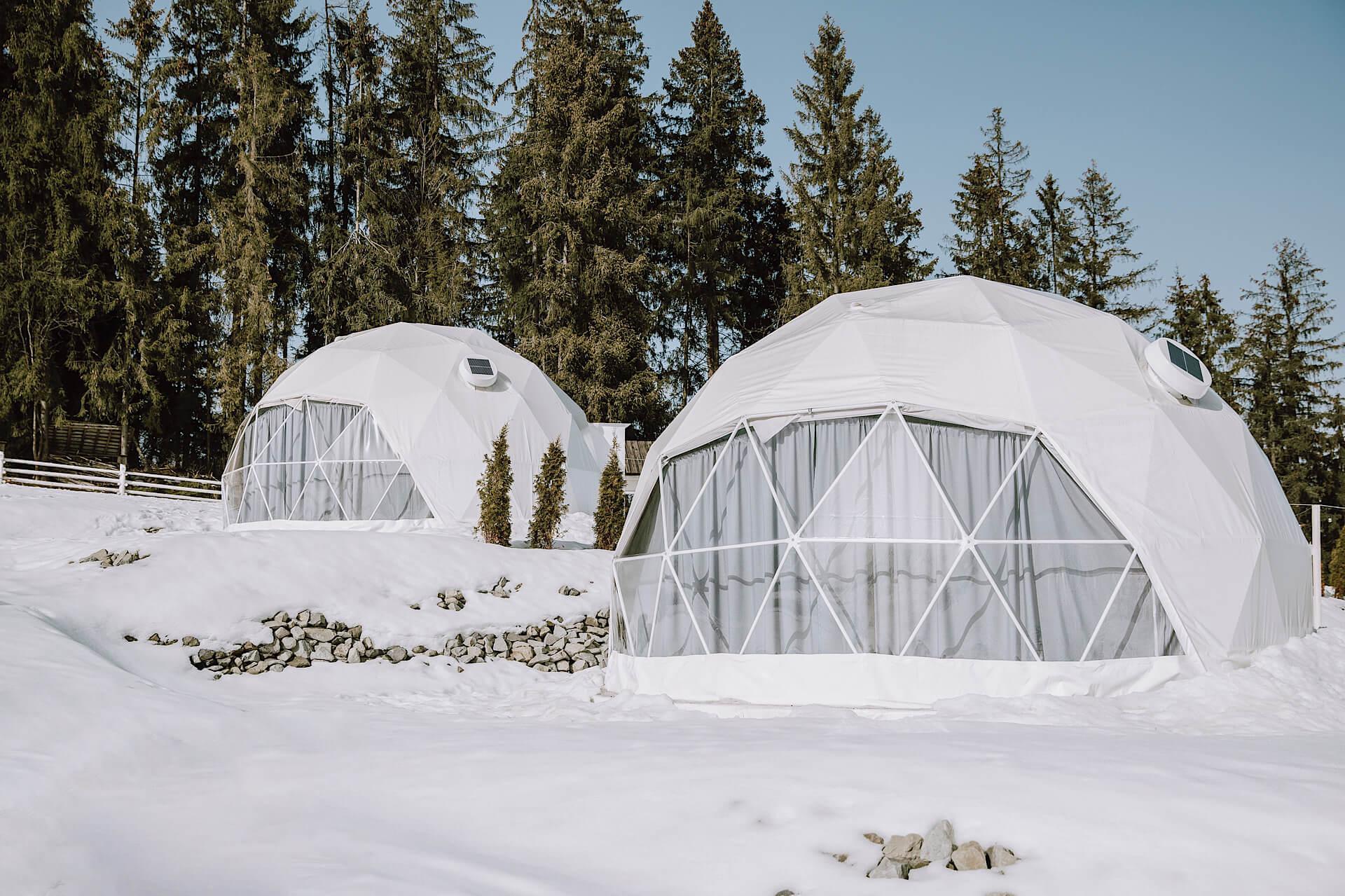 Breakfast delivered in a basket at your door every morning, a bathtub situated by the window, your own ATV for the stay… Discover the history of the unquestionably unique Mountain Glamp.
FDomes: Why did you decide to open a glamping resort?
Mountain Glamp: The fact that we were looking for an accommodation different from anything else was the main reason of opening a glamping resort. There are similar places in Poland, but they are far from what we wanted to offer our Guests. Therefore, in our spherical tents, there is a bathtub in a rather unusual place. Nowadays, people value comfort, look for things and places completely different from the rest.
F: What came first – land or business idea? Can you tell us how it has all started?
MG: Actually, both … The business idea has come to my mind, and the land was my fiancé's idea.
We both like cross-country skiing and we often dash through mountain meadows. One day, while skiing, we stopped for a while, lit a fire, and laid on the meadow talking about new business ideas. After a moment of silence, I said, "It's so beautiful here, the view is amazing!". He replied that the area belonged to his parents.
Of course, it wasn't all so nice and easy. There were initial problems, which we later turned into an asset. The access to the resort was the main issue because there was actually no access. Therefore, everyone who stays at Mountain Glamp has their own ATV at their disposal. This is yet another thing that distinguishes our accommodation from others.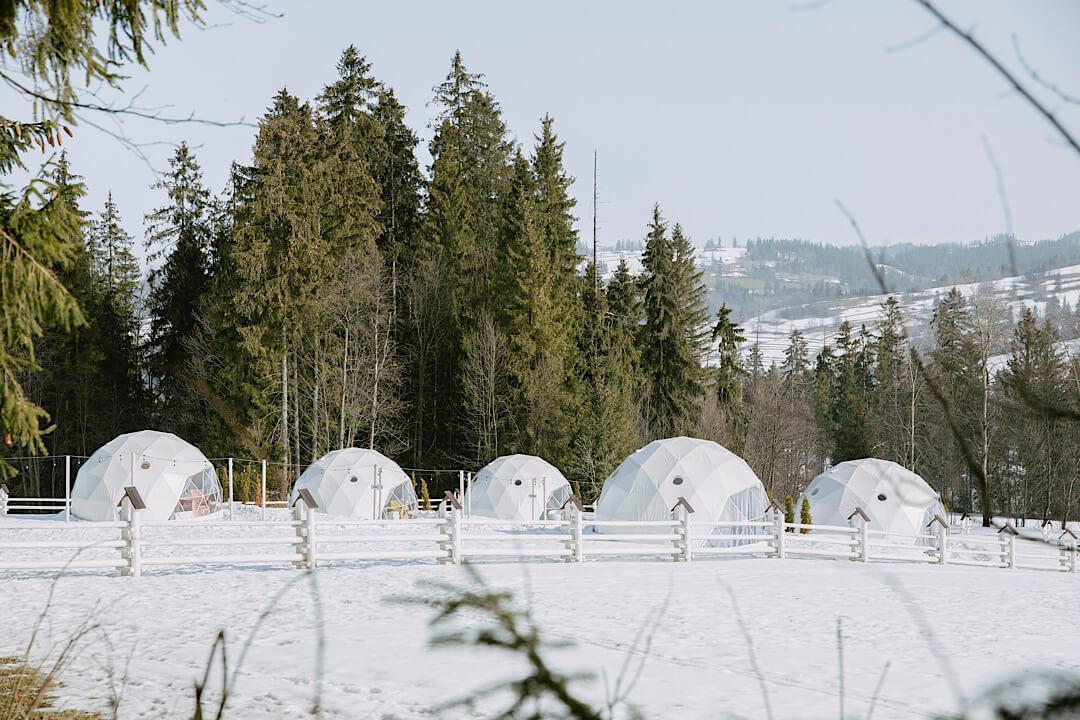 F: Do you offer accommodation in glamping pods all year round or do you only operate seasonally?
MG: Initially, it was supposed to be a seasonal, typically summer business. However, during the winter we got a lot of questions about the bookings. Probably our resort will become an all-year destination. Mountain Glamp is located at the very top, next to our slope, which our guests can also use in winter. This is another big advantage of our accommodation! Who would not want to wake up with a beautiful view of the mountains, and after the breakfast (served to our guests in the form of a breakfast basket straight at their door) put on their skis and go all the way down?
F: What is the feedback from your guests after their stay at Mountain Glamp?
MG: We keep on receiving bookings from guests who visited us last year. Our page on Instagram is also very popular. When we opened Mountain Glamp, we expected reservations for 1-2 days. And here is another surprise, because longer stays are booked more often. We are very happy about it! These days, people appreciate places filled with peace and quiet much more.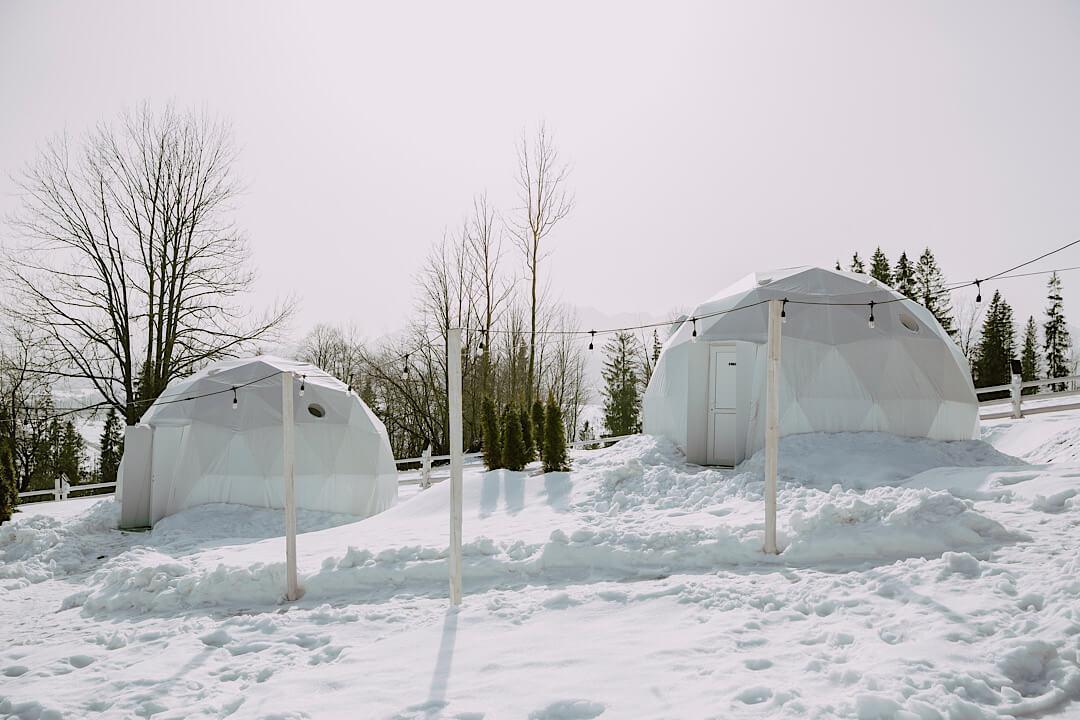 F: What attractions await guests in your resort and in the area?
MG: As mentioned earlier, our guests have an ATV at their disposal and can explore the area. There is a ski slope right next to Mountain Glamp so our property is the perfect choice in the Winter. There is also a trail leading to Gubałówka nearby.
F: The interior of each dome looks a bit different. You also have a different color theme. Where did the idea for such an arrangement come from?
MG: The interior of each dome is decorated in a similar style, only the colors and location of the bathtub vary. I think that even the most shy person will be able to relax in the bathtub next to the window, because only animals can watch us there.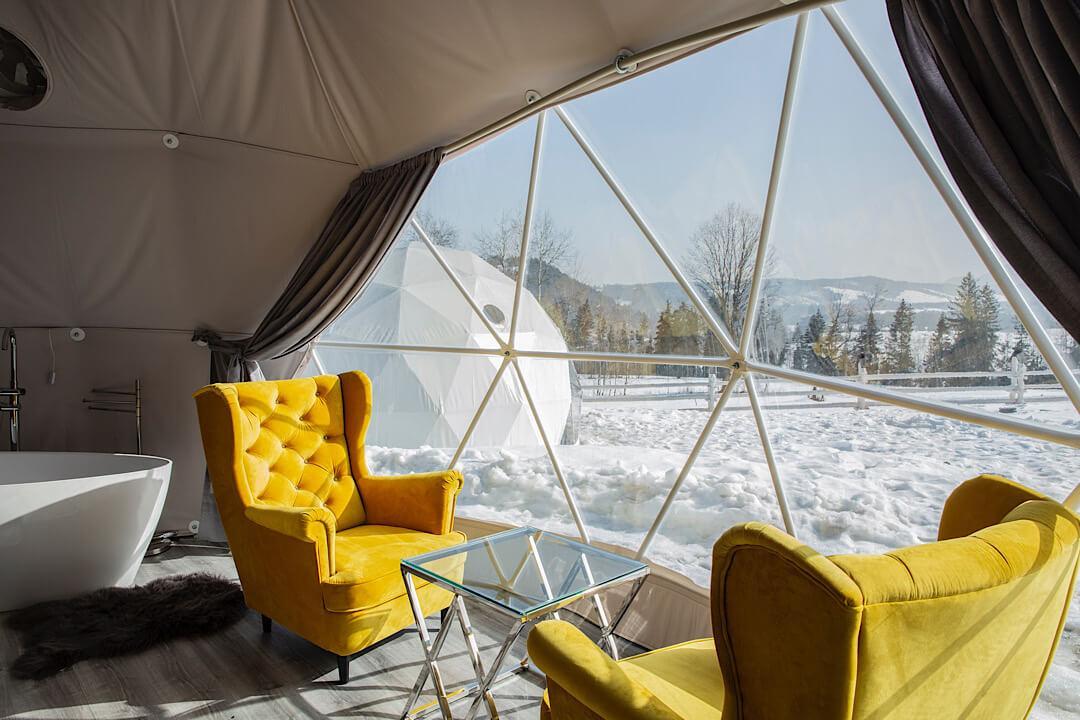 F: How do you rate the level of products and services offered by FDomes. Would you recommend them to others?
MG: We rate the level of products and services offered by FDomes very highly. We are satisfied and we will recommend FDomes to everyone with a clear conscience!
Mountain Glamp | Poronin, Poland
Website: www.mountainglamp.pl/
Instagram: www.instagram.com/mountain_glamp/
---
Do you find this article interesting?
Read the case studies of other resorts powered by FDomes Glamping: