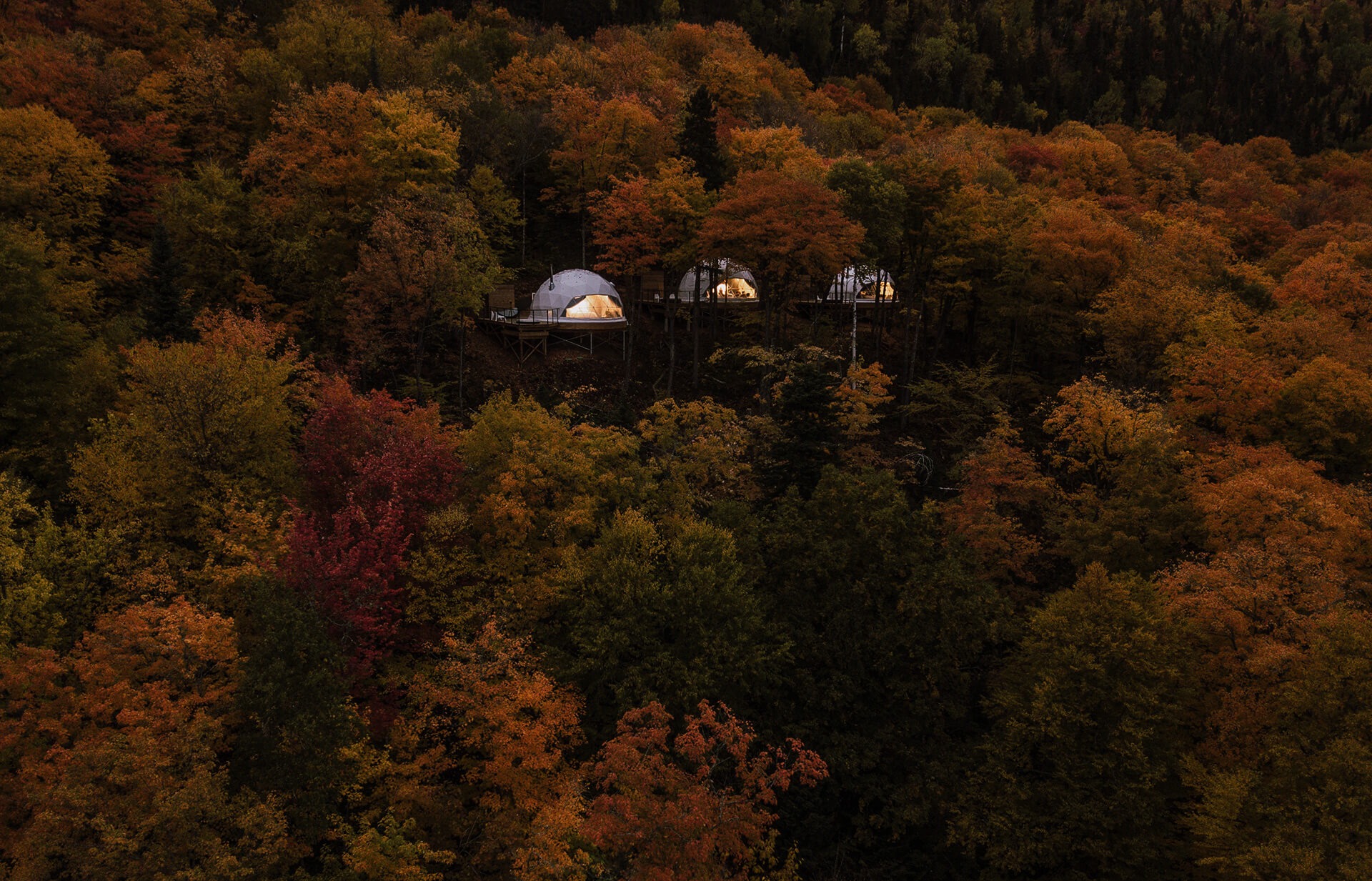 In a series of interviews with owners and managers of glamping sites, today we are happy to share a chat with the owners of Dômes Charlevoix- Simon Veilleux, Guillaume Genest and Simon Allard. Dômes Charlevoix is an outstanding combination of luxury accommodation, outdoor experience and exceptional design that attracts people from all over the world.
FDomes: How have you come up with the idea of setting up a glamping resort?
Dômes Charlevoix: Dômes Charlevoix targets a clientele looking for a unique experience. Whether they are more fortunate tourists adept at novelty, a family wishing to get away for a weekend or a young couple in love with the outdoors, our project allows everyone to experience it.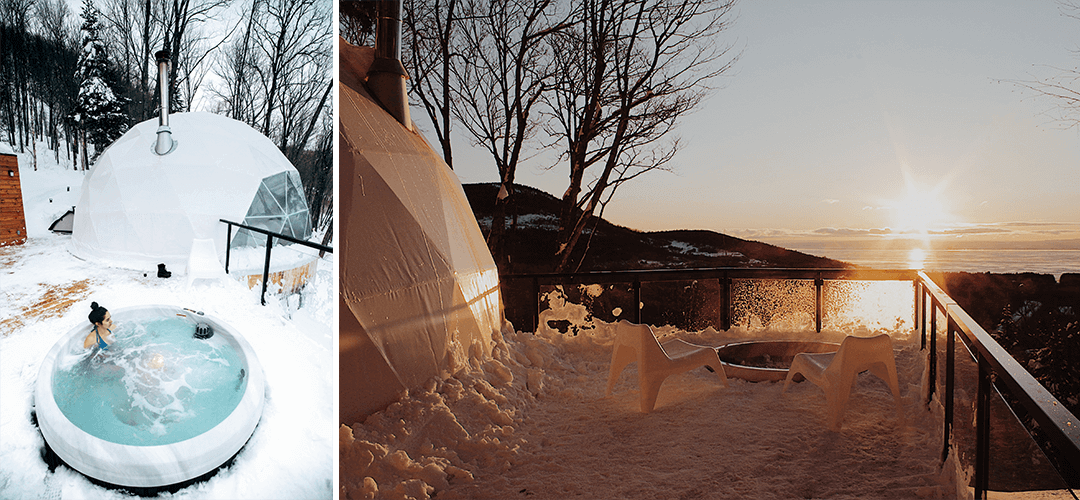 F: Why have you decided on geodesic domes in your project?
DC: We have always been through the hotel experience. These days people look for an A-to-Z experience and the accommodation is a part of the destination. The domes allow us to offer our customers a new way of lodging or camping without sacrificing the comfort of a hotel or a chalet. Thus, excursionists no longer only want to visit the region, but also to discover Dômes Charlevoix.
F: Not only is the location of Dômes Charlevoix spectacular but also the interior design. It was quite loud about the cooperation you had with one of the most recognizable architects when designing the interior. Can you tell us more about it?
DC: Dômes Charlevoix ranks among the homes offering an extraordinary experience to visitors. The originality, but also the meticulous design of every detail of the homes, seduces customers every time. The success of the project outside the region therefore rests largely on the very nature of the project, quality, and experience. We have designed every detail- the dome itself, our website (www.domescharlevoix.com) as well as project's branding with the same desire for excellence. This approach is essential in order to promote a company and thus allow a reputation beyond the borders of the region.
The site's geographic location, halfway between Baie Saint-Paul and Le Massif de Charlevoix, is also one of the project's successes factors. Who could expect such a level of luxury in a geothermal dome besides enjoying a private terrace with a hot tub offering one of the best views in the region?
You may find some extra details on this article:
www.dezeen.com/2018/11/08/eco-luxury-domes-charlevoix-quebec-canada-bourgeois-lechasseur/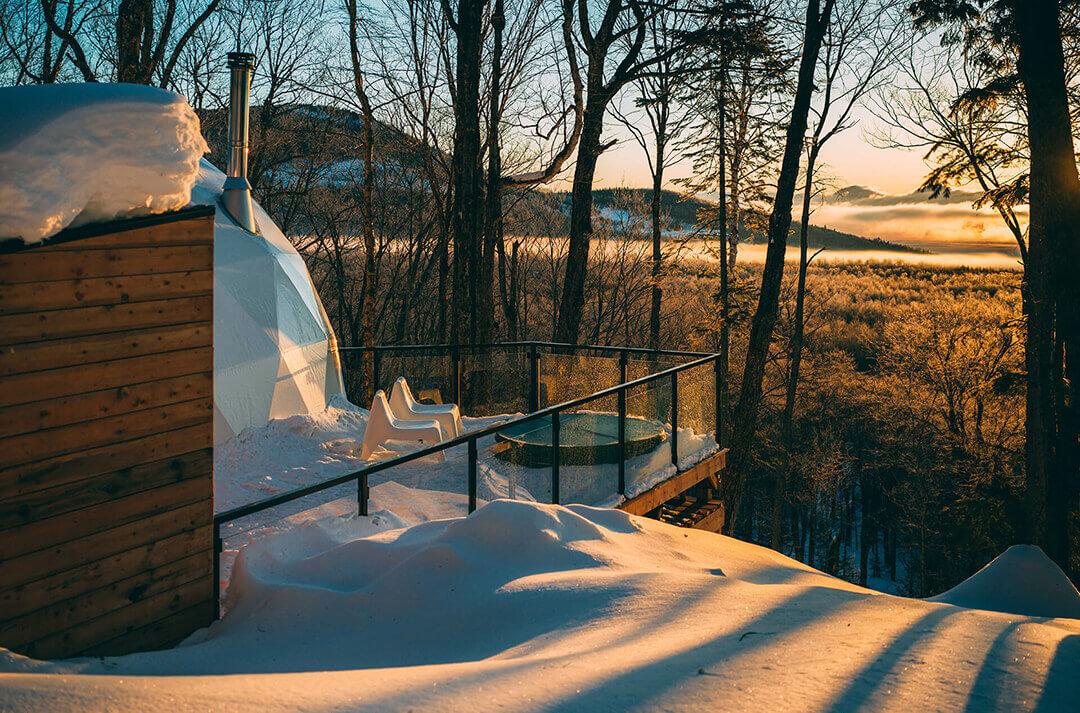 F: What feedback do you receive from your Guests? What do they love the most about Dômes Charlevoix?
DC:
Dômes Charlevoix stands out from other experiential tourist accommodation projects by the shape of the dwelling, but also by the quality of the facilities and services offered. Visitors also appreciate the freedom and privacy offered to them, as they are free to come and go. No staff is present on site. Visitors take possession of their keys through small secure boxes at the entrance to the site. They, therefore, have a greater sense of adventure during their stay.
Inside the domes, nothing is left to chance. The full kitchen and luxurious bathroom impress visitors. Few would expect such a level of luxury and comfort in geodesic domes. Despite the limited space, the units can accommodate up to 4 people thanks to 2 queen beds.
Its strategic location in the heart of the Charlevoix region also makes it a more attractive project for tourists, given the region's supply and affluence compared to others.
We are the only ones in the region to offer a perfect mix between an extraordinary home and a breathtaking view of the St. Lawrence River.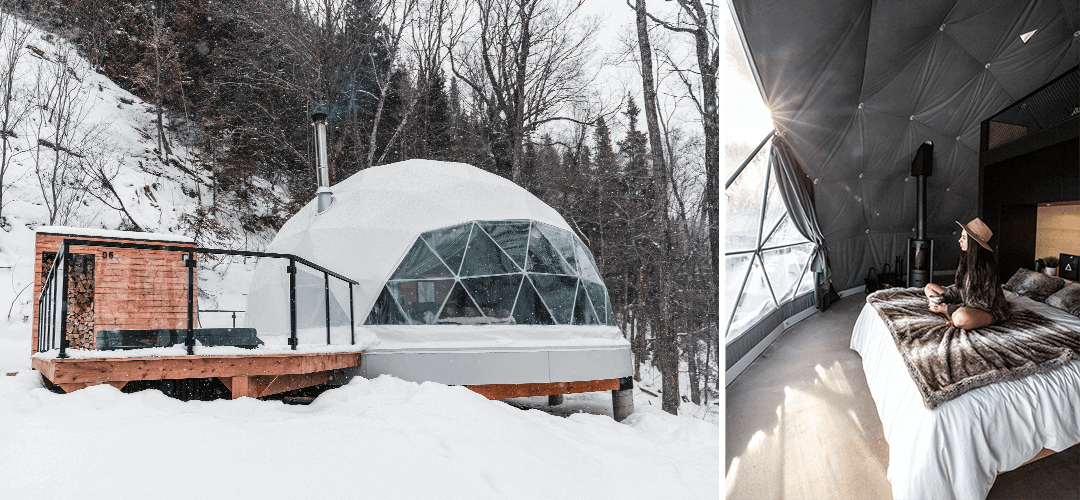 F: The Internet has fallen in love with Dômes Charlevoix. How have you managed to gain such a popularity?
DC: In the tourism industry, marketing and product quality are everything. Our success outside the region is based on 3 key elements:
Optimization of social platforms
Our team pays special attention to always staying relevant on Facebook and Instagram. Almost all of our communications are made on these platforms that have nearly 180,000 combined subscribers. We frequently share photos there in addition to running periodic contests to keep their attention. A single post on our Facebook page often reaches over 50,000 people alone. Our last competition, for its part, reached nearly 1,500,000. Our notoriety stems from this influence and we take this opportunity to frequently highlight the Charlevoix region. Indeed, although our customers choose to come to Dômes Charlevoix first and foremost, the fact that it is located in this wonderful region allows us to shine more. It is a win-win relationship.
Content creation
The beauty of the site and the facilities is one thing, putting it into an image is another. Since we know that customers book their stay based on the photos available, we've made it our business to create a quality content for all seasons. Thus, we have cooperated with talented photographers. These collaborations have allowed us to accumulate dozens of high quality photos thanks to which we have been able to build our notoriety here as elsewhere.
Influencers
Many influencers have contacted us since the opening of Dômes Charlevoix to come and stay there in exchange for visibility. We have therefore selected those whose image and content most closely resembles what we want to highlight. Here are a few of them:
F: How do you rate the level of products and services offered by FDomes. Would you recommend them to others?
DC: We would highly recommend FDomes Glamping as a reliable business partner. What we appreciate the most is the high quality of the products and the supportive team. FDomes has been providing professional services from the very beginning of our cooperation.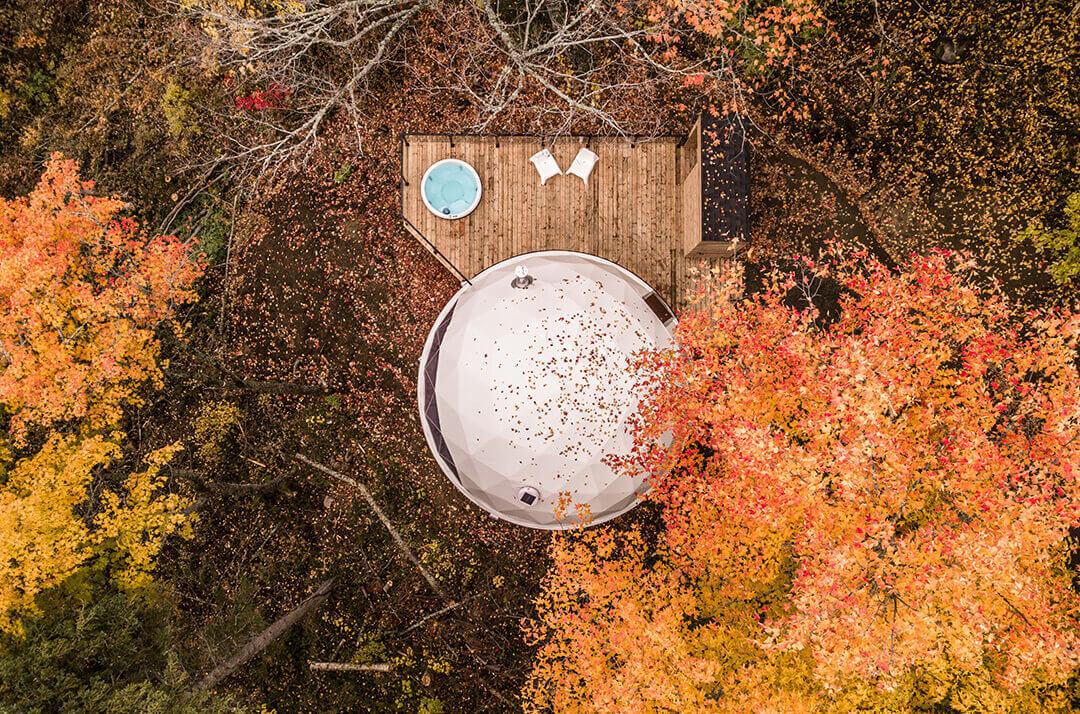 Dômes Charlevoix was so nice to share with us their success. It is extremely impressive how a good idea, hard work, passion to glamping and hospitality pay off. No words needed, just take a look at the numbers:
More than 1,800 visitors since the opening. We expect that number to increase to nearly 2,500 visitors in 2020 alone according to our estimates.
99% occupancy rate since opening. At the time of submitting this application, only 2 stays of 2 nights remained free.
Average rating of 4.8 out of 5 stars on Facebook and Google.
Over 300,000 visits to the Dômes Charlevoix website to date, over 39% of which come from markets outside Quebec.
Nearly 150,000 subscribers on Facebook.
Over 27,700 Instagram followers.
Over 12,000 emails received from people wishing to stay informed about the project.
Over 50 publications on international architecture and tourism blogs and media including CNN Business.
Several articles in the Quebec media including Le Journal de Quebec, Le Journal de Montreal, Le Soleil, Le Devoir, La Presse, etc.
Domes Charlevoix | Charlevoix, Quebec
Website: www.domescharlevoix.com/
Instagram: www.instagram.com/DomesCharlevoix/
---
Do you find this article interesting?
Read the case studies of other resorts powered by FDomes Glamping: