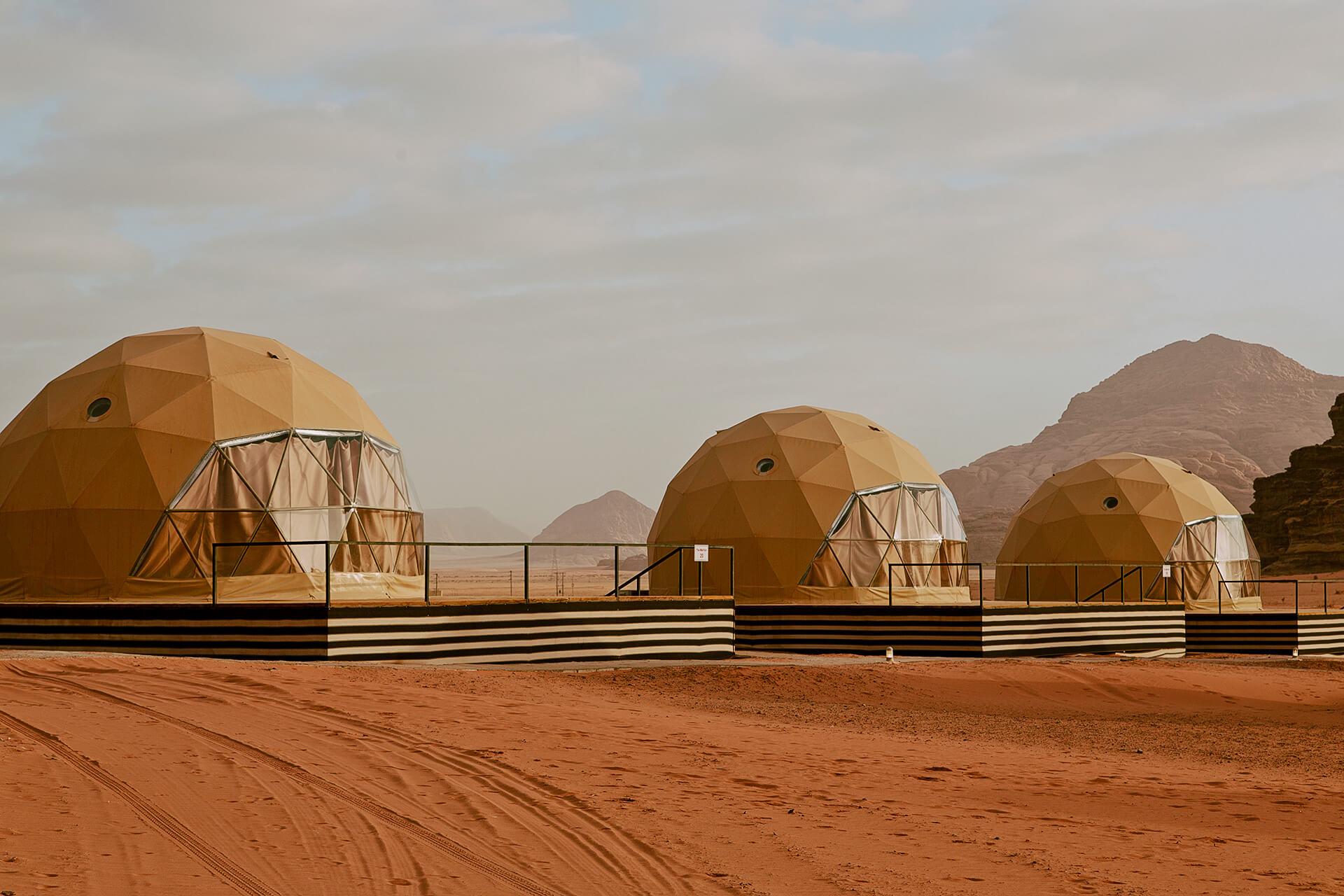 Inspired by "The Martian", SunCity Camp offers its Guests the Martian experience in the middle of Wadi Rum Desert in Jordan.
Domes: How have you come up with the idea of a glamping resort?
SunCity Camp: Our resort is located in Wadi Rum desert or what is also known as the valley of the moon. Many Hollywood movies were shot there. One spectacular movie was "The Martian".
This when we decided to go for the glamping resort.
F: Has "The Martian" inspired you for the dome resort setup?
SunCity: Yes, it has. The surrounding and the atmosphere inspired us to launch a resort with a unique out-of-this-world experience that our Guests will never forget.
F: A remote location on a desert and rigid yet amazing surrounding is what your visitors can experience. What activities are they encouraged to participate in when visiting your resort?
SunCity: Even though we are located on a desert, there are many activities that Guests can experience, such as:
Camel Riding which is a traditional way of transportation for Bedouins since early days and a symbol of the Arabian heritage.
Jeep Tours to enjoy the adrenaline rush.
Star Gazing as the stars in Wadi Rum are particularly exceptional. The serenity of the desert gives them that extra shine and mystery.
Hot-Air-Balloon Rides to experience the amazing views on a desert in a totally unique way.
F: How do you deal with very high temperatures on the outside to keep your guests comfortable in the glamping domes?
SunCity: We draw great attention to the geodome interior to make our Guests feel the most comfortable. All our Martian Domes are non-smoking, each with private en-suite bathroom facilities, hot water and air-condition devices with heating options.
F: What feedback from staying in the domes do you receive from your visitors?
SunCity: We receive a lot of positive feedbacks, especially on TripAdvisor. All our Guests are stunned with the atmosphere, our customer service, the views and, last but not least, accommodation. The Martian Domes are often the highlight of the trip and Guests are truly in love with the glamping experience.
F: How do you rate the level of products and services offered by FDomes. Would you recommend them to others?
SunCity: We have successfully found that FDomes would give the most regarding quality, performance, and cost-efficiency. During our research on the best glamping product out in the market. We have come upon a lot of options. While most of them were great, we have found the perfect product for the company's needs. Compared to the other products we found that FDomes is the best and meets all the qualifications that you set. FDomes is an excellent quality, very efficient, and a very strong product. There have been many reviews on this, all of them singing praises on how good it worked for them. We strongly recommend FDomes for those who are interested in glamping products.
Sun City Camp | Wadi Rum, Jordan
Website: www.suncitycamp.com/
Instagram: www.instagram.com/suncity_camp/
---
Do you find this article interesting?
Read the case studies of other resorts powered by FDomes Glamping: