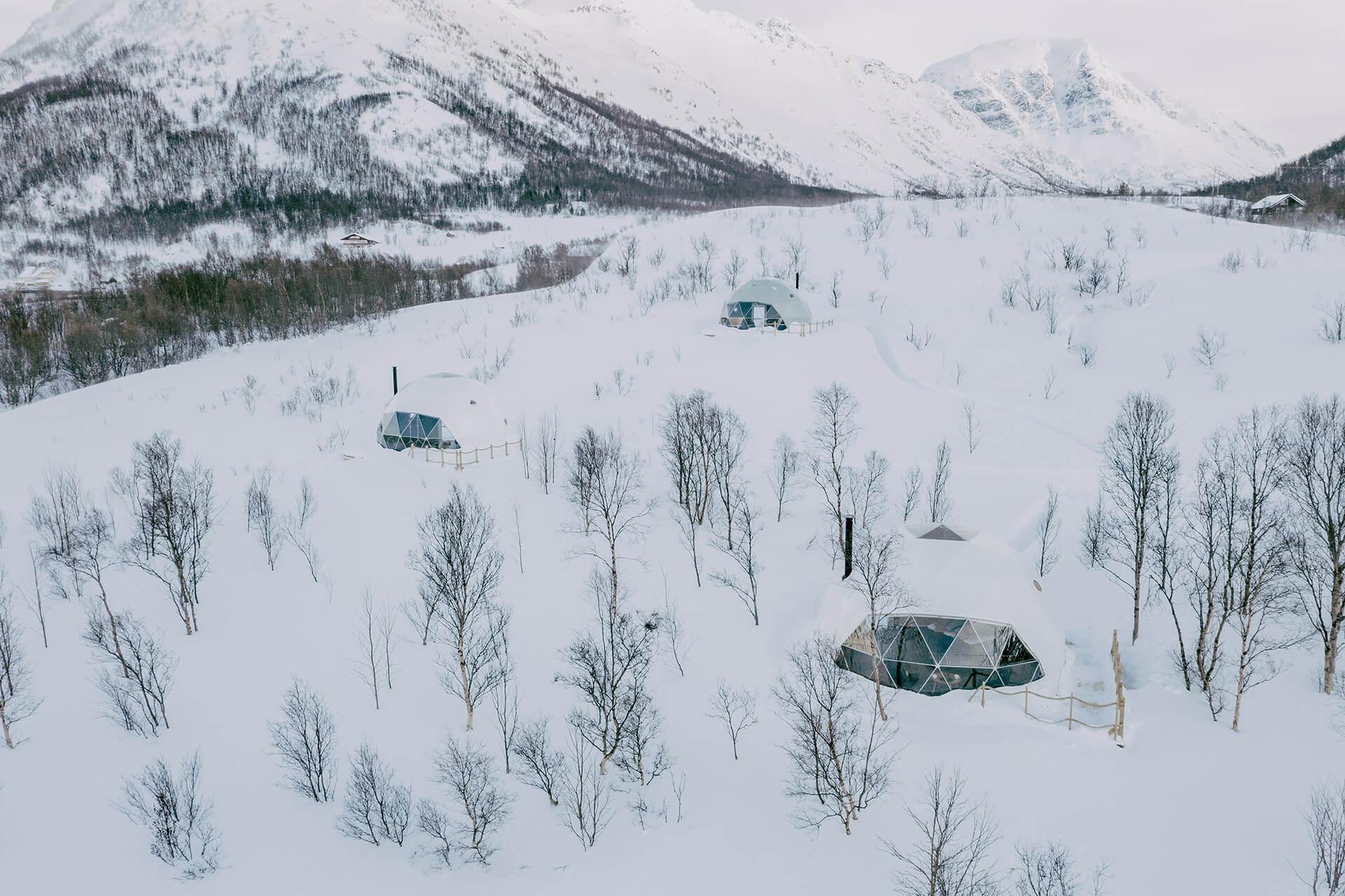 In a series of interviews with owners and managers of glamping sites, today we are happy to share a chat with Tonny Mathiassen, the founder of a 5-star resort, who along with his spouse Mira, decided to make their dreams come true and created a place where luxury meets nature.
FDomes:

How have you come up with the idea of a glamping resort?
Tonny Mathiassen: The Glacier is a project that has been being worked on since 2009. It has changed form and content several times during those years, but one part of the project has always been a constant. We wanted to create a sort of basecamp in the complete wild where our guest could enjoy the luxury of a modern hotel room and then open the doors and be surrounded by the untouched nature, what we chose to call a low threshold nature experience.
F:

What was first, the idea of the glamping resort or the land?
TM: Behind The Glacier, you'll find the married couple Mira and Tonny, Tonny is born and raised in Jøkelfjord. The word "Jøkel" is the old Norwegian word for "Glacier", and the name itself gives away a huge clue of what you'll find here. With four nearby glaciers, one of them being the only one on mainland Europe that still drops ice directly down in the sea, we just had to find the perfect land to follow our dream of showing this to travellers from the entire world. It took us two years to convince the previous owners to sell the land to us, and then another 9 years before we felt we had a product that lived up to our expectations, that we could be proud of and sell to a high-end market.
F:

A remote location, beauty of nature and truly spectacular views is what your visitors can experience. What activities are they encouraged to participate in when visiting your resort?
TM: We have always said that we want to be the best at what we want to provide our guests, mainly high quality facilities and food experiences. With this focus we chose to partner up with activity providers that deliver nature based activities and experiences that lives up to our standard. We are blessed to be situated in the midst of the perfect entry point for loads of activities, with high mountains, glaciers, northern lights, midnights sun, whales, reindeers and of course lots of snow.
Today we offer a wide selection of activities varying from season to season and activity level. I'll give you some examples in different categories:
Sea: Kayaking, boat trip to the Glacier, whale safari, fishing trips etc.
Mountain: Ski touring, glacier walks, mountaineering, avalanche courses etc.
Nature: Hunt for the Northern Lights, Snowshoeing, hiking, dogsledding, reindeer migration etc.
Culture: Visiting sacred Sami places, culture trails, bear graves, storytelling etc.
Food: Tasting of local food and beverages.
F:

Do you plan to offer all year round accommodation for your guests?
TM: We do offer year round accommodation, experience to be snowed in underneath the Northern Lights or the never ending summer days, we are open throughout the year.
F:

Have you already had first guests in your glamping site? What was their impression?
TM: We opened our destination on the leap year day, 29th of February this year, like most of the world we closed down due to the corona pandemic, but we re-opened again in the last week of June. To quote one of our most recent guests "we knew it was going to be good, but we were not prepared for this, we were blown away. I don't think people understand just how good this is and we hope that more people will discover this hidden gem."
We currently enjoy a 5 out of 5 rating on all the platforms we are rateable on, and the second biggest bank in Norway just recommended us as 1 out of 5 destinations that you have to experience if you're going to Northern Norway.
F:

How do you rate the level of products and services offered by FDomes. Would you recommend them to others?
JW: We actually started out with a different provider of geodesic domes, but they did not hold the quality we wanted and through thorough research we found FDomes Gamping and they held a much higher level of quality. As a tourism destination we work around the clock, and if we encountered something we needed to talk to FDomes about they were always just a phone call away, no matter time of the day or a weekday.
Isbreen The Glacier | Jøkelfjord, Norway
Website: www.theglacier.no/
Instagram: www.instagram.com/isbreentheglacier/
---
Do you find this article interesting?
Read the case studies of other resorts powered by FDomes Glamping: