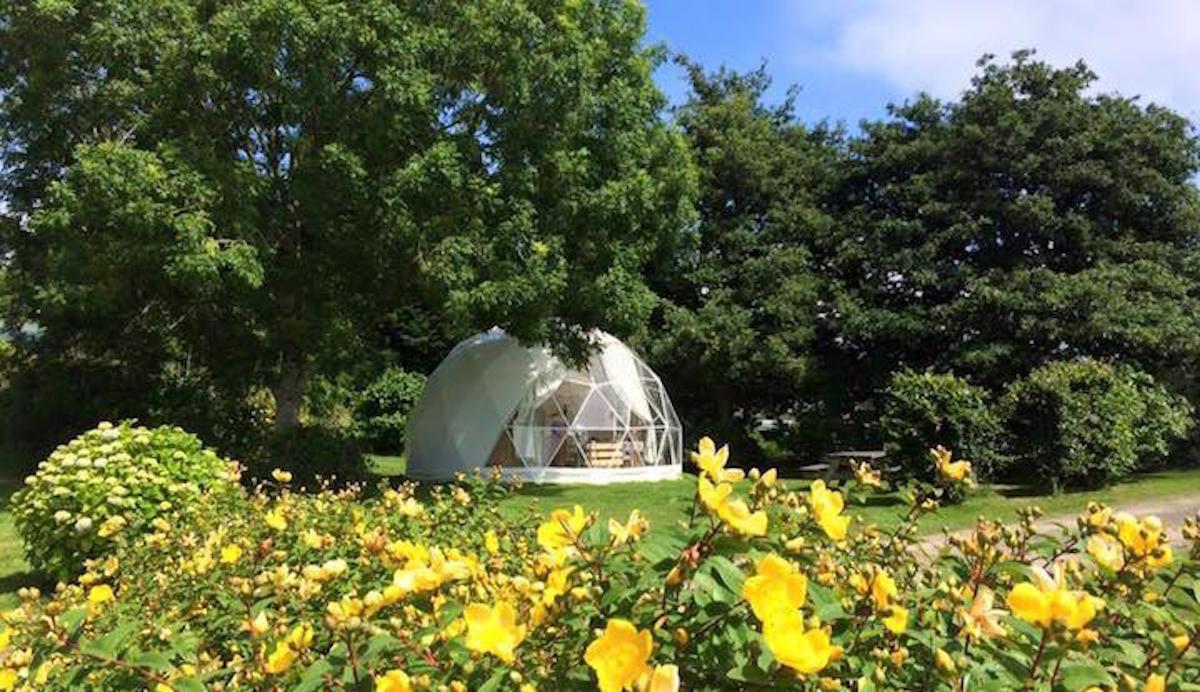 We spoke with Amie and Dan Olford from East Crinnis Holiday Park who use F.Domes as their glamping wowzers. Last year, they diversified their site with luxury bivouac shelters. See why they hit the jackpot when they found geodesic domes.
FDomes: How long have you been in the Glamping business?
East Crinnis: 7 years.
F: You started with caravans and camping. Why did you decide to invest in a glamping business?
E: We wanted to offer something new and interesting and give our customers more of a choice of accommodation when staying with us. Glamping is a better reflection of our personalities within the camping and caravanning industry.
F: Was dome your first glamping unit?
E: No, we invested in 2 yurts 7 years ago and then added the geodesic dome in 2015.
F: Why a dome? What made you choose this type of structure?
E: We chose the Geodome because no one was offering anything like this in Cornwall. We loved the structure and the fact it was really light with the big window at the front. We are based a mile away from the iconic Eden Project and the Geodome looks like a mini version of the Eden biomes – we thought they would be perfect for our site.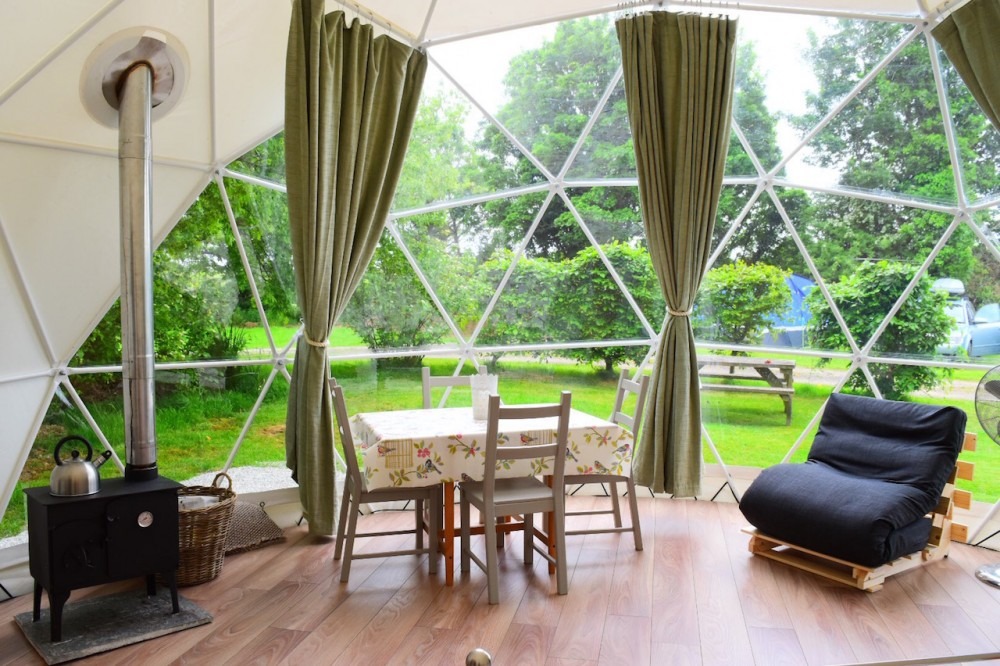 F: How did you find us?
E: We researched for a long time and found other companies that offered Geodesic Domes, but after speaking with the guys at F.Domes, and explaining exactly what we wanted, we knew that this was the company we wanted to work with.
F: How long did it take to start the glamping business up?
E: We have been in the Camping and Caravanning business for over 25 years, so already had a strong customer base. Our yurts were an addition to what we already offered with our self-catering accommodation.
F: What type of glamping units do you offer?
E: Yurts and 2x Geodomes.
F: Do you have plans to expand?
E: We are adding another, larger Geodome this year with plans to expand again next year with possibly another dome.
F: Where did you get all your Glamping supplies?
E: We source most of our furniture and supplies locally.
F: Do your guests have any preferences in terms of accommodation? Do they ask for specific glamping units?
E: Our geodesic domes are definitely the most popular as they are unique and people love staying somewhere that little bit different.
F: Your site is located beautifully, near the Atlantic Ocean. Apart from outstanding views, what other things guests appreciate most when glamping with you?
E: East Crinnis is a quiet, friendly, family-oriented site set in a rural location. We are centrally located in Cornwall, which offers our guests a range of experiences within a few miles of the site. Our glamping guests love the fact the beach is within walking distance. We have a chilled out, relaxed vibe with storytelling evenings around the campfire in the summer – this fits perfectly with the glamping target market.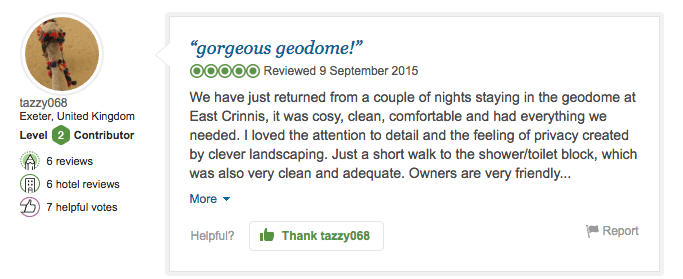 F: FDomes are self-assembly kits. Did you find it difficult to assemble one at your site?
E: It took us about a day and a half to assemble the dome with 3 people helping. After working out the plans we didn't find it difficult to assemble once we had a system in place.
F: How does the dome work compared to the different types of accommodation you use? Any additional features you had to provide to make it suitable for your guests?
E: The dome works in a similar way to the yurts. We changed the door to a wooden one and have added a permanent king-size bed as opposed to the futons we have in the yurts – this really does give guests a more comfortable stay. This year we will be adding an en suite to both Geodomes to go that extra step in offering our guests a luxury camping experience.
F: The weather in your area can be challenging: high winds, rainfalls… How does the dome perform in such conditions?
E: Brilliantly. The structure is very strong and does not move in high winds. We have had no leaks or any problems with the dome. This winter we have been battered by storm after storm here in Cornwall but the dome has not been affected at all, even with 80mph winds!
F: Did it pay off?
E: Yes, the dome has been an excellent addition to the self-catering side of the business.
F: Biggest lesson you've learned so far being in this business?
E: Flexibility! No two days are the same. You can have a plan for the day but this can all change depending on the weather or unforeseen circumstances. You have to be flexible to cope with the demands of the customers, some may need little or no attention and others may require more and always keep smiling!!!
F: How does the glamping investment influence your business? Was it worth the price?
E: Yes, we have had plenty of bookings in the first year to make the dome a worthwhile investment.
F: Would you recommend FDomes to your friends or other camping owners?
E: Definitely, anybody who visits the site, old and young, are interested in staying in the dome. We have a list of friends who have wanted to try the dome out but we have been fortunate enough to be booked up for most of 2015.
East Crinnis Holiday Park | Cornwall, United Kingdom
Website: www.eastcrinnis.com/
Instagram: www.instagram.com/eastcrinnis/
---
Do you find this article interesting?
Read the case studies of other resorts powered by FDomes Glamping: