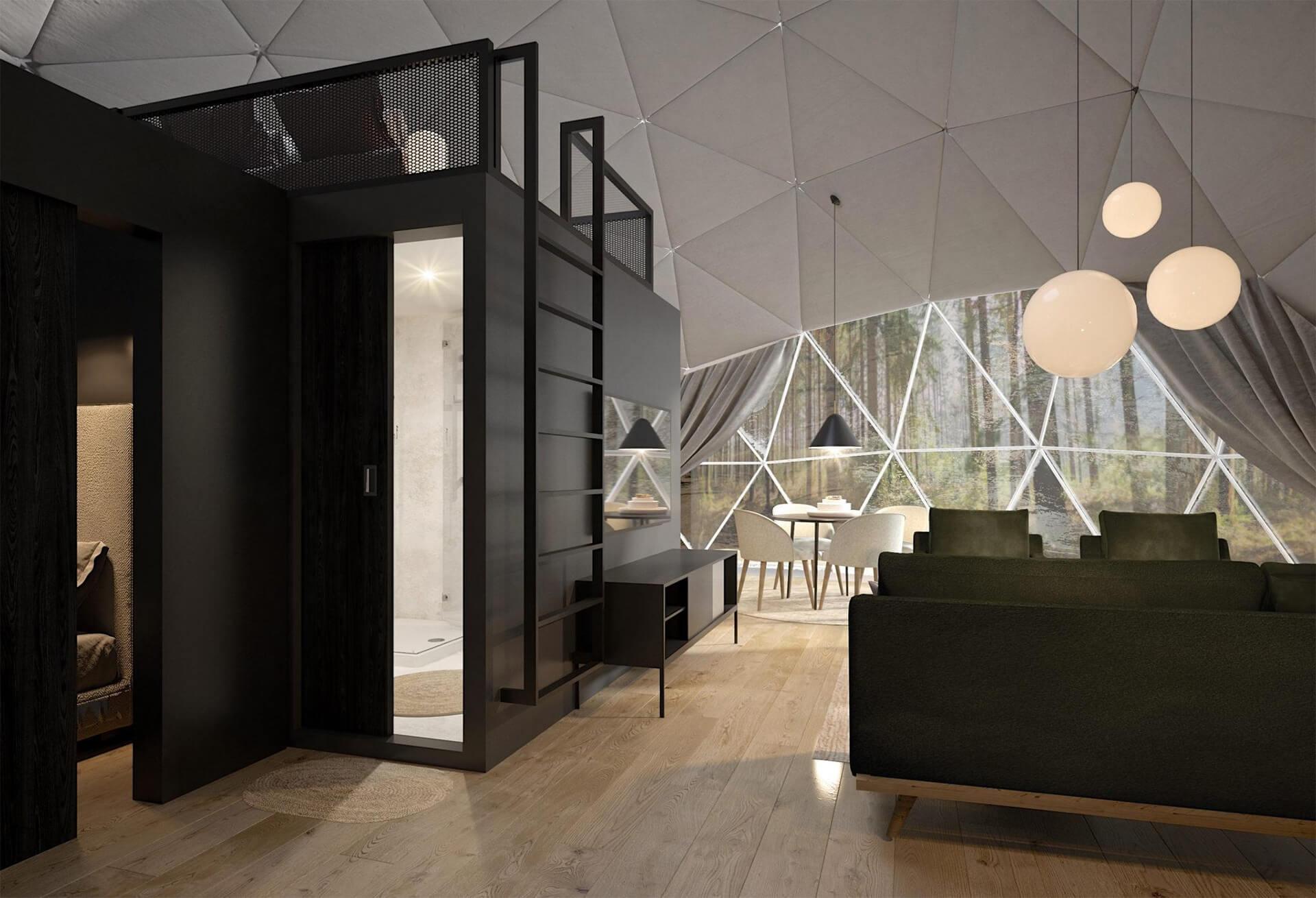 Interior design can make us feel relaxed, happy, overwhelmed, comfortable or stressed. Therefore, it is crucial to arrange the space the way it brings you joy and ease, both at home and in your FDomes Glamping. It is even more important if you want your Guests to feel delighted by the glamping interior at your resort and make their experience more exceptional. So, what are the Dos and Don'ts of arranging the dome space?
Let's start with some Dos you can't forget when designing your FDomes Glamping interior.
Choose the Colours
The colours tell the interior's story and help create a desirable ambience at your glamping spot. Do not be afraid of a matching variety of colours, fabrics and patterns. Start with light shades of the walls, like Ecru or Light Grey Insulation Liner and make them a background for your story. Spice it up with eye-catching furniture and textiles. Avoid being too matchy even if you aim to create a coherent look. Use elements that complement each other and have something in common but are not the same. Go with the same fabrics but different colours or the same colour but in two separate interior spaces. Be brave, be creative, and design the space you would be pleased to stay in yourself.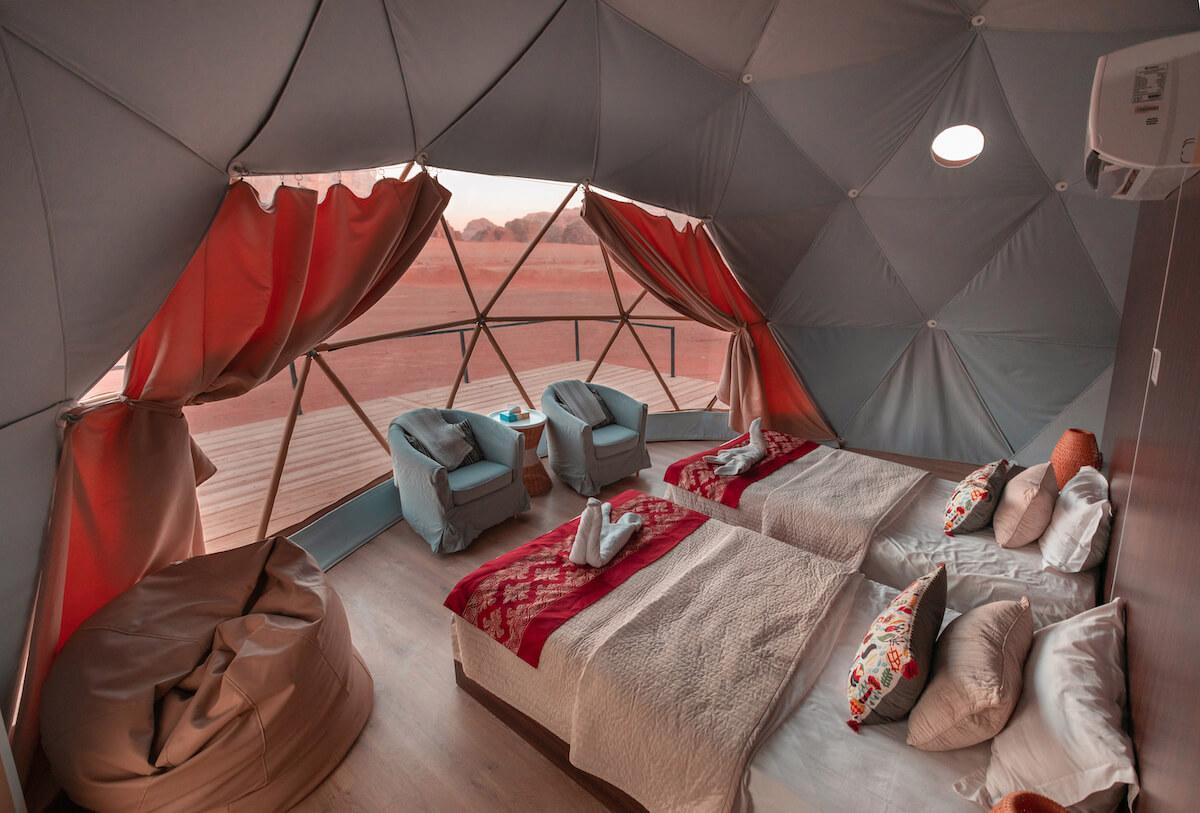 Keep the Interior Airy
Always consider your FDomes structure size and arrange the furniture to maintain space around each piece. Start planning from the largest components, like a bed, a sofa, and a dining table. Then, go with the smaller ones, and choose accessories and details that will fulfil this arrangement.
Be Unique
Remember, details make a dome feels like home. First of all, always purchase the things you really like. A hand-crafted vase or decorative plate and a machine-cut industrial piece may be equally valuable depending on the interior style. Do not limit yourself, be open to what you like and the style you want to offer your Guests. Start with pillows of many sizes and shapes, some patterned blankets or fluffy rugs in contrasting colours and fabrics. It's always a good start when building a glamping vibe that feels cosy and homey.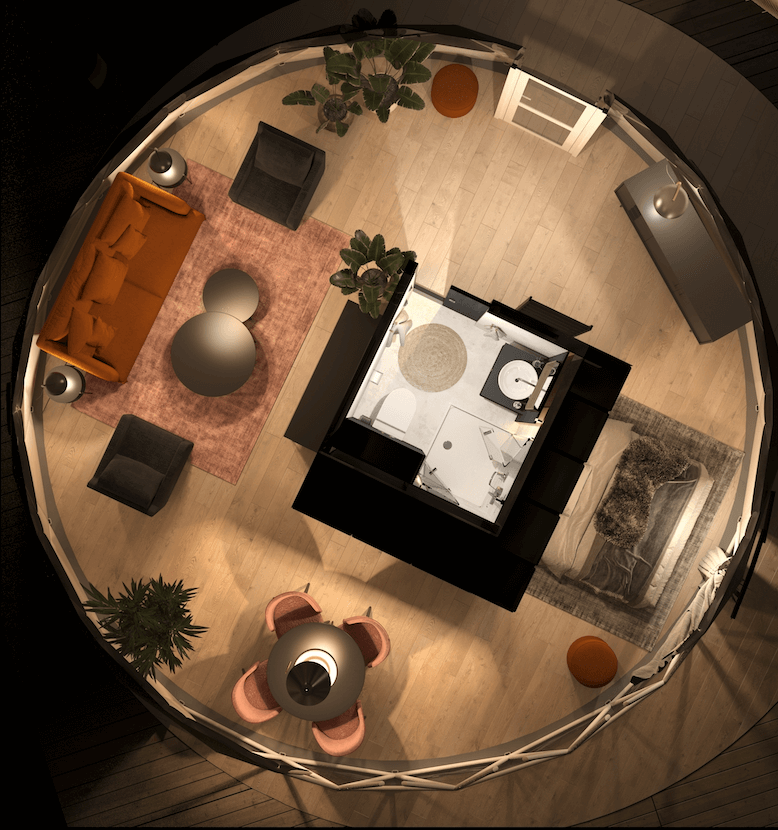 Light It Up
Choose your lighting wisely. Remember that appropriate light evokes desired feel for the space. Adjust it to the geodome interior, adding a large floor lamp next to the armchair, a stunning hanging lamp over the dining table, and intimate led lighting in the bathroom and bedroom. Play with the lampshades' colours and shapes; remember that they are also a part of the glamping interior design – a significant one, actually!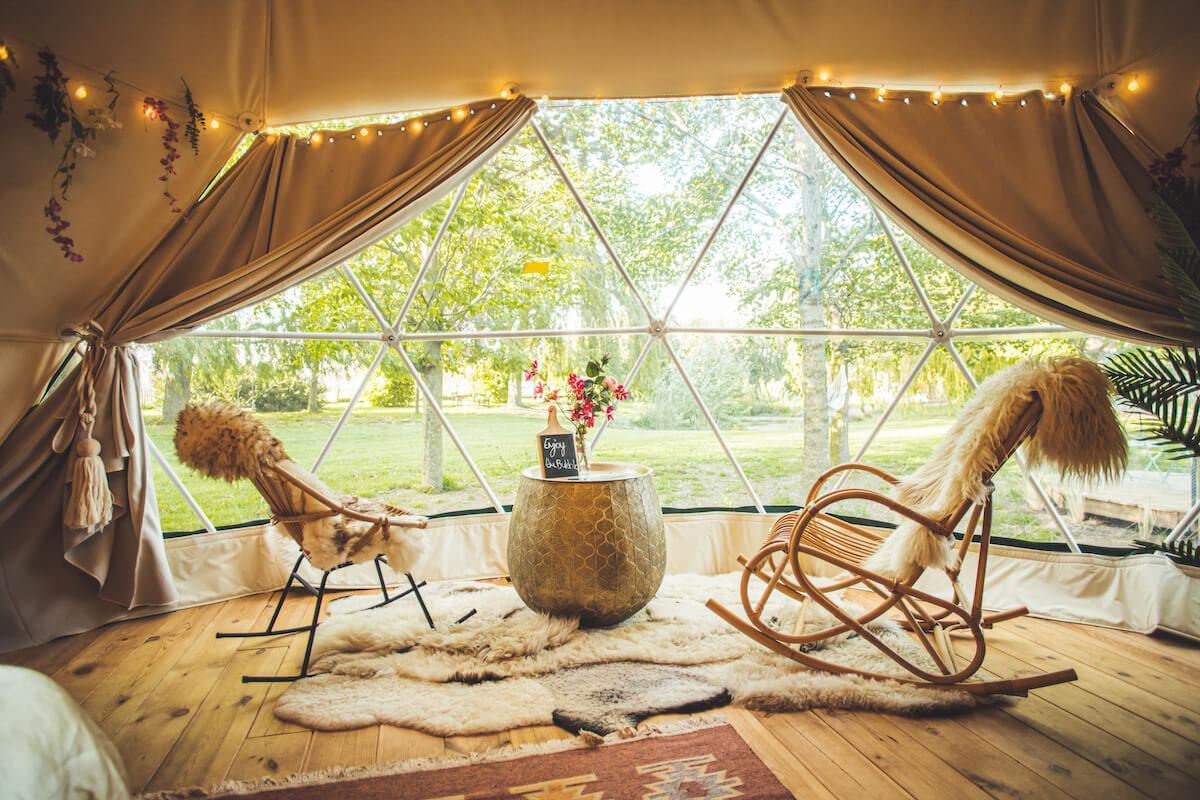 Use mirrors
Place a standing mirror inside to accent the dome's decor. It can be a focal point of the room, but it will also make the small interior look more spacious. Remember that the mirror frame should be classy and simple if you want to achieve the latter. The mirror will be an outstanding glamping decoration if you use a decorative and bold frame.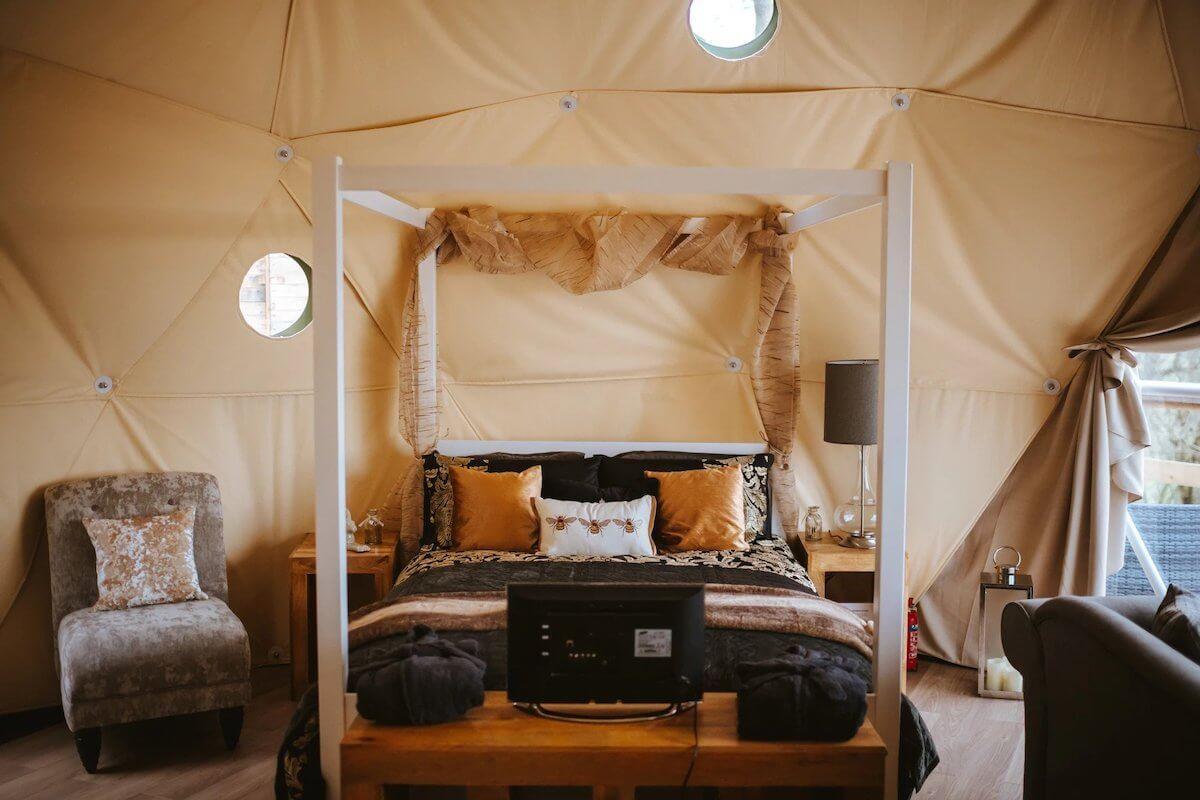 Choose Designer Furniture
Suppose you are planning a luxury glamping resort with a pinch of modernity. In that case, you should consider designer furniture sets such as Sofacompany set adjusted to each dome size. Original sofa, elegant coffee table, and comfy armchair are simply a must-have in your geodome. Mix the modern design with an old-fashioned look but remember to keep it coherent and not too matchy.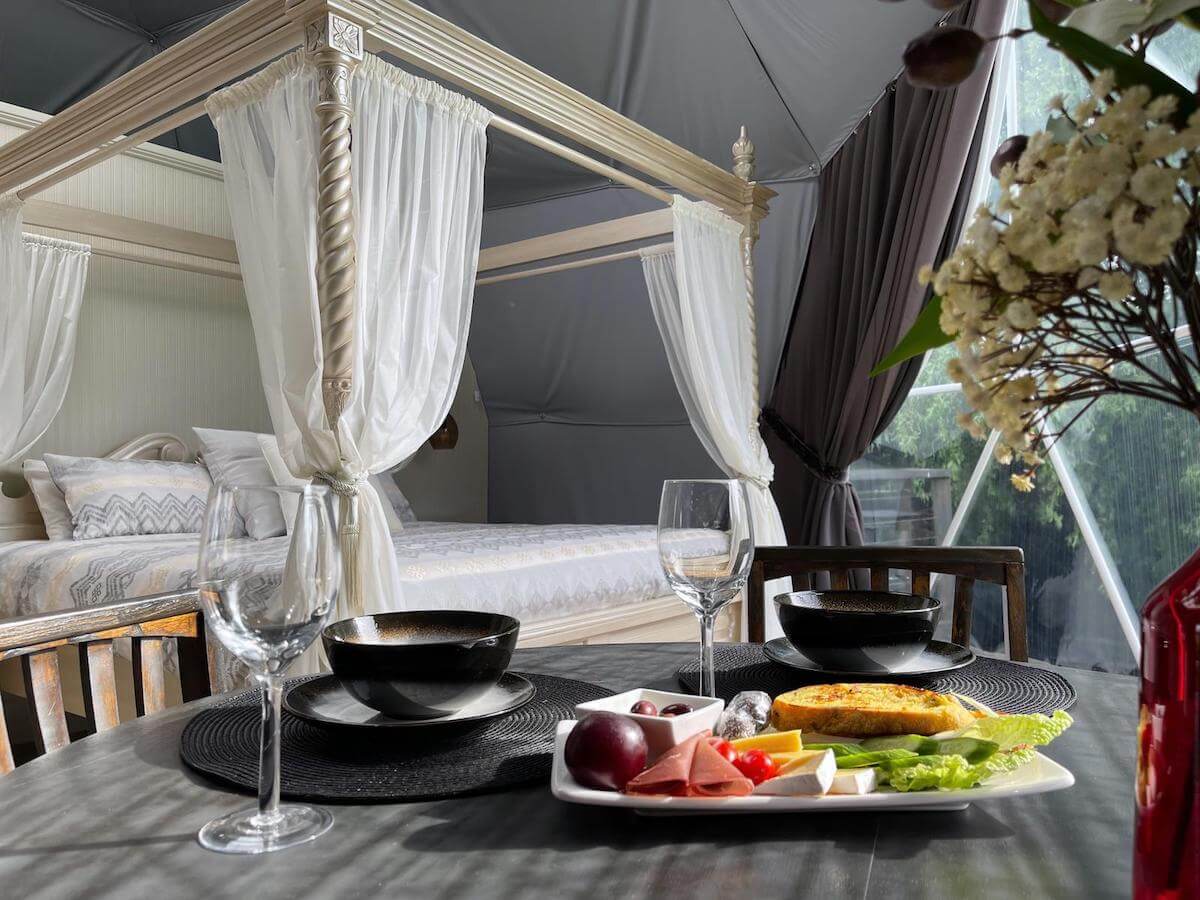 Use Rugs
A properly selected rug draws attention towards the furniture and not away from it. It is a great way to highlight a glamping interior, for example, a living area. Ensure the chosen rug is large enough to lie under at least the front legs of each furniture piece in the room. This tip will surely make the final arrangement visually appealing!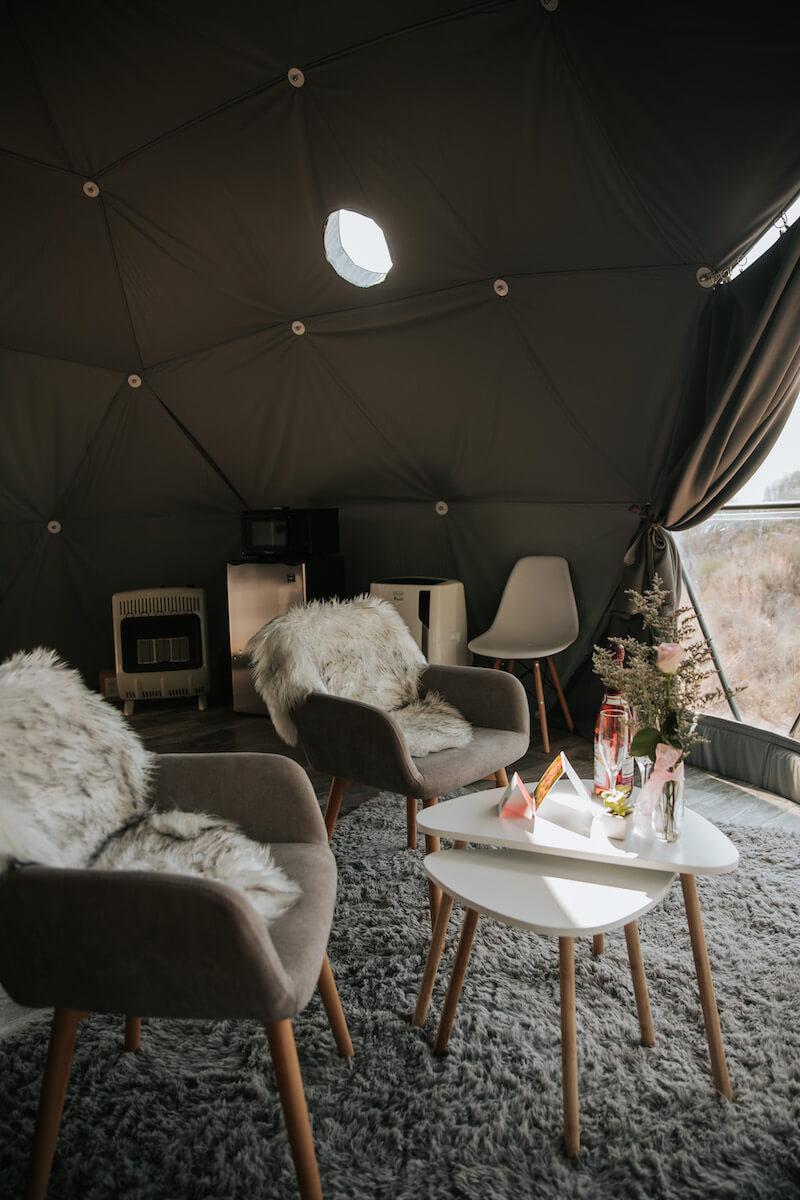 Learn and Apply a New Word: Biophilia
Biophilia means love for nature. Biophilic design is, therefore, the one expressing the love for nature. Surround yourself with plants. In this case, the one and the only rule is the more, the better. It has been estimated that by 2050 approximately 65% of the world's population will live in the city areas. This research shows that we are slowly losing our bond with nature. If your glamping resort is in a remote location, where green is all around, blend the dome interior with the exterior by fitting plants in a living room or a sleeping area. Make the most of your resort's natural surroundings and let your Guests truly reconnect with nature. Let them discover the charms of nature's proximity inside and outside the dome.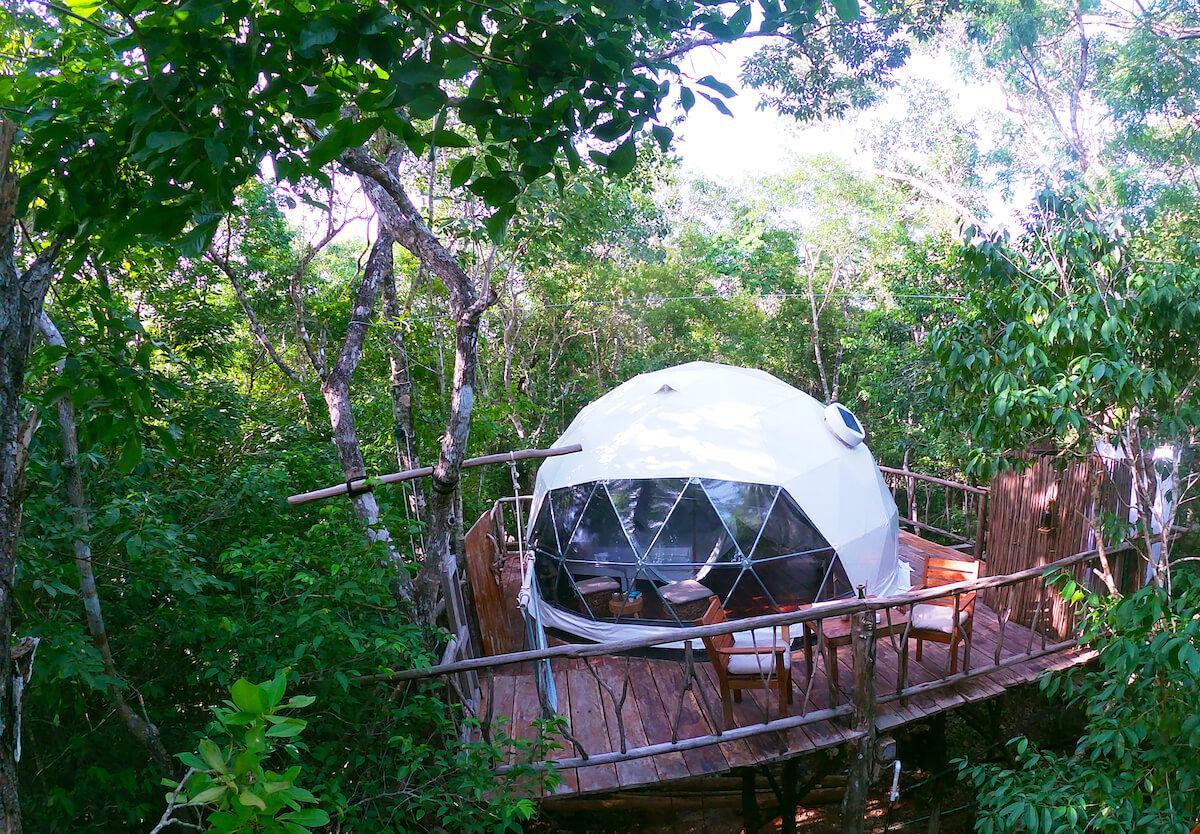 Now you know what to remember when arranging the dome. And how to spice up the interior of your glamping to increase your Guests' experience. In the following article, we will share with you some don'ts of interior design.
Follow us for tips and tricks, do's and don'ts of FDomes Glamping interior design. There is much more to come…