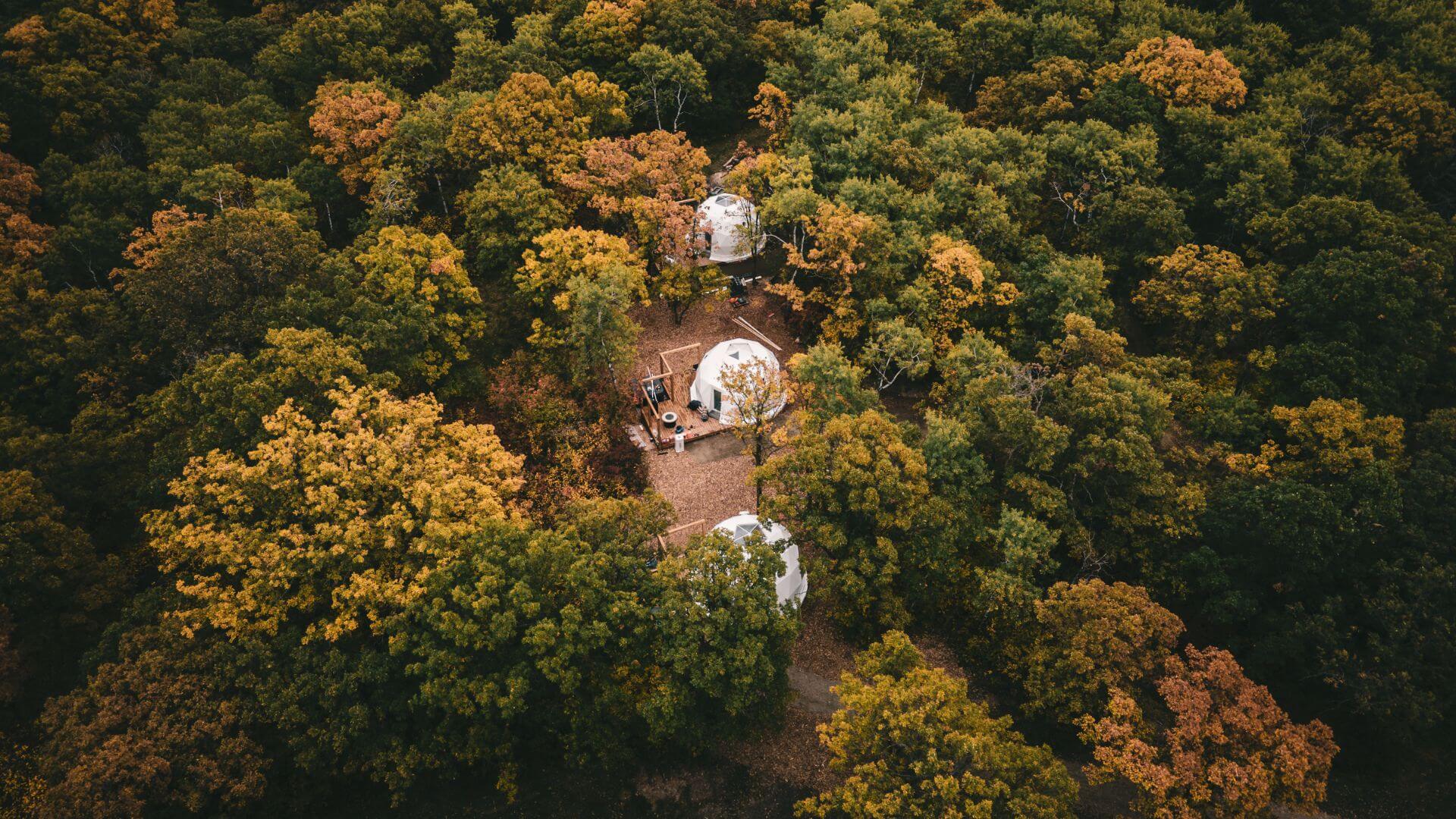 Today we will advise you what questions you should ask in order to find out if the supplier offers good quality structures.
In one of our previous articles we have drawn your attention to what needs to be checked before selecting a geodesic dome supplier.

In this article we will address why you should be paying attention to the quality of the dome and what you should do to ensure all the requirements are met.
Why is a geodesic dome's quality the first thing you should pay attention to before buying one?
QUALITY = Safety + Long Use

It is commonly known that if you buy good quality products, you invest in a solution that will last longer, and when it comes to the glamping domes, it provides safety what might be doubtful with a solution of a lower quality.

At this point, you probably wonder, how to find a good quality dome?
HERE ARE 8 QUESTIONS YOU SHOULD ASK BEFORE BUYING THE GEODESIC DOME
QUESTION #1 – Can you supply documents that I can present to local authorities to prove the frame is designed to withstand local weather conditions?
In most cases, to set your resort or even a dome for your personal use, you will need to obtain permission or at least provide documents to your local authorities to prove the structure meets the engineering and safety standards.

Check with the manufacturer if they supply documents that include the wind and snow load-bearing capacity of the framework. For example, at FDomes, we offer 3 types of frameworks:
Standard
Heavy Duty
Heavy Duty+
Each one of these is designed to withstand different weather conditions providing a safe environment for your guests.

Simply provide us with the zip code of your resort's final location (or more preferably a google map pin) and we will be able to check which framework type will be suitable for your needs.

In case you need detailed static calculations, we have an in-house Engineering Team that can prepare them for you at the set rate that will later on be deducted from your order. Please note that we will not be able to validate the documents so you will have to obtain a stamp from a local engineering or architectural office.

Our FDomes frameworks are galvanized and powder-coated for even better protection and durability to guarantee superb anticorrosive protection.
QUESTION #2 – Does the geodesic dome come with legally required FIRE RETARDANCY certificates?
As you probably know, it is required to present fire retardancy certificates for every type of hospitality accommodation. It is crucial for your guests' safety and the local authorities will not allow you to open the resort without valid documents. When it comes to glamping domes, such certificates are required for the membrane, curtains, insulation and any other easily flammable components on the inside and the outside of the dome.

Our FDomes membranes and curtains come with the legally required fire retardancy certificates. Also, the finishing materials used for the insulation production are FR-certified (Flame Retardant). You will receive such certificates from us if you will need to present them to your local authorities.

Moreover, we can supply certificates for the woodburner and the chimney. Please note that the certificates for these two elements are in line with EU regulations and may not be valid outside of the EU. You can check this with your local authorities and if they do not accept our components, you can easily arrange them locally.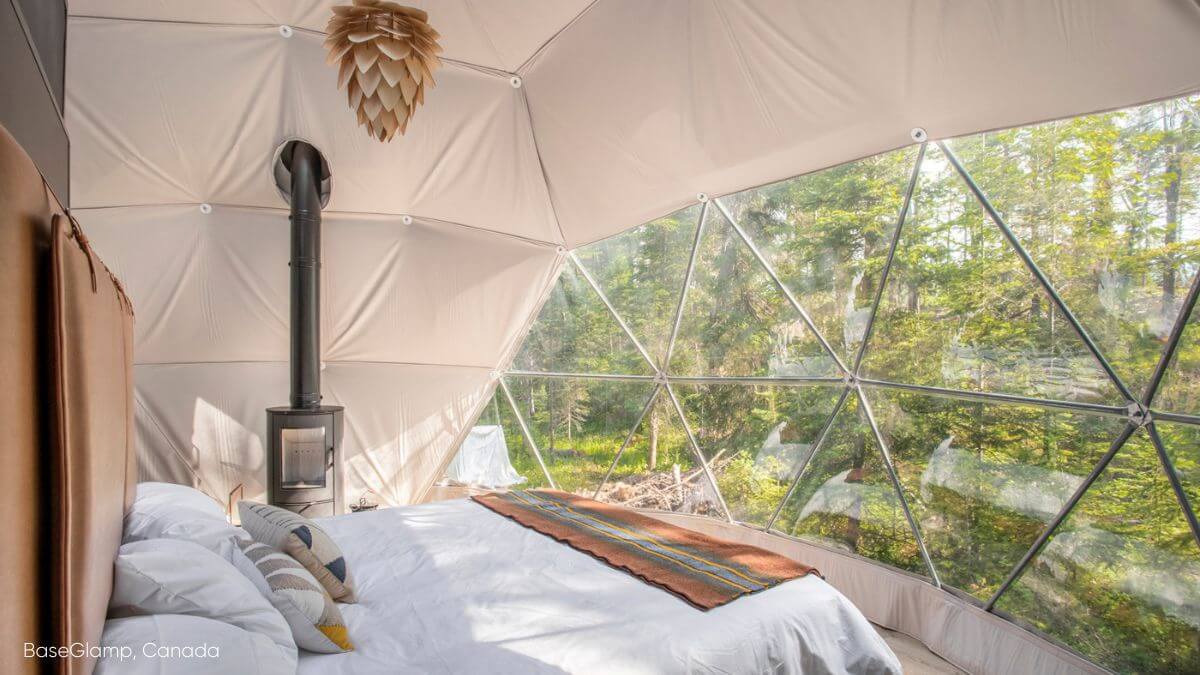 QUESTION #3 – Is the dome insulated and if so, what insulation does it come with?
No matter if you plan to set your dome in a cold or hot climate, it is essential to have the pod insulated. The insulation liner will help to maintain the indicated interior temperature easier. It also has a visual aspect, making the dome look more cozy and welcoming.

Our regular insulation, which you can choose as an optional feature, is made of fiber-free, non-allergic and non-irritant material with a tailored canvas headliner for enhanced appearance. It comes in 3 color variations:
Light grey – the most neutral color, great as a background for any interior style
Khaki – an earthy color, the darkest of all the available ones
Ecru – good for warm interiors, perfect for boho interiors which are popular nowadays.
For those located in harsher climates, we also have an additional insulation layer available. It is called Insulation+. It is a 4cm thick layer that goes underneath the regular insulation and is an equivalent of a 13 cm of a styrofoam. The Insulation+ will help you cut the heating and cooling costs which in the long run will affect your energy bills. It will also help you to maintain the indicated temperature easier and faster.
QUESTION #4 – Does the dome come with a bathroom or any other additional interior units?
Your family or your guests choose glamping for a reason! To be closer to nature without sacrificing modern amenities. Therefore, it is important to equip the domes with a bathroom, perhaps a kitchen or even a loft bed with a skylight window so your guests can stargaze – adding that extra wow factor that will help you become booked out at the speed of light.

In our offer, you will find a selection of bespoke luxury Interior Modules such as:
Bathroom Module – a cleverly designed space with a shower, a washbasin and a toilet. It comes equipped with a big mirror and smartly arranged cabinets, one of which hides a water flow heater inside.
Bedroom Module – with a show-stopping design, offering plenty of cabinet space for extra storage. With a cozy and inviting bed facing the panoramic bay window makes the bedroom look and feel like a 5-star hotel!
Kitchen Module – a sleek and modern design. Cupboards make room for appliances making this well-designed blend into a living space.
The Loft Bed Module – a small ladder leads up to this additional functional space. It can serve as a second bedroom or a leisure space. Add a Skylight Window and flood the space with natural light during the day, and enjoy a private planetarium at night.
All our Interior Modules are uniquely designed, easy to set up, plug-and-play solutions that save you the time needed to prepare your glamping resort to welcome the guests!

Depending on the size of the FDomes Glamping Dome, you can mix and match the modules according to your needs, selecting either a black or a light gray finish.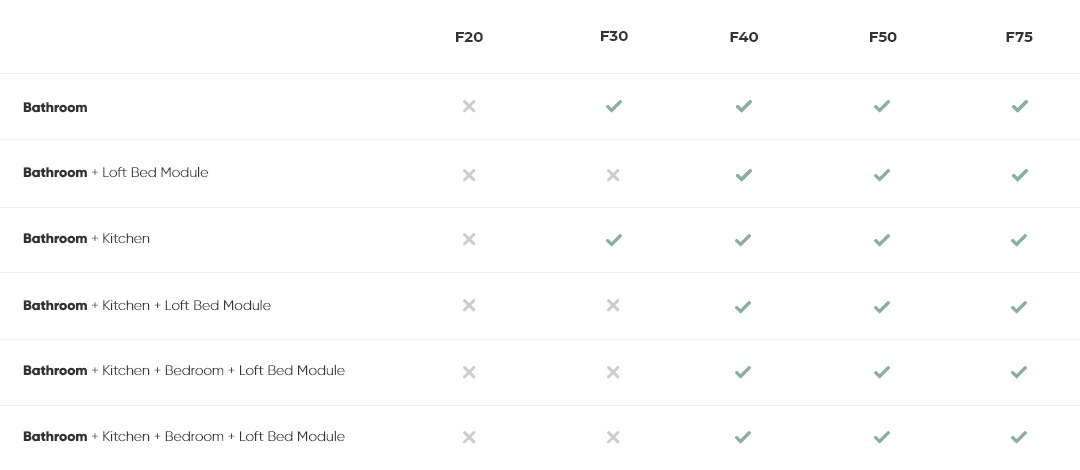 The modules come to you along with the domes. It means that you can launch the resort faster as you proceed with the installation of all the elements at once. You can set up a fully equipped dome in even 3-4 days!
If you decide to arrange a bathroom at your end, which is also possible, it will for sure take more time to set up a dome first and then spend extra time to build the bathroom within. It is of course doable, but if you are short on time, you may want to consider a ready-to-go solution.
QUESTION #5 – What is the production lead time?
Surely, you want to know when you can expect your order, especially if you are planning to open a resort. Knowing how long you will need to wait for the goods will allow you to plan and prepare for the season. Ensure that you know exactly what to expect in order to avoid disappointment, as the lead times may vary depending on the manufacturer and the current demand.

At the time of writing this article, FDomes production lead time is approximately 8 weeks and we always inform you accordingly as we know how important it is for you to know when you can expect your order to arrive.
QUESTION #6 – What is the best foundation for the dome?
Geodesic domes should be set up on a stable and levelled ground. We always advise either a concrete slab or a wooden deck, the latter being more visually appealing and popular in general (according to our current clients). Make sure that your supplier is able to discuss your ideas with you and provide advice on the base type.

Even thought FDomes do not offer the decking, we do supply customers with FDomes anchoring kits that are matched with the foundation type (either wood anchors or concrete anchors after learning the slab's thickness). Moreover, if you decide to set up the dome on a wooden deck, FDomes is able to provide you with a suggested decking drawing. It will make it easier for your local carpenter to design the deck and cheaper for you as the plans will need minor tweaks only.
QUESTION #7 – Do you have any references from your previous Clients?
It is very important to ask for references to know if the company can be trusted and that the previous Clients are happy with how the project was handled from the very first contact to the after-sale. Sadly, it happens more often that the suppliers are only interested in closing the sale, and you will be left on your own when problems arise.

Do your due diligence to find out if the company has a well-established online presence. Check their social media accounts to find out how they handle any comments, it will tell you a lot!

At FDomes, we pride ourselves on providing the best customer service and after-sale support. You can check our website, where we have a large portfolio of our previous clients and a section of case studies where our clients happily share their successes and feedback about our cooperation. We also have a long history in the event industry, delivering our domes to "The Martian" by Ridley Scott, the Star Wars movie premiere, Davos Economic Forum and many more.
QUESTION #8 – Where are you based?
This may seem obvious but be aware that many geodesic dome sellers do not produce them but rather import the dome kits from unreliable sources with questionable quality and only resell them.

We, FDomes, are based in Poland and we manufacture all our products in-house, from scratch. Each element is carefully designed and hand-assembled. We use the highest quality certified components from reputable and internationally recognized companies. Not only do we manufacture our domes ourselves but we also manufacture all our Interior Modules. Therefore, you can rest assured that your dome will be manufactured and dispatched from the FDomes factory.

Collect the answers and make your choice!
These 8 questions will help you assess if the manufacturer is trusted and if the products they sell are worth your investment.

Last thing you should bear in mind before making the final decision. We know how tempting it is to go down the cheap route… However, ask yourself a very important question: is saving money worth of sacrificing your guests or your family's safety? You need to remember it is not the manufacturer who will be held responsible if something happens. It is you who will be taking whole responsibility. When making the choice of which supplier to buy from, make sure their products are safe, will last for years, are easy to maintain, and come with a warranty and the after-sale support.

With that in mind, we trust you will make the right choice.
Are you ready to take the next step?