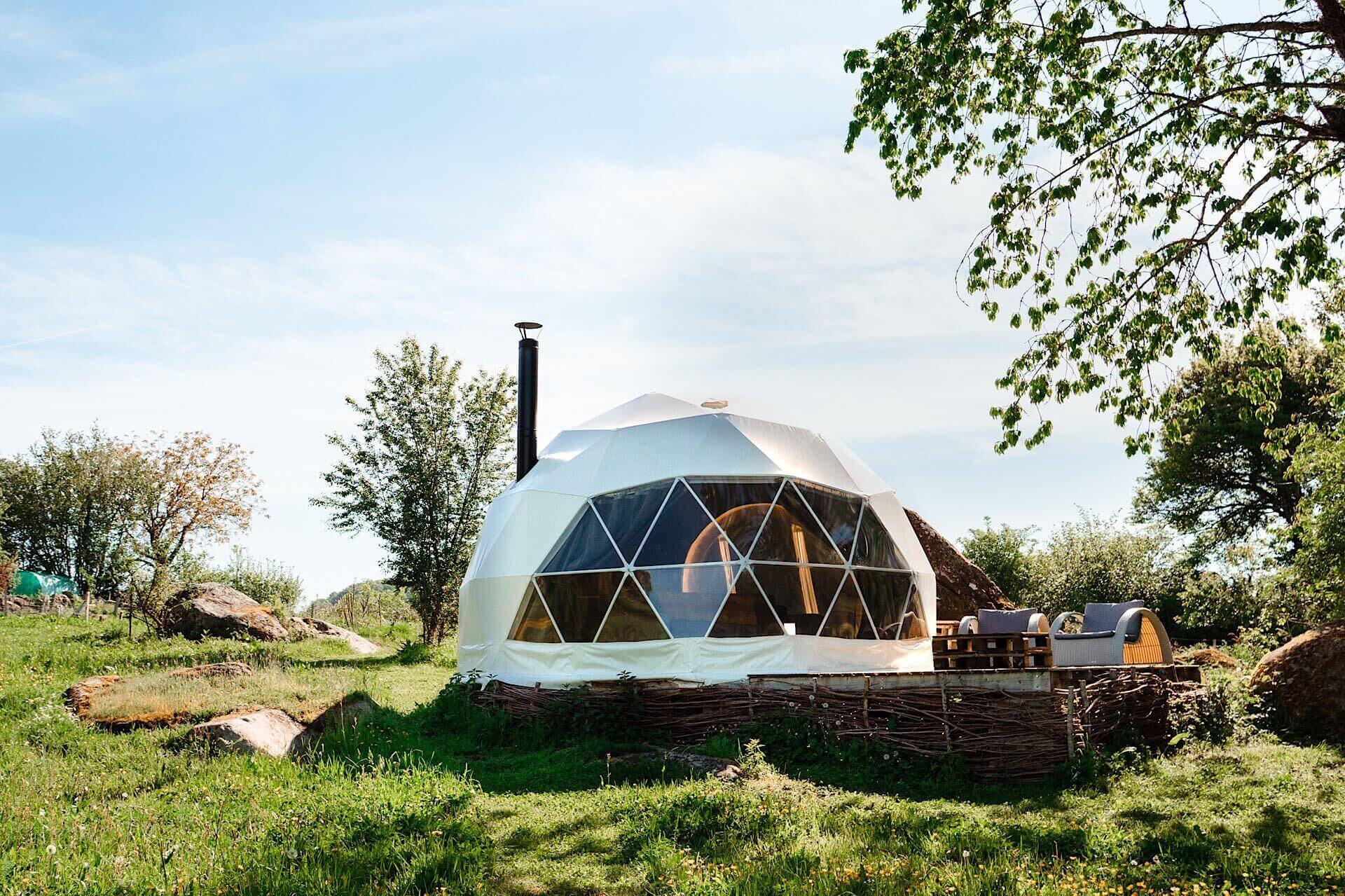 A place to slow down, disconnect from everyday life and reconnect with nature. Le Monteil Revolution's owners have created an eco-resort to find peace, focus on the present and appreciate the beauty of the world. Join the off-grid journey in Sardent, France.
FDomes: How have you come up with the idea of setting up a glamping resort?
Le Monteil Revolution: We were looking for a change in career but knew that we wanted to do something that would allow us to enjoy living and working outside. We had both been in the military so being active was very important to us and we also knew that we wanted to keep some animals. When we started to think about how to make this a reality, we thought about the things that we enjoy doing and how we could turn that into a business – that is how we came up with the idea of Glamping. We wanted to create a space where people could truly enjoy being immersed in nature but without forgoing some of the luxuries that put people off going camping – encouraging even more people to enjoy the great outdoors!
F: Why have you decided on geodesic domes?
LMR: Once we knew we wanted to run a glamping business we did lots of research into the types of unit we could have on site. We spent hours searching the internet and doing market research holidays and eventually we found geodesic domes. In 2016, there were not many domes on the market and when we saw them, we just knew they were the glamping unit for us and the business we wanted to run. We absolutely LOVE the panoramic window which allows guests to enjoy being immersed in nature even when snuggled up and cosy inside. The synthetic material also meant that they were perfect for the type of climate we would be setting up our business in, one which experiences all four seasons and so we did not want damp and mildew to be a problem as it can be with natural canvas. Finally, the design of the domes and the attention to detail aligned with the business we wanted to create – one where people can relax and unplug in true luxury.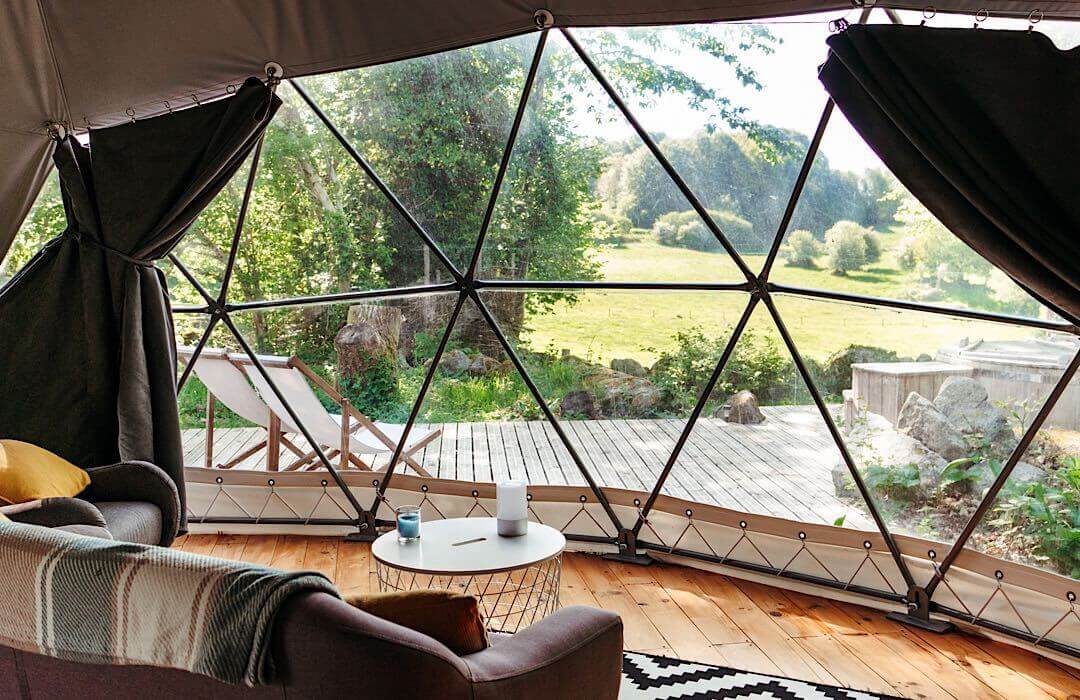 "We absolutely LOVE the panoramic window which allows guests to enjoy being immersed in nature even when snuggled up and cosy inside."
F: What activities are your Guests encouraged to participate in when visiting your resort?
LMR: Le Monteil Revolution is hidden away in the heart of the Creuse region of France. On site we provide very little in terms of 'entertainment' for our guests apart from our variety of animals which visitors can choose to be as hands on with as they like. Both of our domes have their own private wood fired hot tub which is a huge attraction and lots of guests choose to relax on site, taking things at a slower pace to perhaps they would in normal life. There is lots to do right from the site of Le Monteil Revolution and we provide maps for guests to go walking and mountain biking in the local area. We absolutely love our road bikes, so this year (2021) we will be looking to start cycling holiday packages for our guests which is very exciting!
F: Why have you decided to set up a farm in Le Monteil Revolution? How do your Guests react to animals' presence?
LMR: We initially decided to set up a farm because we knew that we wanted to keep animals ourselves and we needed a bit of help clearing the overgrown land. We started slowly with some chickens and the dogs, then we got cats and geese, quickly followed by pigs to turn over the land for us and help to clear it. After that we got the miniature donkeys and turkeys, and our most recent additions are some rabbits and sheep (complete with lambs!). The animals are a massive attraction to the guests of Le Monteil Revolution – individuals, couples and families alike. Visitors can be as 'hands on' as they want to be with the animals and we enjoy having lots of little helpers to assist with morning and evening 'rounds'. The chickens provide guests with their very own free-range eggs for breakfast which are very popular! And Flash, our border collie, can keep visitors amused with a game of stick for hours on end!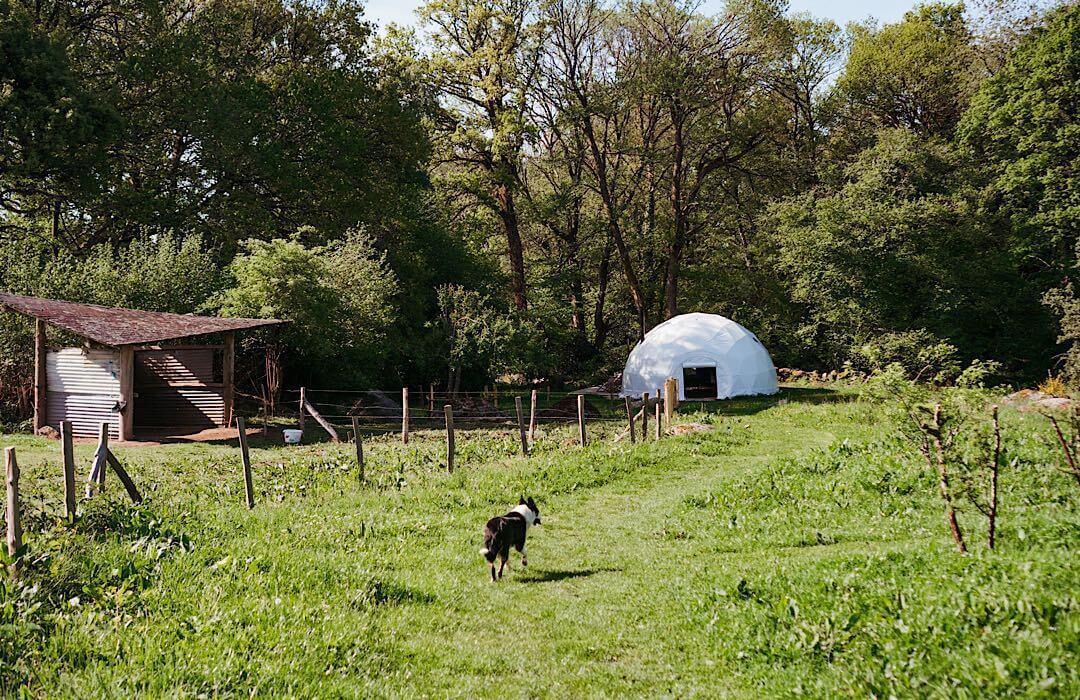 F: Le Monteil Revolution is a perfect place to unplug thanks to the off-grid accommodation. Would you agree that the interest in this type of resort is rising among the tourists?
LMR: The desire for people to get out of cities and the fast pace of modern day living makes Le Monteil Revolution the perfect place to escape. As to whether this type of resort is 'rising' among tourists would be difficult to say, however, we have experienced increased demand in terms of reservations at Le Monteil Revolution and the COVID-19 pandemic led to more people wanting to holiday in isolated spots in 2020, with the Creuse region of France experiencing its highest tourism rates. The glamping getaway we provide combines the peace and tranquility of escaping to the country where you can roam freely, breathe easy and think clearly, with the luxuries of a modern-day life in terms of the site layout and fixtures and fittings. Although the domes are off grid, each unit has its own private wood fired hot tub, luxury private bathroom, there is a fully equipped internal communal kitchen, and an external summer kitchen with panoramic views of the site. Inside the domes our guests are treated to king size beds with 100% cotton sheets and towels along with wood burner and sofas and armchairs to relax on.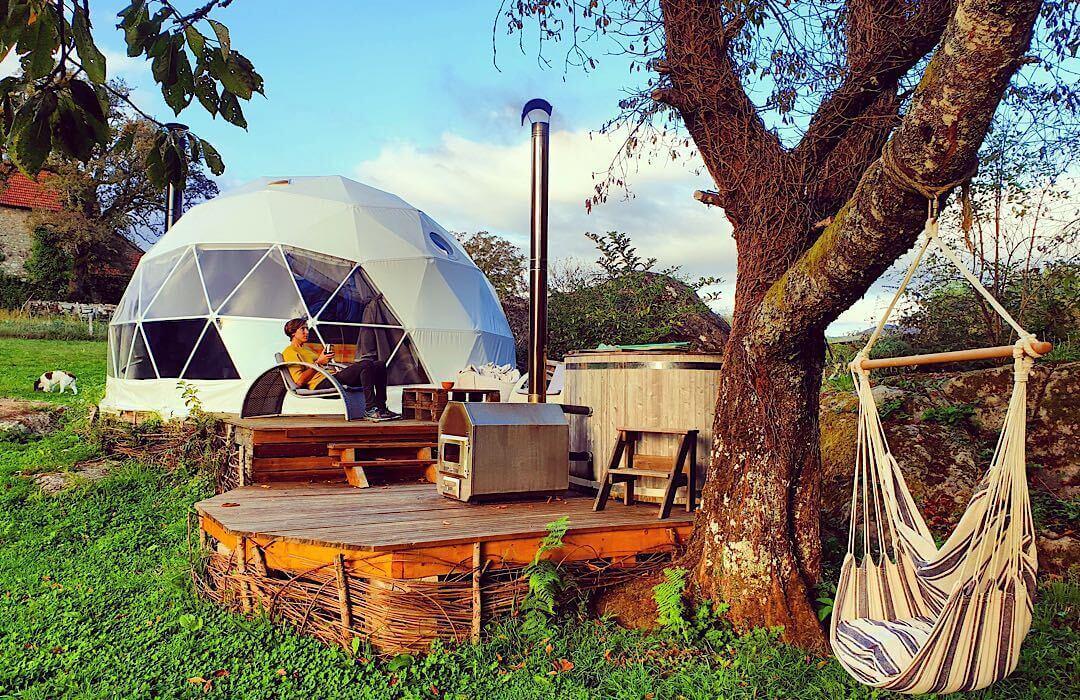 F: How do you rate the level of products and services offered by FDomes. Would you recommend them to others?
LMR: At Le Monteil Revolution we have a Glamping 20 and Glamping 50. We absolutely love the domes and so do our guests. We had a couple of issues with the zip of the entrance door to our Glamping 20 but FDomes were quick to get this repaired and a new door sent out to us. The synthetic material is super easy to clean which means we can keep them sparkling white even after the difficult winters we have here. We have been very happy with the product and the level of service provided to us by FDomes and would recommend them to others – however not too many as then we won't be so unique!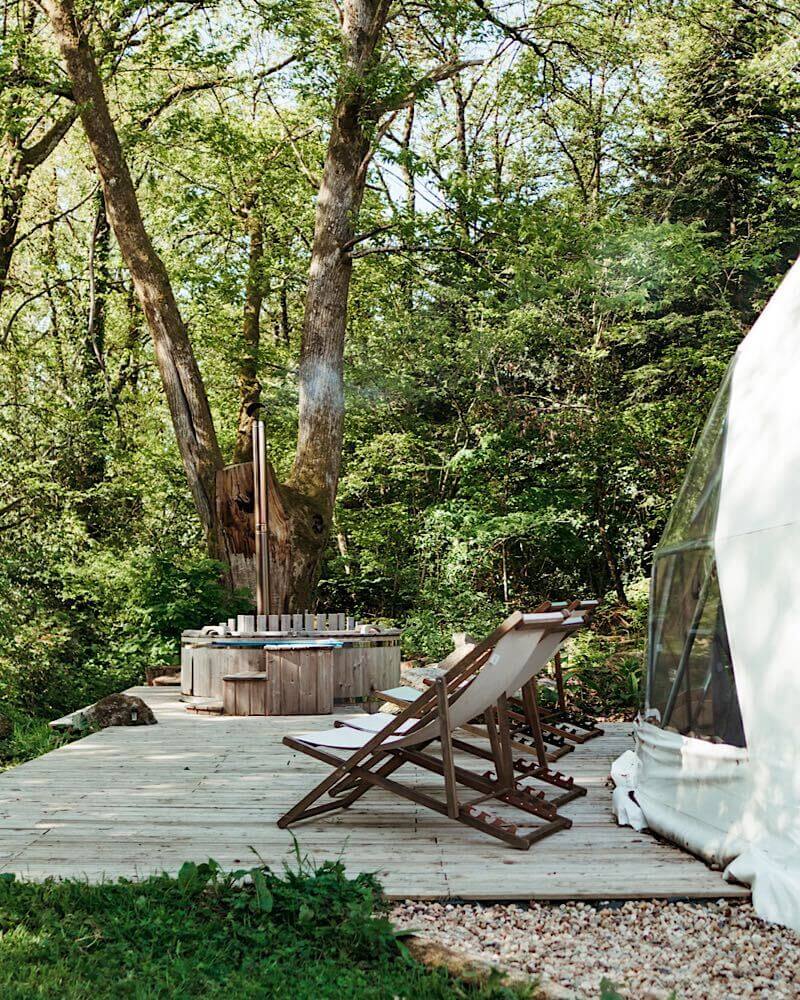 ---
Do you find this article interesting?
Read the case studies of other resorts powered by FDomes Glamping: