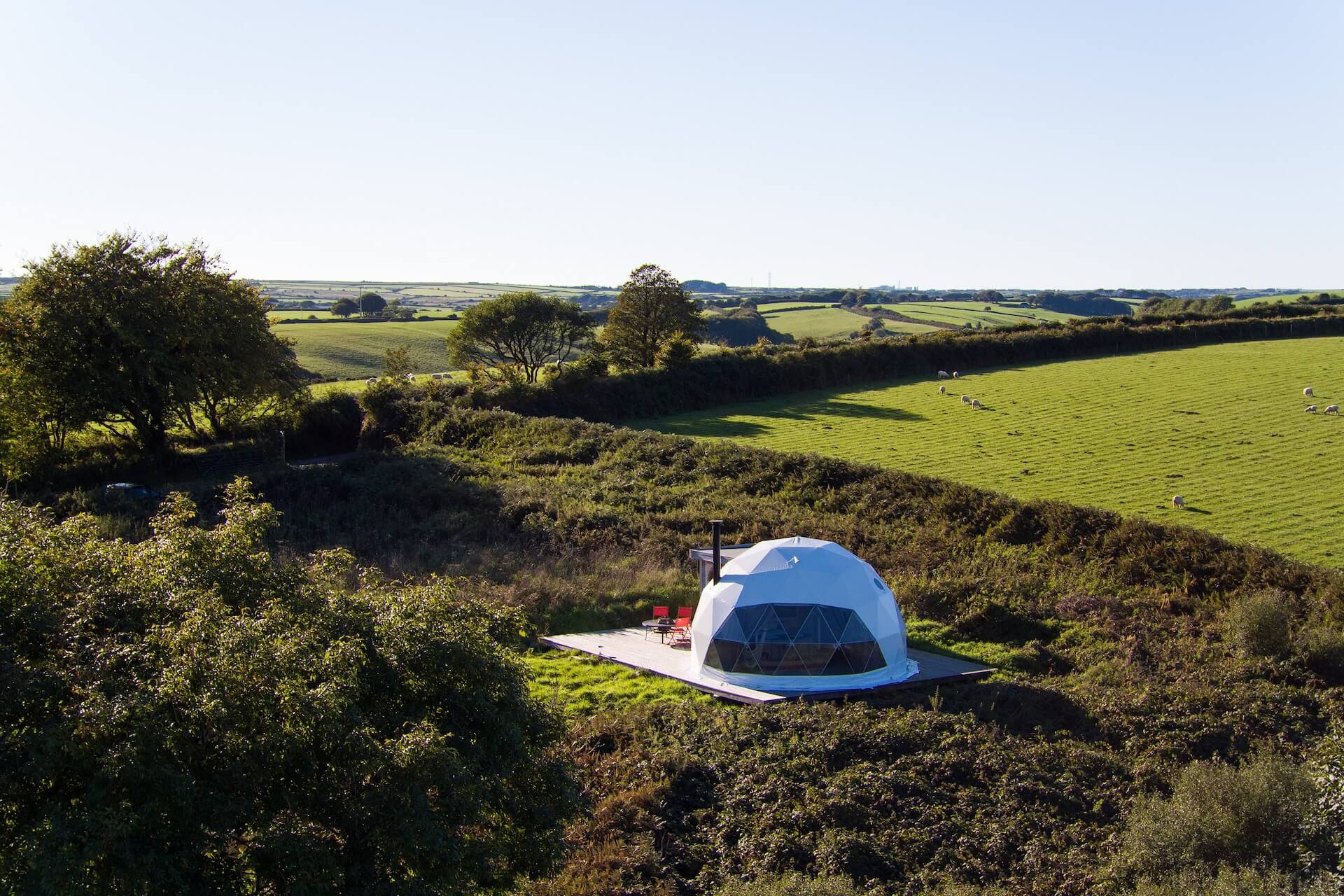 A family business that has been set up in appreciation of the surrounding nature's beauty and with great care about the environment. Ekopod in Cornwall is a must-visit retreat to truly disconnect and experience the simplest but most precious joys in life.
FDomes: Why have you decided to set up a glamping business?
Ekopod: My brother and I wanted to be able to create a work/lifestyle balance that allowed us to be able to live somewhere beautiful, have access to the sea and outdoor activities and time to travel, but also something that could have a positive impact on the environment.
We were discussing options for this on a 2014 backpacking trip with friends that involved staying in yurts in Mongolia and were inspired by our surroundings. We loved the experience that staying in the yurts and just being so close to nature with no distractions can create.
So, we came back determined to create a business in the UK that could try and capture that magic for our guests. Having 20 years of hospitality experience between us, in managing hotels and restaurants respectively, setting up a glamping business seemed to be the perfect venture. It gave us the lifestyle we wanted and played to the skills we had picked up in our previous jobs. Most importantly it also meant we could create an environmentally friendly business that we hoped would really give our guests the opportunity to completely relax and switch off.
Our site on the Cornwall, Devon border was a great location for everything we wanted and offers a huge number of options of sights and attractions for our guests to explore during their visit. The site itself is a 5-acremix of woodland and wildflower meadow, which was mostly covered in bracken and bramble when we took it on. Trying to create more habitat for British Wildlife is really important to us so while we are running the glamping business we are also, slowly making changes to the site to improve its biodiversity and hopefully make it a wildlife haven!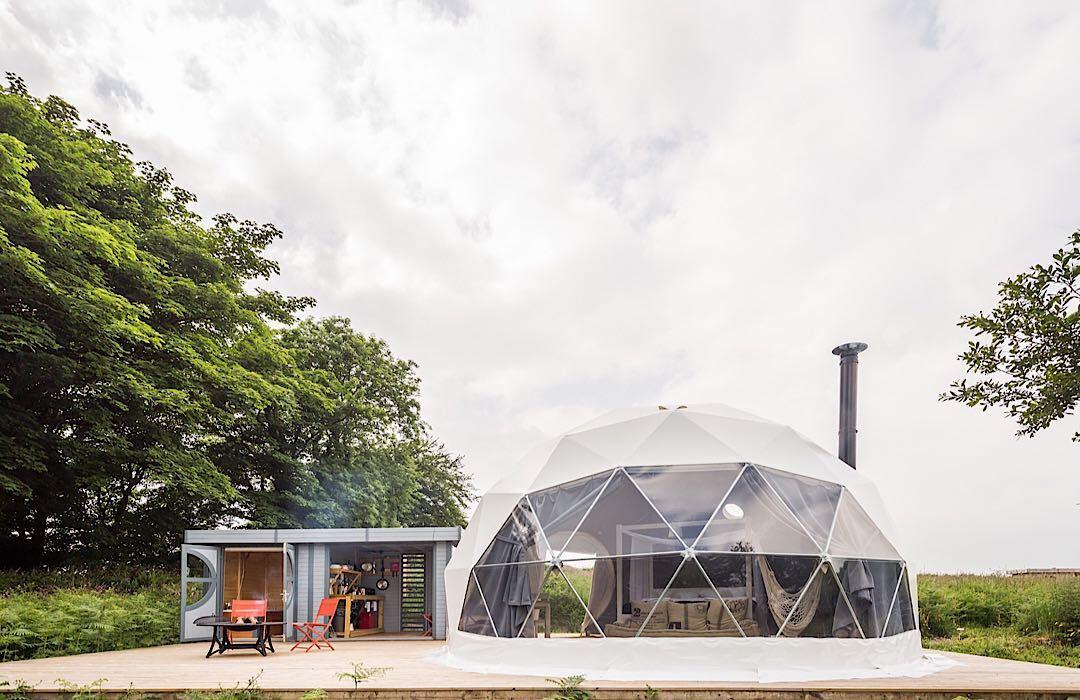 F: Do you think glamping will become even more popular in the future?
E: I hope so! Yes, I think that especially during the pandemic, we have all learnt to really appreciate the beautiful countryside we have on our doorstep and the importance of spending time away from screens!
I also think that as we become more aware of the environmental impact of short haul flights, people will want to spend more of their holidays in destinations they don't need to fly to. Slow travel, and conscious travel is growing in popularity and glamping gives you a unique experience, but one that is less damaging to the environment than a lot of other holiday options.
I also think a lot of people love the concept and adventure of camping, but don't always want to spend their holidays 'roughing it' now that glamping is becoming more well-known, more people are making the choice of having that close to nature experience but with the luxuries you would expect of a hotel!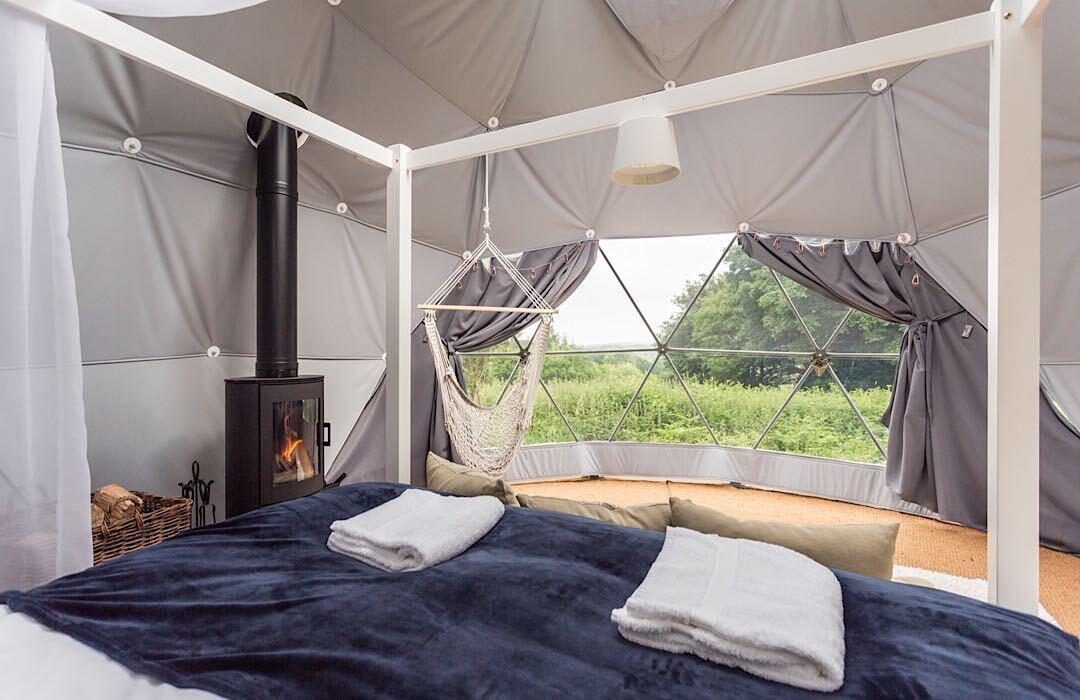 F: Your Guest may choose between the geodesic domes, safari tents and a glamping pod. Why have you decided to diversify your offer?
E: We wanted to be able to offer our guests variety of options, so we have pods for a wide range of budgets and group sizes. It also means guests can come back and have different experiences while still staying at Ekopod.
F: What feedback from staying in the geodesic domes do you receive from your Visitors?
E: They mostly love the huge windows and the views they get from it. They are also often surprised by how quickly the wood burner can heat up the pod in the winter! Kids love the quirky shape and the experience of staying in a 'bubble' or 'spaceship' as I've heard it called!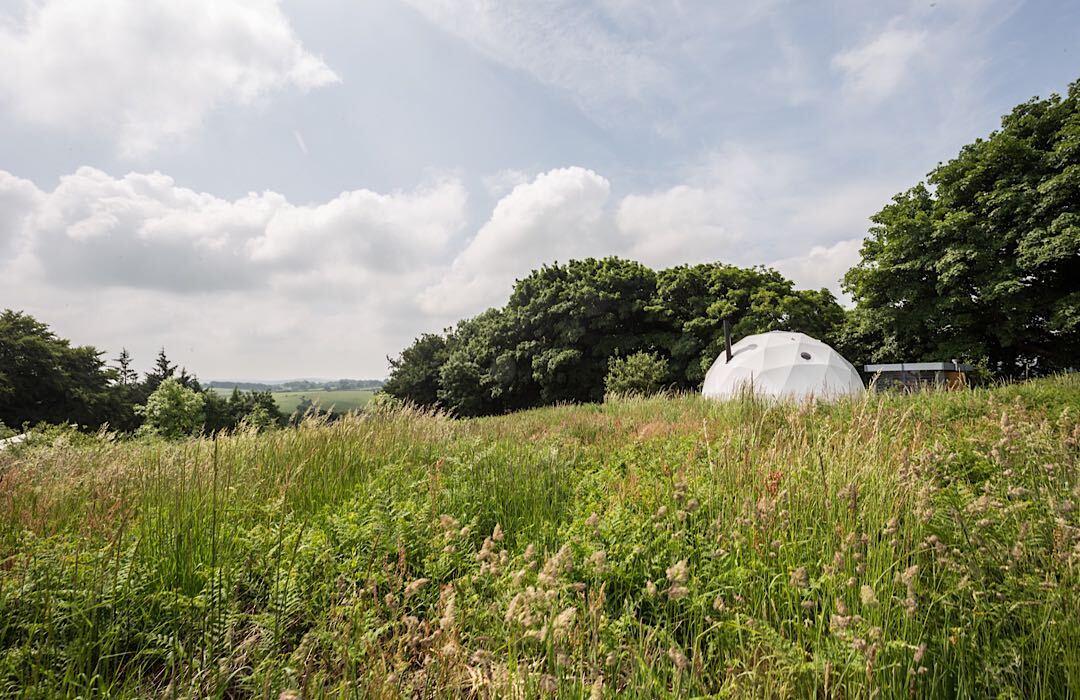 F: What do the Guests love the most about your resort?
E: The sense of getting away from it all. Our site is off-grid and each pod is set so it doesn't have views of the other units. So, you feel like you're getting your own private slice of Cornish countryside and you can switch off from all distractions and spend quality time together.
I think they really appreciate the chance to completely unwind from how busy modern life can be, either sitting with a hot chocolate, on the sofa, in front of the wood burner in the winter or enjoying the local cider and a BBQ on the terrace in the summer. All while taking in the beautiful views from the pod (including of the Milky Way on clear nights).
F: How do you rate the level of products and services offered by FDomes. Would you recommend them to others?
E: We're very happy with FDomes. We extensively research all our pods before buying them and bought our first Geodome from FDomes in the summer of 2017. Since then, we have added 3 more to our site! We also like the constant development of the product, each time we've come back for a new dome there's always something new you've done!
Ekopod | Cornwall, United Kingdom
Website: www.ekopod.co.uk/
Instagram: www.instagram.com/ekopodcornwall/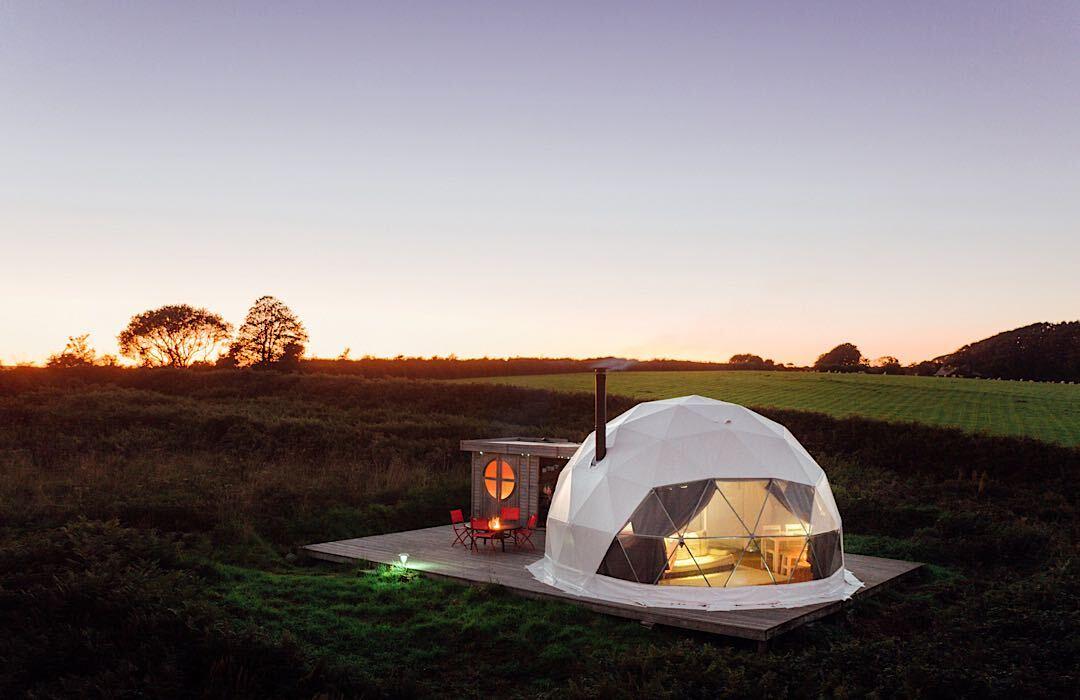 ---
Do you find this article interesting?
Read the case studies of other resorts powered by FDomes Glamping: