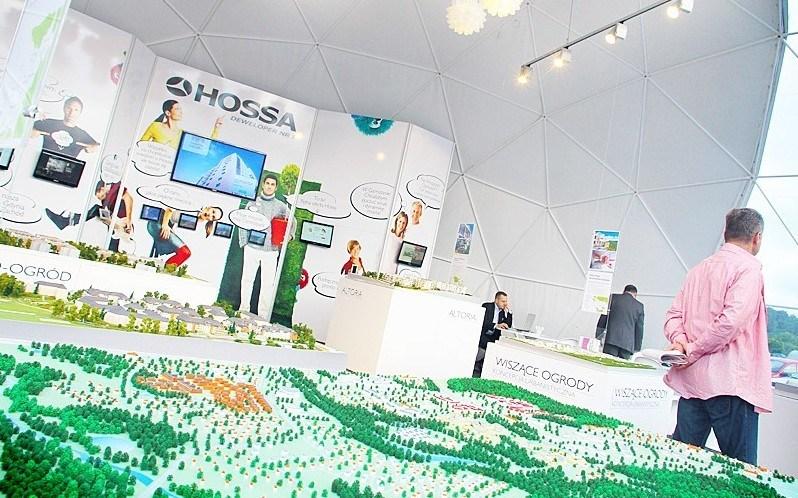 Trade-show veterans know that even the most amazing products can pass unnoticed without the right setting. There are thousands of companies offering nothing but creative ideas for trade show pavilions. Fresh ideas become obsolete within a year and it is hard to justify a significant investment in trade show structures that do not offer flexibility, longevity and timeless appeal of FDomes.
Treat FDome as a blank canvas and attract your potential clients with design of your trade show booth. Play with light to create a unique atmosphere and transport your visitors to another dimension. You can use struts of FDome to attach LED or neon lighting, audio-visual equipment or custom lighting. All our domes can be assembled within a few hours giving you plenty of time to prepare for your presentation. Depending on its size FDome could act a semi-open info kiosk or an intimate enclosed space on the noisy trade show floor, perfect for talks with promising prospects. You can also create a small auditorium and give any number of keynotes during the day.
Exhibitors visiting numerous trade shows in distant locations appreciate relatively compact size of dismantled structures. F.Dome.110 ready to host 160 people – passenger capacity of Boeing 737 – can be transported in a compact van, while dismantled F.Dome.20 fits in the SUV or on bed of a pick-up truck. Unless you look for an inflatable castle, there is no other event structure of comparable size that could be shipped at such a low cost. Custom shipping crates designed for FDomes guarantee safety in transport from point A to point B.
FDomes offer unparalleled durability and longevity. It is not overstatement that properly maintained geodesic domes last forever. Geodesic domes are one of the most versatile structures out there and they could be repurposed at any time. Dome that served as a trade show booth could be easily repurposed as cafeteria, lounge or modern office fixture for your employees. Great value for money!