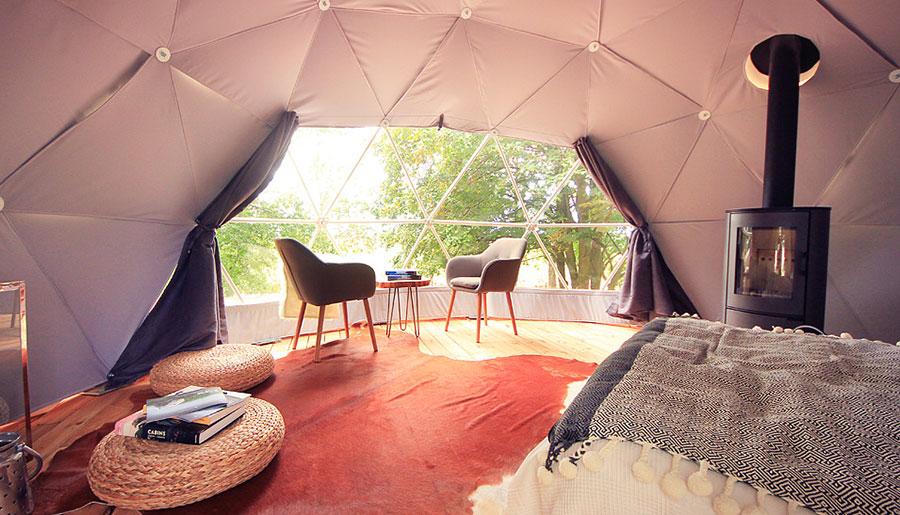 3 fantastic days, many dozens of glamping products and services, similar amount of exhibitors and a 1000 glampers in just the first two hours of the show. That's about the size of the 1st ever Glamping Show.
[The Glamping Show, Stoneleigh Park, Warwickshire, UK]
It's not often the case that so many people interested in glamping gather together in one place with one goal in mind: to share their glamour camping experience and present the best glamping solutions out there. Many businesses looking to diversify and individual landowners seeking ideas for revenue streams were glowing with excitement, seeing various glamping solutions at hand.
As one of the sponsors, we came to the show with four structures, three of which served as venues for seminars hosted by the most popular and important leaders in the industry (e.g. Sarah Riley from 'Inspired Courses' or Jonathan Knight from Cool Camping).
Our indoor assembly included three Freedomes structures which created room for speeches and panels with guests: 1x Freedome 75 and 2x Freedome 50. Meanwhile, outside the main exhibition hall, our team made a new product showcase with a fully-equipped glamping structure intended for self-assembly: FDome20 Glamping.
Visitors marveled at the small but spacious glamping dome (20sqm base area) they could easily erect themselves in a matter of hours. The idea of owning one proved tempting, even more so when they realized domes came in configurable kits. Each glamping dome kit allows for the choice of optional accessories, e.g. assisted air circulation, insulation or stove. A full set of these options was included in our lavish dome model featuring panoramic bay window and made cozy with curtains. To much surprise, it did not cost the Earth too.
Awaiting the next glamping venture soon!