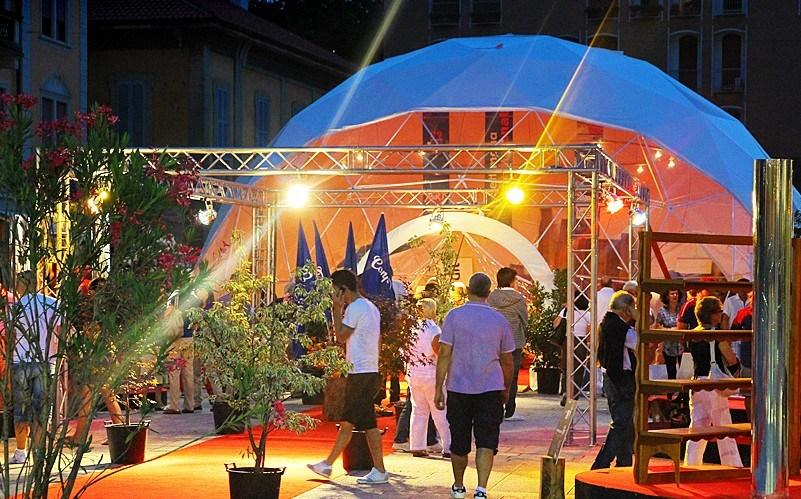 Add a wow-factor to your events with the eye-catching shape of the structure, which will definitely cause heads to turn at any event!
Geodesic structure creates fantastic space during festivals and also works perfectly as a venue for a product launch, promotions and experiential marketing. FDomes combine an amazing design with unparalleled practicality to create an even space that you will love.
FDomes are freestanding self-supporting structures that are easy to assemble and dismantle. They are extremely rigid despite the fact that they do not feature any internal support pillars, giving you the total control over the interior. It is about combining style, safety and great practicality in a single package.
Geodesic domes are perfect for outdoor event spaces in places with unpredictable weather conditions. FDomes membranes are able to withstand even the most sudden and ferocious downpours. It is always a good idea to be on the safe side and provide your guests with protection against getting soaked. FDomes also offer a great deal of protection against the harsh sunlight. Hemispherical shape alone guarantees a far superior air circulation compared to the rectangular structures, while ventilation openings in the membrane additionally help to dispose of any hot air accumulating inside.
Create a spacious chill-out lounge, café, bar or even a restaurant. Build a small stage for DJ, live band, karaoke contest or arrange something called silent-disco where music could be heard only by people wearing wireless headphones. Set up a Wi-Fi hotspot or prepare computer access points to draw attention of more people during the public events like conventions or festivals.
Unleash your imagination to create a truly unique space for any kind of event. Industry experts around the world picked geodesic domes as event structures of their choice because they look great and do not stand in a way of their creativity. Now with FDomes you can join names like Martha Stewart and companies like Sony Corporation and prepare amazing events even with moderate budget.