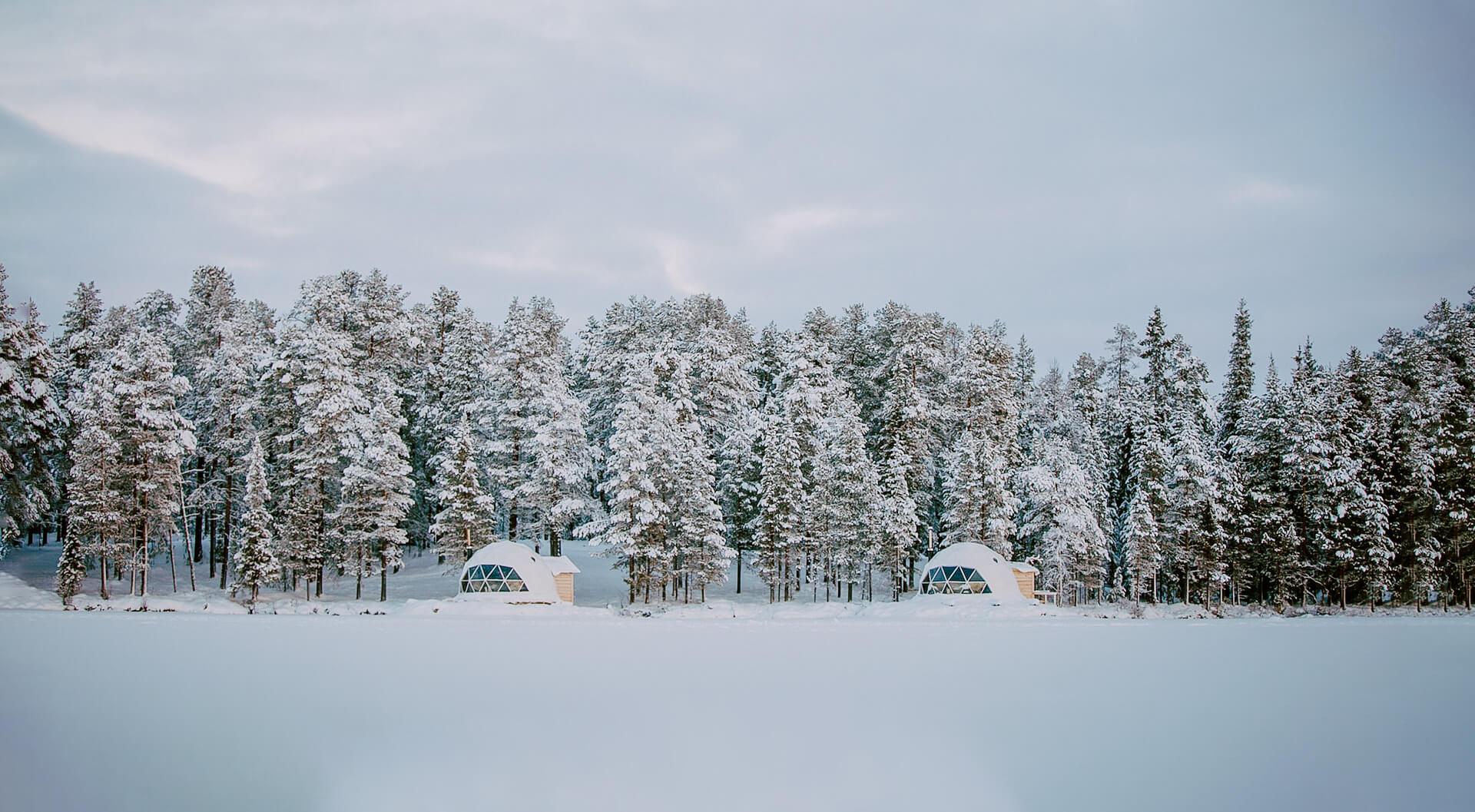 Geodesic domes are a charm. When added to a hotel, they provide a space where anything is possible! View how most refreshing hotels use geodesic domes in a super stylish way!
Skeena Heliskiing Base Camp in Canada
Ever tried heli-skiing? Some call it "the best drug they have ever taken." No, you don't jump out of a helicopter. A helicopter only takes you to a maximally secluded place in the mountains. There, you are safely located in a special lodge, from where you go skiing with a group of badass adventurers like yourself. Each day culminates in a geodesic dome where the skiers meet for the food and stay for the fun. At least that's how things are in Skeena Heliskiing base camp!
Geodesic dome is almost 80m2 big and serves as a central communal space with bar and dining area where guests socialize, eat, drink and exchange experience. The base camp is limited to 10 people per week and the season lasts only 6 weeks, so no one comes up here by accident.
Harriniva Hotels & Safaris in Finland
It's early evening in Muonio, Finland. At Harriniva Hotels & Safaris, a couple is stargazing and watching the green spectacle of northern lights through a huge panoramic window. Earlier that day, they have been to a reindeer farm and a museum. Just before dog sledding and snowmobiling, all of it perfect. Then they went for a bite at a local restaurant serving reindeer meat, local fish, berries and mushrooms. Around dusk, she went for a sauna while he embarked on his first ice fishing.
And now they have a whole night ahead. Relaxing, making pictures and watching the aurora borealis across the frozen lake. Or simply – glamping inside the insulated Aurora Dome. Dubbed "the first official glamping destination in Finland and Northern Scandinavia," this igloo shaped hotel room is nothing but wonderous. If they came here in the Summer, the amazing midnight sun via the front window would sweep them off their feet!
East Crinnis Holiday Park in UK
Trenarren is a hamlet in Cornwall and the name of a geodesic dome set in the Cornish village of Par. Glampsites.com website calls it "one of the most unusual glamping tents [they] have seen in Cornwall or even the whole of the UK." This spacious lush tent is perfectly located within East Crinnis Holiday Park in a peaceful summer meadow to enjoy sunny vistas. Its owners put it up themselves within a day and claim it to be the top choice among campers. The glampsite set at the Atlantic Ocean offers yurts and pods too, but families tend to choose a unique way of spending holiday inside a dome.
Geodome sleeps 4 people inside a 6-meter diameter space furnished with kingsize bed and 2 single futons. It's pet friendly, includes a shabby chic kitchenette with all cooking pans, plates, glasses and crockery, while its transparent wall can be covered with curtains for extra privacy. On arrival, you are treated with a proper Cornish cream tea and plenty of attractions, including storytelling evenings around the campfire!