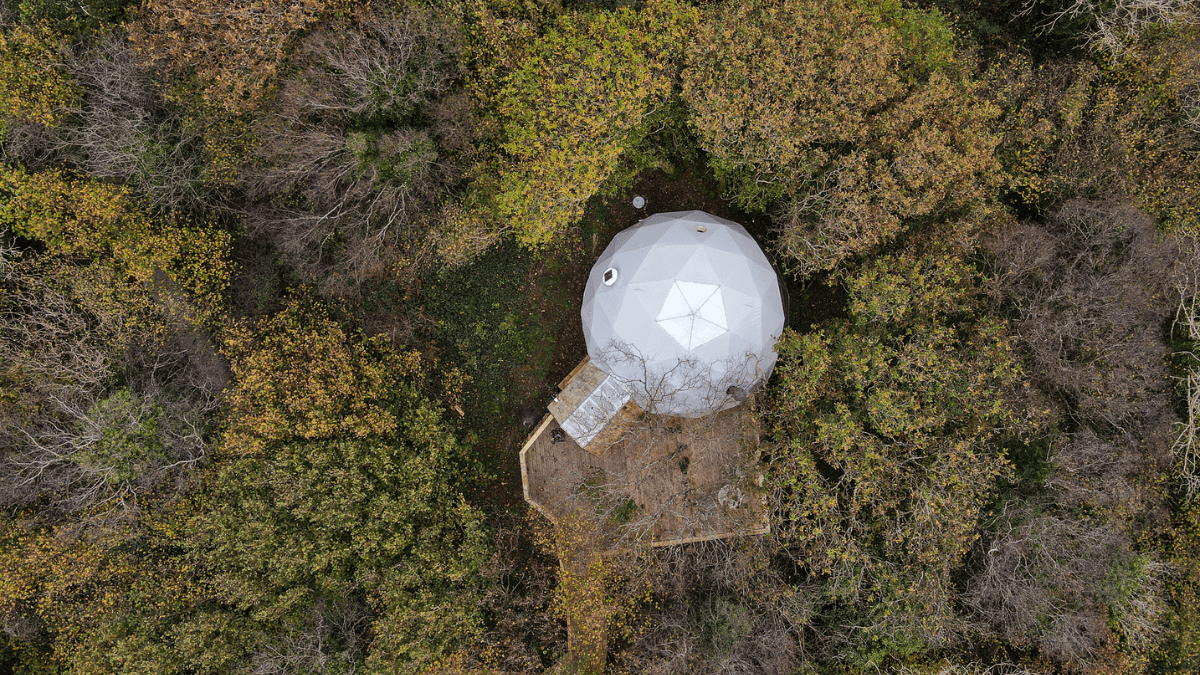 People tend to claim that there's no better investment than real estate, and they have some good arguments to support it. First of all, investing in housing is long-term and low-risk in general.
It also provides a steady source of income, if you decide to rent it (or a part of it). What may be missing in this description is that building a house either for rent or for sale can bring serious profits, but not quickly. A typical ROI on property investment orbits around 5% to 10% a year. Achieving ROI above 10% is considered highly successful. All that means you can start actually earning 10 to 20 years after you finish building the house. It's not bad, but there are much better ways to allocate your money in 2023.
Ever heard of glamping?
It's a modern and highly praised way to spend free time, especially if one loves camping, but misses the amenities and comforts of typical holiday resorts. Glamorous camping provides all the cozy stuff, such as running water, heating or sauna while still offering a really close-to-nature stay. Glamping was destined to succeed – the 2019 North American Glamping Report (a research conducted by Cairn Consulting Group) showed that 43% of travelers who have not clamped before expressed interest in glamping in the future. Today we know that glamping became wildly popular during the pandemic, and in 2023 it's still a rapidly-growing trend that works almost anywhere in the world.
Costs comparison
If you have some money to spend on an investment (maybe your first), you don't want it to be a hit-and-miss – that's why it's best to look for a safe one. A safe investment means (among other things) that it can be verified in a relatively short time. In contrast to the relatively low ROI of a BTR (built-to-rent) house, launching a small glamping resort from scratch can pay off in less than a year! How's that possible? The key difference is the costs.
We've prepared two in-depth examples that show exactly how it is possible to achieve a full return on investment. To provide reliable data, we have included exemplary land preparation and maintenance costs, as well as expected occupancy of domes in each prediction: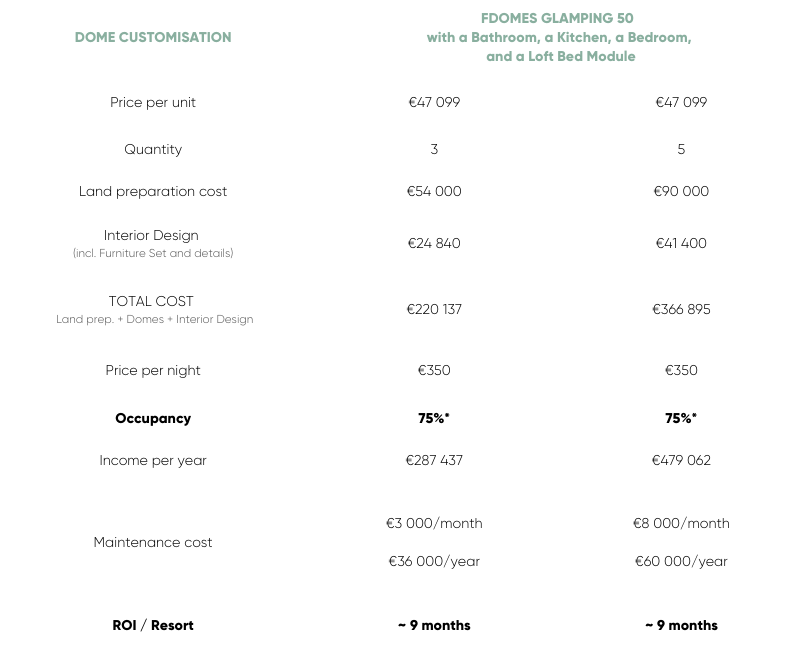 The example above shows how fast you can achieve full ROI, if you decide to invest in FDomes Glamping40 with the 40m2 base area equipped with two standard modules: Bathroom and Loft Bed.
Let's see how the situation would look like, if you went with more expensive, fully-fledged domes, with Bathroom, Loft Bed, Bedroom and Kitchen modules included. The calculation below includes 3-dome and 5-dome variants, so you can adjust the prediction to your plans and circumstances. The price per unit will obviously increase, but you'd still be able to get all the money spent on the investment back in less than a year!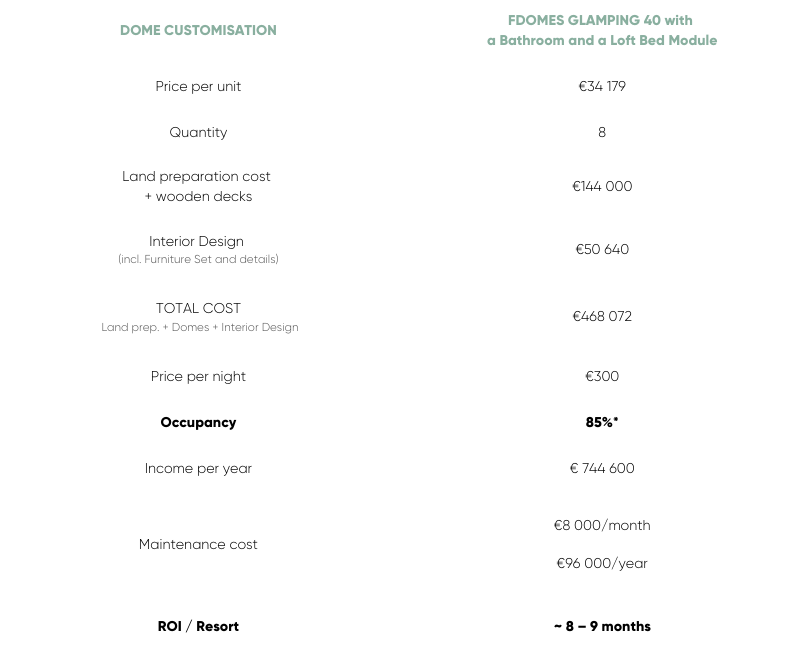 Keep in mind, though, that glamping domes work all year round, regardless of the temperature. The tents are sturdy and you can easily install heating systems inside, which makes lauinching glamping resort possible anywhere in the world – including in various climate zones. It's far from a seasonal business!
Glamping – profitable and eco-friendly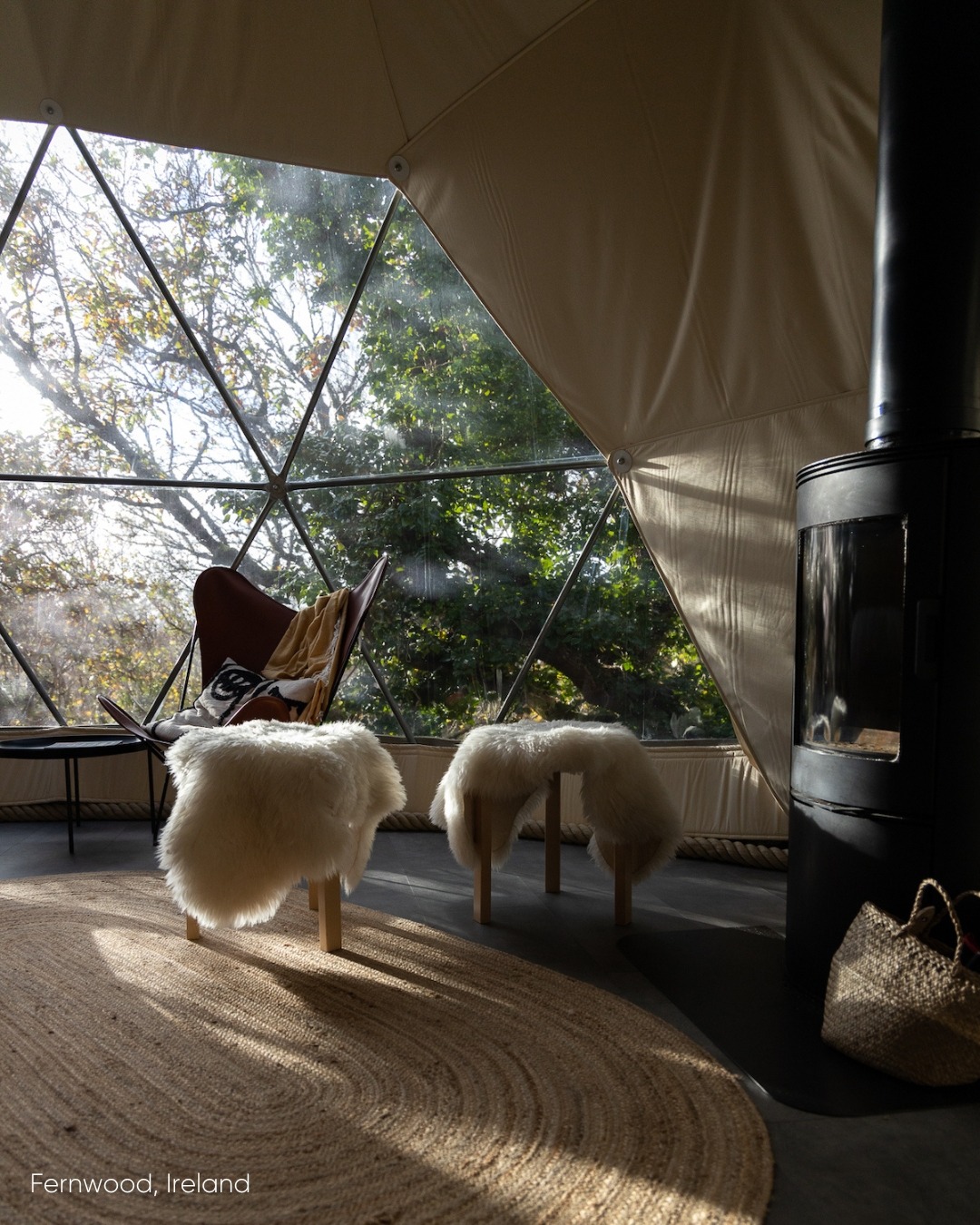 There are countless reasons why glamping has become so admired by people lately. During and after the pandemic people developed (or found hidden before) need to experience nature as closely as possible. Glamping provides that and it doesn't require any sacrifices. If one wants to live in the heart of the forest or by the river bank for a few days, they can. And the best part is they can have all that while sleeping in a comfortable bed, enjoying their time in the sauna or observing the rain with a cup of coffee from the warm, cozy inside of a glamping tent.

From the investor point of view there's even more to it. Glamping tents can be built almost anywhere.
Sure, you would still need a kind of permit in some cases, but the mobility of the investment makes it way easier to comply with the formalities than while building a house. Speaking of mobility – glamping tents are built on wooden platforms instead of concrete foundations. That makes them way cheaper to build
Setting up a glamping resort is also better for the environment – no foundations, no heavy duty vehicles on site, no destroying the surroundings. If you want your guests to connect with nature, this is certainly a way to do it!
If that article sparked your interest,
FDomes Team is ready to answer all questions about
starting a glamping business