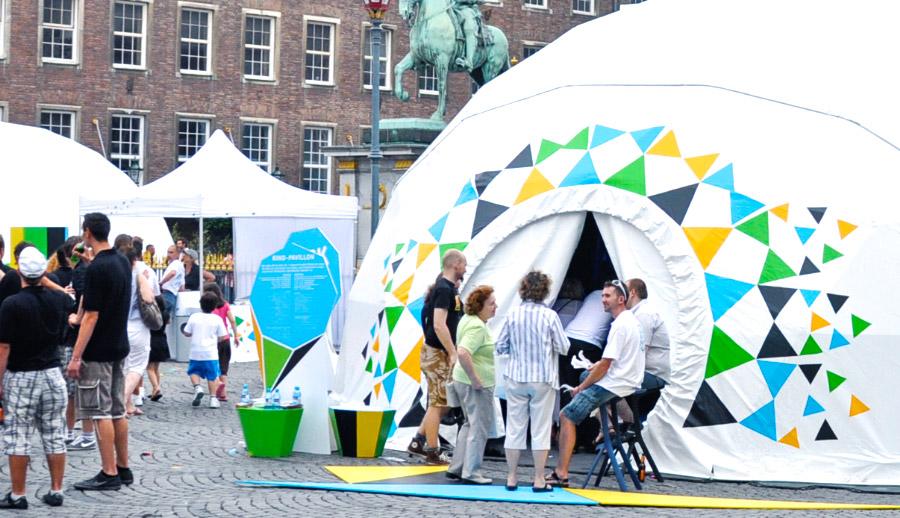 Pop-up shops are one of the best ways to attract and engage traffic, sell your product and make your brand immediately visible. How to create a pop-up shop experience with minimum effort and not go bankrupt? Check out the dome kits! Here you will find some great inspiration straight from our clients!
What is a Pop-Up Shop?
Some call it a pop-up store, others – a seasonal shop or flash retailing. No matter how you call it and feel about it, temporary shop isn't going anywhere. In contrast to traditional premises, it pops up in places with high traffic and then vanishes, after one day, sometimes a week, or even a longer period up to 2-3 months. Its major advantage over standard shops is that it is fabulously inexpensive to set up. It is also low-risk in terms of investment and can take business to new heights in no time. Often found on busy streets, in city centers, shopping malls, during holidays or events of various kind.
What Can a Pop-Up Shop Do?
When carried out properly, a pop-up shop can:
sell your new product
sell your old product in greater number
build your brand awareness
help you connect with prospective customers
extend your client base
boost your income
increase your company's cool factor
raise brand's popularity or establish its presence
help you test your product idea, new market or location.
In general, it allows you to test the waters and at the same time, stay on the safe side.
By creating a pop-up shop experience for your potential customers, you acquire a large portion of practical knowledge over short period of time and with minimum effort on your side. This also includes lower costs – creating a pop-up store is 80 percent cheaper than purchasing a traditional shop. Also, you get instant feedback and learn to understand your customers the easy way. And the best part is, you do not have to be Steve Jobs to sell your products in large numbers. A good pop-up shop will do this for you.
See How Other Brands Create Pop-Up Shop Experience
Pop-up shops are used by big brands and small businesses, from Coca-Cola and Gap, through artists, to food truck owners and fashion designers. How do they do it? First, they clarify the goals they wish to achieve, then they make retail store decisions as regards the shop's location, design and promotion. And finally, they dive in and launch the actual experience. The internet is full of some great examples of pop-up store design. We selected a few coming directly from our customers. Trend examples are below, to learn from or copy.
Known for its delicious ice creams with no artificial additives, Häagen-Dazs decided on a pop-up dome resembling an ice cream scoop to create multi-sensory pop-up shop experience. The area of 50m2 was used for Ice Cream Academy located on Bloomsbury Square in London. Master Chef Dan Doherty and sensory expert Professor Barry Smith invited guests and clients for a series of tasty experiments… Minimalist vinyl branding and stylish outdoor furnishing created genuine brand image.
Location: London
Size: 50m2
Special Feature: Branding, Furniture
NBA's first official game in Africa couldn't do without a pop-up sponsor zone where fans could do a little dream shaking on their way to the stadium halls. The 30m2 dome was used by Marriott International, Inc. partnering with NBA in a creative way.
Inside Marriott's temporary venue in Johannesburg basketball memorabilia were showcased. A shirt-and-shoes display was accompanied by a mini court used to evaluate fans' shooting precision.
Location: Johannesburg
Size: 30m2
Special Feature: Sports Equipment, Media Wall, Mini Basketball Court
Rare example of a pop-up shop branding resembling a huge eyeball. During the Retina Week, any visitor to the pop-up dome could undergo a free check up of their eyesight in the town of Kielce, Poland.
Location: Kielce
Size: 75m2
Special Feature: Branding
Ever heard of the Color Run? This amazing 5K race is a full-color experience where crowds are voluntarily covered in rainbow powder while they make their way through the course. In UK, the fun continued to the finish line where runners were invited to put together the Dulux color dome. The unique pop-up space hosted a mini photo centre where dozens of selfies were made from a trampoline. All this in 4 different locations across the country! Dome kit assembly and dismantle took less than 10 hours.
Location: London, Manchester, Belfast, Brighton
Size: 75m2
Special Feature: Mini Photo Centre, Trampoline
Elegant design exhibition in Italy, Settimana Artiglanato, promoted the local craftsmanship. A large spherical tent of 110m2 set up in the centre of Piazza Liberta grabbed attention of the locals, but also encouraged them to stop at least for a moment. Inside, the artisans presented their work and input in contemporary design.
Location: Lissone
Size: 1102
Special Feature: Lighting
The interior of one of the five spherical tents set up on Markplatz in the heart of Düsseldorf's old town representing Guck Mal! Schlesien event. It was a wider advertising campaign focused on silesian attractions. Pop-up domes aroused interest of both the residents and tourists visiting the German town for long enough to encourage them to check what's inside. A whole lot of attractions awaited there, including mining lift simulator and tourist cycling simulator, where the speed of film display depended on the pedaling rate.
Location:Düsseldorf
Size: 752
Special Feature: Interior Decor, Furniture, Simulators
360-degrees photo booth provided by one of the biggest Greek mobile phone operators WIND was housed within a 110m2 Christmassy pop-up shop dome smack in the middle of picturesque Syntagma Square in Athens.
Location: Athens
Size: 1102
Special Feature: Display Props, Printed Publicity
We hope you enjoyed our piece on pop-ups and good luck with yours!